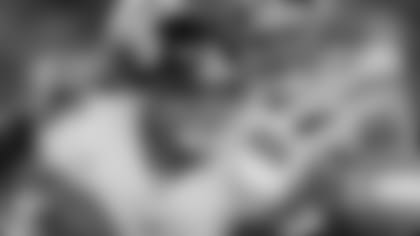 ]()FOXBOROUGH, Mass. (Sept. 1, 2005) -- Jared Lorenzen made his final bid for the No. 3 quarterback spot on the New York Giants. Then Jesse Palmer made his.
Now coach Tom Coughlin must make his decision.
With few starters playing in the Giants' 27-3 preseason victory against the New England Patriots, the spotlight was on the competition for backup jobs and it shone brightest on New York's quarterbacks.
"There will be some discussions about a lot of positions," Coughlin said. "And that will certainly be one of them."
Most regulars, especially for New England, sat out the game to avoid injury and give coaches a chance to watch players still fighting for roster spots.
New York (3-1) got its first touchdown in two games, having managed only five field goals by Jay Feely in a 15-14 victory against the New York Jets. New England (2-2) played much poorer defense than it did Aug. 26 in a 27-3 victory at Green Bay, but will have its starters back when it opens the season Sept. 8 at home against Oakland.
"We had a chance to look at a lot of our younger players," said Patriots coach Bill Belichick, who along with the Raiders is facing the NFL deadline Sept. 3 to reduce his roster to 53 players. "We are in a much shorter window now than you would be if you opened a week from Sunday."
New England's Tom Brady and New York's Eli Manning -- who missed his second successive game with a sprained right elbow but is expected to be ready for the season opener Sept. 11 against Arizona -- both sat out.
That gave the No. 2 quarterbacks -- former Boston College players Doug Flutie of the Patriots and Tim Hasselbeck of the Giants -- a chance to start. Each played four series. The Giants scored on two of theirs on Feely's field goals of 47 and 48 yards, which gave them a 6-0 halftime lead.
Matt Cassell, who has clinched the third-string job for New England, played the rest of the game, while Lorenzen played the final series of the first half and the third quarter before Palmer took over early in the fourth quarter.
Lorenzen went 5-for-13 for 54 yards and a 26-yard scoring pass to Jamaar Taylor for a 13-3 lead. But on their next series, Lorenzen threw an interception to Randall Gay, who had been beaten on Taylor's touchdown.
"There will be very little sleep, if any at all" until Coughlin reduces his roster, Lorenzen said. "Hopefully, I showed a lot, because I love the organization."
Palmer entered with 13:24 left in the game and completed his only pass, a 46-yarder to Taylor to the 1. Brandon Jacobs' 1-yard run and Feely's extra point made it 27-3 with 11:56 to go.
"I was able to make a play," Palmer said. "The only thing you can control is what you do when you get an opportunity to play."
Coughlin wouldn't tip his hand about how he's leaning.
Lorenzen "had good poise. He ran his team well," the coach said. And Palmer "had a real nice (throw) off of play-action."
Cassell led a 17-yard drive on the opening series of the first half, ending in Adam Vinatieri's 30-yard field goal. But one play after Gay's interception, Cassell's pass was picked off by T.J. Hollowell, who returned it 22 yards. Feely's extra point made it 20-3.
"We are better than we were," Belichick said. "We still have a long way to go."
New York got one important player back. Mark Jones, sidelined with an injured arch in his foot, shored up the team's poor punt returning.
Neither Hasselbeck nor Flutie did much. Hasselbeck completed 5 of 9 passes for 60 yards and was sacked three times. Flutie went 8-for-13 for 69 yards with one sack and an interception in the end zone by Shaun Williams.
"You've got to avoid making the negative plays," Flutie said. "It just shows there's still more to work on."
Corey Dillon, New England's top running back, didn't play. New York starter Tiki Barber played the first two series and gained 23 yards on two carries.
Patriots WR Andre' Davis and S James Sanders left the game in the second quarter with leg injuries.
Three Giants running backs had nine carries each, with Derrick Ward and Jacobs gaining 40 yards each and Mike Cloud gaining 23.
Gay was the only one of New England's usual 22 starters on offense and defense to play.
Jones returned six punts for 63 yards and said, "If I didn't play tonight, I think they would have found somebody else" to handle that job.
AP NEWS
The Associated Press News Service
Copyright 2005, The Associated Press, All Rights Reserved