Lions center Dominic Raiola took the uncouth approach of cut-blocking Patriots rookie defensive lineman Zach Moore as Detroit took a losing knee to end the team's dismally disappointing 34-9 loss Sunday afternoon at Gillette Stadium.
It was one of a few plays of a questionable nature from the Lions that drew Bill Belichick's attention, and the New England head coach responded to those plays in a Monday morning conference call.
"I'm sure there was a lot of frustration there from Raiola, that was obvious," Belichick said. "Never beaten us. Had a tough day in there dealing with [Vince] Wilfork, [Dont'a] Hightower and those guys. I'd say that was probably frustration. We saw a lot of that at the end of the game. [Tahir] Whitehead on [LeGarrette] Blount's touchdown, [C.J.] Mosley on the personal foul on the field goal. So…"
Raiola made it clear after the game on Sunday that he was upset that the Patriots had run for the Blount 1-yard touchdown leading 27-9 with 1:57 to play after Mosely's penalty had negated Stephen Gostkowski's 20-yard field goal.
"I cut him. We took a knee, so I cut the nose," Raiola said. "They went for a touchdown at two minutes; they could have taken three knees and the game could have been over.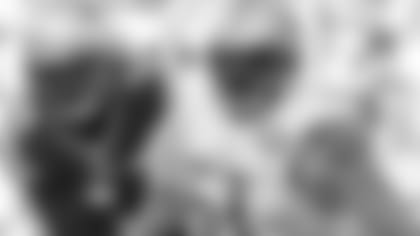 "I mean, it's football. You want us to keep playing football? Let's play football. No big deal -- it's football."
Wilfork himself, though not on the field for the play in question, clearly didn't care for the veteran center's actions.
"I didn't see anything. I just heard what happened, but that was stupid," Wilfork said. "I didn't see it, but from what I heard…You're taking a knee. They'd get mad if we were just to blow up one of their players, so I mean, it's just uncalled for. But at the same time, you always have to protect yourself, so you always have to play with your neck on a swivel and being alert for 60 minutes and it came down to it today on a bonehead play like that, but luckily no one got hurt and we can move on."
A few Patriots players may have expressed their displeasure with the play on the field shortly after the final whistle as Darrelle Revis and Hightower were seen by Fox camera's exchanging seemingly heated words with Raiola and Lions defensive lineman Ndamukong Suh.
Belichick? He apparently chalks it up to Raiola's frustration -- frustration of losing battles all day in the trenches and losing, once again, to the Patriots.
What did you think of the Raiola play and Belichick's reaction? Let us know with a comment below!