With an off-day on Saturday, Devin McCourty's schedule has cleared up in time for his 29th birthday. Devin and his brother Jason are two fun personalities in the NFL, and their birthday should be celebrated in a way that reflects who they are.
We're here to help. Here are some ways you can celebrate Devin's day (and Jason's too!) the McCourty way.  
1. Eat a big breakfast
Kick of Devin's birthday with a big breakfast. As an advocate for school breakfasts, Devin makes sure to fuel up with healthy breakfasts, so of course this is the first step in celebrating his birthday. Bonus points if you post a selfie, too. 
2. Step out in style
Before you even leave your house, you must dress the part. Devin has got some serious style and his birthday is certainly a reason to dress to the nines. And remember that no outfit is complete without the most important accessory: the signature McCourty smile.
3. Give back
As the Patriots nominee for the Walter Payton Man of the Year Award for both the 2014 and 2015 seasons, Devin is truly committed to the community. Whether he is spending a day visiting patients at a hospital in Boston or tackling sickle cell, Devin is always finding a way to give back. 
If you are looking for a way to celebrate the safety's birthday, take a look at ways you can help out your community, learn about Devin and Jason's Tackle Sickle Cell iniative or even make a donation to the cause. Spending time volunteering or giving back is one of the best gifts you could give the McCourtys.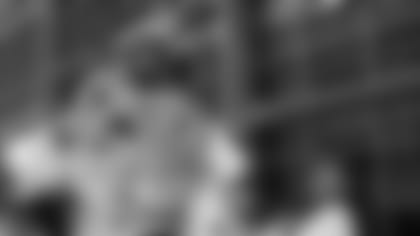 4. Look out for strangers
There is no better way to honor Devin's birthday than providing complete strangers with unsolicited advice. Safety is his top concern, and it should be yours as well. If you're having trouble coming up with your own safety tips, D-Mac has a few golden ones you can borrow.
5. Celebrate your inner child
Devin and Jason may be turning 29, but that doesn't mean they are in any rush to grow up. Use the day to honor your inner child. Watch some cartoons. Dress up like a superhero. Visit the happiest place on Earth. Do whatever it is that makes you feel like a kid again. It's what Devin and Jason would want.