BB: We're pretty much on the same schedule we were on yesterday with the morning practice. We're really just in the mindset now [of] just trying to string them together. Take it one day at a time: take the things we did yesterday, correct them, go back over them, add new things to put in today, go out, work on those and just grind it through day by day. There's no magic wand, no special formula –just hard work, putting the pieces in place one at a time, day by day, period by period. Each guy has a lot of things that they all need to work on, we all need to work on, coaches included, at this time of year. Each of us individually is trying to address those things, take those challenges and collectively as a team pull them all together. We'll start to try to string together a few good days in camp. That's where we're at today.
Q: What are you looking for from the receivers, other than how they catch the ball in terms of how you're evaluating them?
BB: Their assignments and their execution on each play which is, in our offense, we have a number of adjustments: what route we run based on the technique of the defender or the coverage we get, things like that. Timing, execution, just getting familiar with the offense, being able to play at a faster tempo, changing situations as we get into third down, red area, down and distance situations. We're not quite there yet, but that's coming pretty soon. It is kind of an extension of the OTAs from a practice standpoint until tomorrow when we get pads on and start doing some things that are more contact oriented, like the running game, blitz pickup, things like that.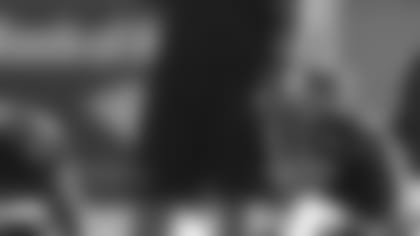 Q: Six of the 12 receivers on the roster are rookies. Can you recall having a group with that many young receivers before?
BB: We have young players every year. Some positions it's more than others. It changes from year to year.
Q: At what point will you go full contact with pads?
Q: We haven't seen much of Josh Boyce. What have you been able to learn about Josh Boyce since he started practicing?
BB: We're not much further ahead than you are. He had a couple of the early camp days in there. Josh is a smart kid, he works hard. Long way to go, we'll just take it day by day. He's made certainly a lot of progress from where he was in the spring with this rehab. It looks like he's in good condition. We'll put him out there and let him compete with everybody else.
Q: What does Leon Washington bring to the table, not just as a returner but as a running back?
BB: He's played back there before but not a lot recently with the Seahawks. We'll put him in our system, teach him the things that he needs to learn at that position, evaluate him with the other players.
Q: As a kick returner, he's had a lot of success. Does that transfer or is there a lot of scheme in that area?
BB: I think it depends on the player. Some players, like any other position, can adapt from different schemes. Some players are more suited towards one particular scheme. They read that, in this case, might read the blocking patterns better or more instinctively than a different type of return scheme. I think it varies from player to player. Some guys are one way, other guys have more of a style that they're effective with. If you try to try to change that style, they're not as effective with it. Other guys are pretty comparable to all of them. You have more flexibility in the schemes that you run. I think it depends on the player.
Q: What was it about Jake Ballard that made you take the gamble of picking him up?
BB: He was a starting tight end in the National Football League. I don't think it was a big gamble. He was a good player at a young age; we played against him. He was a good player, he was available.
Q: He's on the bigger side for a tight end. How does he use that size to his advantage?
BB: I'd say his height is probably on the slightly above average scale. His weight is probably average, maybe a little bit above average but I'd say it's about the going weight for his type of tight end. We know there are different types of tight ends. I think he has good, solid, physical characteristics; works hard, smart kid, he's got a good attitude, works hard on his preparation and he's worked very hard on his rehab. I'd say it's great for him to be able to make that kind of progress, get back out on the field, attain that goal of just being able to get back out and play competitively on a field. We'll see how it goes from here.
Q: With so many new pieces at the skill positions, do you consider simplifying things with your scheme?
BB: I think you always, in everything that you do, you go in with an idea of how you want to try to do it. You start on a certain course and then as you go along, you always end up making some type of modifications in some form or fashion based on the athlete's skills, the way the group fits together and what your success or lack of it might be as you start to do the things that you do. Some things sometimes work out a little better than you think, sometimes not as good, sometimes about the same. That goes for each individual player and it goes for the entire group as to how they end up working together as well. It's an ongoing process; we'll deal with it day by day. As we see that the course needs to be altered a little bit, then we'll do it. If I knew how it was going to turn out…we're doing it in a way that I think will be right but I know we're going to have to make adjustments. That's the way it always is. If we knew exactly what that was, we'd start there but sometimes it takes a little time or trial and error to get there and I think that's where we're at.
Q: Have there been cases in the past when you had a new group –
BB: We have that every year.
Q: Has there been a case in the past where simplifying it was better?
BB: I don't think that necessarily has anything to do with experience but it could. But yeah, there are times where you take things and water it down a little bit. There are other times where you expand more than where you think you're going to be or faster than you think you're going to be able to. You never know exactly. You have an idea of it, but you never know exactly how it's going to go. Sometimes it goes in stages, sometimes it starts slow and then picks up speed. Sometimes it starts at a level and then kind of fizzles out. That's part of what training camp is for, is to put a lot of training camp practice days out there together, get a lot of snaps, get a lot of reps, have a volume of evaluation and then be able to, from that volume, figure out what the best course is. That's, until you go through it all, I don't think you can really make the same type of intelligent decision that you can just trying to guesstimate how it's going to happen. There are too many variables.
Q: Does Daniel Fells look more comfortable to you now?
BB: He had a good spring. It looks like he's in good condition. I'm sure that he's looking to build on his spring here and fall training camp and feel the same way.
Q: Has Matthew Slater become more of a vocal leader now that he's a captain and a sixth-year player on the team?
BB: I think Matt is a real good leader – one of the best that we have. I wouldn't necessarily say his style is overly vocal but I'd say he's a very good leader. I don't think that's any kind of criteria to be a leader. I think that's just a style, I don't think it's a true measure of leadership. But I wouldn't characterize his style as overly vocal, no. But I would characterize him as an excellent, outstanding leader. I think it gets better every year. He was a good leader, three, four years ago, but I'd say he's built on that and improved it up to this point. I'm sure, knowing Matt and the way he works and his diligence and his commitment to the team, I'm sure he'll continue to improve it as we go forward.
Q: In your opinion, what makes a good leader?
BB: A person that can perform his job effectively and puts the interests of the team ahead of his own personal interest.
Q: Monday night, Tedy Bruschi and Gil Santos will get inducted into the team's hall of fame. What are your thoughts on those two?
BB: Gil had a long history with the organization and is very deserving. Tedy though, I think is just that whole different level, what he's brought to this organization. Very, very special – both his performance and the personality and the character that he brought to the team and the success that we've had during his time here has been remarkable. He's played a huge, huge part in it all the way through. He was here when I came in 1996, we drafted him that year. As we all know the story of his conversion from being a defensive linemen – the two-time Pac-12 Player of the Year, Defensive Player of the Year, all that – to becoming a guy that had a totally, totally different role in the National Football League. The success that he was able to have doing that, relative to what he did in college, both at very high levels but at very different jobs. It's very unique. The energy, enthusiasm, competitiveness that he brought to this organization; the success that we had, that he was such a huge part of – there's no way that that could be understated. To me, he's one of the all-time greats that's ever played here and that's in large part because of the championships that were won while he was a part of it. There have been other great players but the team success that he was such a huge part of is really what it's all about. His impact on that cannot be understated.
Q: Organizationally it seemed that yesterday's focus was to leave distractions in the past. Do you feel like now that it's day two with a smaller crowd, you can actually focus on football now?
BB: We can't do anything about how big the crowd is here or anything else. Our job is to go out there and prepare and practice and get better individually, get better as a team. That's what we're going to concentrate on. All the rest of it is out of our control. Whatever it is, that's what it is. That's not anything we can worry about. We can just do what we can do and that's to get better and improve, learn from our mistakes, move on, take on new material, try to take that out to the field and execute it at a good level. That's not going to change regardless. That will be our same goal every day.
Q: How much progress were Michael Hoomanawanui and Zach Sudfeld able to make in the spring?
BB: Good. As always, unfortunately when the players that are on your team can't perform, it gives more opportunities to somebody else, wherever that is. Then what those people can do with that opportunity, sometimes it comes at different levels but we've all seen it be, the people take advantage of those opportunities. I think that Mike Hooman and Zach have done that. They've worked hard, they've certainly taken advantage of the reps that they've gotten and they've definitely gotten more because some of the players that would normally be at the position weren't participating. That's good for them. I don't want to say this is Wally Pipp and Lou Gehrig, but that's the classic story. We've all gotten opportunities because of one reason or another, of something that happened to somebody who was in front of us and being able to take advantage of those opportunities is…it's there if they can do it.