FIRST QUARTER
...New England trotted out yet another new offensive line combination against Buffalo, and it proved to be the least effective of the year.  Marcus Cannon, back from a toe injury, started at left tackle, with Cameron Fleming moving back to right tackle. He'd been on the left side while Sebastian Vollmer recovered from a concussion. Rookie David Andrews started at center, as he has all season, with fellow rookie Shaq Mason to his left at guard and veteran Josh Kline at right guard. But this personnel grouping morphed throughout the night and the Bills' front seven was able to bring pressure on Tom Brady all evening.
...Cannon's return to action was inauspicious from the start. He was flagged for penalties on consecutive plays on the opening drive, first a false start, then an illegal formation for not lining up on the line of scrimmage. At the end of the first quarter, Cannon whiffed on a run-block that allowed DT Marcel Dareus to knife into the backfield and drop RB LeGarrette Blount for a 2-yard loss. He was also sloppy in his pass protection technique, which contributed to Buffalo being able to collapse Brady's pocket a number of times.
...Vollmer took over for Fleming at right tackle on the second Patriots possession and remained there for the rest of the game.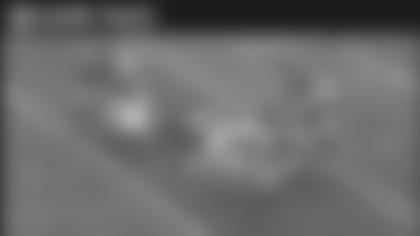 ...On the other side of the ball, it was encouraging to see rookie DT Malcom Brown nearly a sack against Bills QB Tyrod Taylor on the first drive. Brown has been stout against the run in recent weeks, and on this play, 3rd-and-5 from the Bills' 25, forced Taylor into rushing a pass that was underthrown to his intended receiver and fell incomplete. Brown worked his way laterally along the o-line until he found an opening and then fired into the gap to hit Taylor squarely in the chest just as he released the football.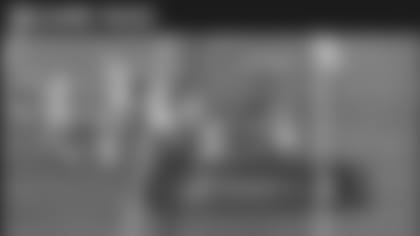 ...LB/co-captain Jerod Mayo made a rare start on defense and had a nice tackle-for-loss on the second play of the game. He dissected the play nicely (a read-option to the offensive left), held his ground at the left edge of the line of scrimmage, and exploded into the backfield to bring down RB LeSean McCoy. This was a preview of good things to come for the underutilized Mayo, who had his best game of the season Monday night.
SECOND QUARTER
...It was curious to see how much the Patriots elected to use WR Aaron Dobson in place of Brandon LaFell at the outset. Curious because, of course, LaFell is a much better player, but also because Dobson was questionable to play at all against Buffalo because of a last-minute back injury the day of the game. Dobson was only targeted twice, however. The first one, he was interfered with and Buffalo drew a PI penalty. The second one, an impressive catch over the middle between two defenders, was his last. While he was twisting to the ground in the grasp of CB Ronald Darby, the oft-injured Dobson sustained yet another injury, to his left ankle. It was significant enough for him not to be able to return to the game, and I wouldn't be surprised if it ends his season prematurely. Dobson, when healthy, has been inconsistent at best, and his pro career has bene snake-bitten by injuries. His future with the club is, more than ever, hanging by a thread. Problem is, New England currently finds itself dangerously thin at the wide receiver position.
...On the third drive, in the second quarter, Bryan Stork replaced Andrews at center for the remainder of the half. Midway through the third quarter, Andrews returned at center, Stork slid over to right guard, and Kline jumped to left guard. Looks like the Patriots want to introduce Stork back at his natural position, where he started most of last season as a rookie. However, I'm reluctant to see this given how well Andrews has done in that spot this year.
...Brady, as mentioned earlier, was under duress all night from the Bills' front seven, but he was only sacked once. This happened on 3rd-and-6 from the NE 46. Vollmer had trouble on this play with OLB Manny Lawson, who beat him with a speed rush. Vollmer was forced to hold Lawson, but the defender was still able to slip underneath the taller and grab hold of Brady. Vollmer is New England's best o-lineman, but on this one play, he struggled.
...Against the run, I'm liking the contributions of Akiem Hicks, who has incorporated himself nicely in the d-tackle rotation since arriving via trade from New Orleans last month.
...DE Jabaal Sheard looked more active as a pass rusher this week as he continues to work his way back from an ankle injury that sidelined him for several games.
...LaFell, who went back to his normal role once Dobson was injured, looks like he's back in mid-season form after coming off PUP last month. And not a moment too soon for this banged up offense. Brady needs as many reliable targets as he can get right now.
...RB James White finally was rewarded with his first NFL touchdowns, the first of which came at the end of the first half. He was in the shotgun to Brady's right, from the BUF 20. At the snap, he simply flared out to the flat to the right. Buffalo sent CB Nickell Roby on a blitz from that same side, instead of covering White. Brady read this correctly and dumped the ball to White. From deep in the secondary, safety Corey Graham raced over to White along the sideline and dove for his legs. White deftly avoided being taken down by stiff-arming Graham and keeping his balance. White had nothing but open field in front of him as he stood back up and waltzed into the end zone. Nice individual effort by White, with whom I've been impressed in his limited opportunities over the past year and a half. New England needs him to step into the Dion Lewis role more consistently to help make the offense more versatile as the playoffs approach.
THIRD QUARTER
...Credit no only to McCoy for his lunging effort at the pylon to score Buffalo's only touchdown of the night, but also to his o-line and other skill position teammates for their superb blocking on that run.
...DE Chandler Jones had one of the biggest plays of the game on defense when he stuffed Taylor for a six-yard loss on a 3rd-and-3 rushing attempt from the Bills' 44. Jones was left unblocked as Taylor ran to the left side, where Jones was lined up. It looked as if LT Cordy Glenn and WR Robert Woods were supposed to work in tandem, with Woods being responsible to chip Jones as Glenn and center Eric Wood were pulling to the left to lead-block for Taylor. Woods was the motion man on that same side and as he came in toward the line, he and Glenn ran into one another, leaving Jones alone to charge after Taylor.
...On White's second career TD, a hurry-up rushing attempt designed to catch the Bills with too many men on the field, the Patriots were fortunate that the officials didn't notice TE Scott Chandler trying to get off the field as he entered the game mistakenly. It looked as if Chandler thought he was being called in to be part of the short-yardage personnel package, but when he quickly realized the Patriots were going with the personnel already on the field, he reversed course and raced back to the bench. The officials might have been in a position to rule that the Bills should be awarded time to make their defensive adjustments based on that faux substitution, but they allowed the play to continue. Buffalo ended up with the right amount of players on the field, but DE Jerry Hughes was offside by a mile and the play was allowed to stand.
...On the previous play, a 41-yard catch-and-run by Danny Amendola, the receiver hurt his left knee. Hard to tell exactly when it happened, but best guess is that it was when Amendola was dragged down by Darby. Amendola's left knee appears to strike the ground and absorb the impact. However, it wasn't until Amendola lined up for the White TD run and tried to push off on his left leg that he realized he'd been injured. You can clearly see Amendola limping and reaching for his left knee immediately after the snap. The fact that he was allowed to remain on the sideline for the remainder of the game, even though he couldn't play, might be interpreted as a positive sign that this injury isn't long-term or too significant. 
FOURTH QUARTER
...Have to wonder why, with a 10-point lead and driving in Bills territory, Brady would decide to force a throw downfield to Harper, who was tightly covered, instead of trying to milk the clock with a safer, shorter target. Brady's throw was deflected and wound up being intercepted. I put that one squarely on 12's shoulders.
...The o-line rotation went back to Stork at center in the early fourth quarter, with Kline back at right guard and Mason at left.
...Butler vs. Watkins was a favorable matchup for Butler most of the night. An exception was the PI call that Butler drew in the 4th Q. The officials had not choice but to throw the flag when Butler ran into Watkins with his back to the football as the receiver was trying to make a play on the ball. Overall, tough, Butler did another nice job against an opponent's No. 1 receiver. He limited Watkins to just three catches on six attempts and surrendered only 39 yards and no scores.
...Wasn't the best of nights for punter Ryan Allen, who's normally very consistent. His kicks were mostly short and wobbly, very uncharacteristic of him when he's trying to kick the ball deep.  
...Mayo ended the game with five tackles. Best performance of the year, by far, for the veteran co-captain. He showed flashes of his old self out there against Buffalo, the team against whom he suffered his torn patellar tendon a year ago. Heretofore, he'd become almost an afterthought on the Patriots defense. Perhaps he's now starting to feel back at full strength.