PHOENIX – For the first time since arriving in Arizona, both the Patriots and Seahawks paused from all the talking about their Super Bowl matchup and actually got back on the field to prepare for the NFL's championship game.
The Patriots used the Arizona Cardinals' training facilities, while Seattle went to nearby Tempe to practice on the campus of Arizona State University. New England took the field first, early in the afternoon, while the Seahawks chose to start later in the day, around 4:30 p.m., to get accustomed to the kickoff time for the Super Bowl.
And Seattle head coach Pete Carroll revealed that the first practice of the week would have a game-like feel to it, calling it "Competition Wednesday."
"We have the benefit of these few days to get comfortable with that time slot," Carroll explained. "This day is the first day of the week for us on the field. The central theme of the day is competition. It's not necessarily about the opponent. This is really to get it going. We'll have a lot of 1-on-1s, offense against defense right off the bat, to get the speed and feel that we want. It's really about making this a great practice day. We'll keep score. Somebody's going to win, somebody's going to lose."
Carroll was also asked to weigh in on the debate about which cornerback is the best in football, his Richard Sherman or New England's Darrelle Revis. The coach offered a diplomatic answer, saying both players had their own styles, which were distinctive from one another, but that the end results were virtually the same.
He went even further in praising his former player Brandon Browner, part of last year's Super Bowl-winning roster and now a member of New England's secondary.
"Brandon was really one of the core guys for us. We loved what he did for our team. He contributed to the mindset and growth of the group. If you notice our guys, they'll talk about him endearingly. They really care about him. He was there at the start of it all.
"We knew about him all the way back to his high school days," added Carroll. "Seeing him come through and do well, it's a shame we weren't able to maintain it. That's kind of how this thing goes sometimes. But we wish him the very best. He's a great competitor."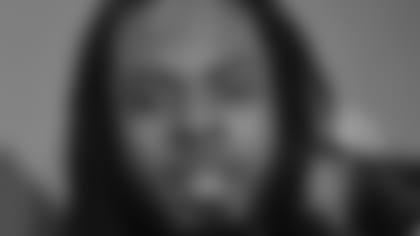 Sherman's health has been a concern for Seattle since he injured his left elbow in the NFC Championship Game, but the cornerback didn't miss a snap of practice last week and looked ready to take the field again on Wednesday. Sherman had a knee injury that kept him out of several college practices, but he said that in the NFL, he prides himself on not taking time off, even when injuries strike.
"My elbow's feeling pretty good," he remarked. "We have a great training staff. They do a great job of taking care of us and making sure we're hydrated, making sure we have the tools and everything we need to stay healthy, and when we have nicks and bruises, we stay on top of them to make sure they're not bigger issues.
"Also, stretching and just being cognizant of what you need to do to maintain [health] in this game. Swimming is a big part of it. Just keeping your muscles loose. There's a little bit of luck in that, too."
Seahawks QB Russell Wilson told reporters before practice that he had a premonition before the playoffs started that he and his friend, Tom Brady, would face one another in this year's Super Bowl. Wilson shared his vision with a mutual friend, Kenny Dichter, the co-founder and CEO of a company called Wheels Up.
It was through Dichter and Wheels Up that Wilson said he struck up a friendship with Brady, with whom he trades e-mails on occasion.
"The funny thing is Kenny shared an e-mail with Tom and I and then back and forth. I told Kenny, I said, 'Hey, we're probably going to play Tom Brady in the Super Bowl. Get ready for it.' And Tom, the day before or the same day, said the same thing. It's just funny how that worked out."
Hauschka got his kicks in New England
Seahawks kicker Steven Hauschka is a big guy – he stands every inch of 6-4 – and was a big Patriots fan as a boy in Needham, Mass., just north of Foxborough.
"Oh, they were my team growing up!" he admitted. "I mean, I had Patriots head covers over my seat, a blanket in my room, a poster of Adam Vinatieri kicking in the Snow Bowl against the Raiders. Had a Robert Edwards jersey, a Corey Dillon jersey. I was as big a Patriots fan as any of my friends. Went to a lot of games. One of my first games, Pete Carroll was the coach and Scott Zolak came in to beat the 49ers. I was hooked ever since."
Hauschka attended Middlebury College in Vermont, where he played soccer his freshman year before switching to football as a sophomore and eventually transferring to North Carolina State. He'd never played any organized football before that.
"It was a pretty natural transition for me," he continued. "I'd been kicking a soccer ball since I was 3. There were some adjustments. I was fortunate to have a kicking coach there in Vermont who taught me everything I knew about it then."
Hauschka faced the Patriots back in 2012 and insisted that his boyhood allegiances have long since faded.
"This is 10 years removed from that. I've been a big Seahawks fan for four or five years," he chuckled. "I guess that's just part of being a professional. Every player in the NFL grew up idolizing one team or another."