Little did Emmerich Netland know just how far a birthday card could take him.
As an 8-year old Patriots and Tom Brady super fan living in North Dakota, you'd be hard-pressed to find many like him in the heart of Packers, Vikings and Bison country. So how exactly did Emmerich latch on to a team who plays their home games over 1,600 miles away?
"My neighbor liked them and he let me come over to his house every day and watch the games with him."
And so began Emmerich's allegiance to New England's favorite football team and quarterback.
As Aug. 3 drew closer and the anticipation surrounding Tom Brady's 40th birthday grew quicker than his passing stats, Emmerich decided he would write his idol a birthday card. His mission was simple: prove to the Patriots signal-caller that he was his No. 1 fan.
When Emmerich unexpectedly received a Patriots-decorated envelope in the mail just a few weeks later, his smile could be seen from Fargo to Foxborough. A news station in North Dakota even caught wind of the team's response to Emmerich and turned the young Pats fan into a local star in the days following.
However, that thank you package wouldn't be the last of the Patriots that Emmerich would see in the coming months. His parents, Emily and Eric, have seen the impact the Patriots quarterback has had on their son and they decided the time was right to take him to Gillette Stadium to get an up-close look at his favorite team.
The trio would fly to Boston to catch the Oct. 1 matchup between the Patriots and the Panthers. But of course, the couple waited to reveal the surprise to Emmerich until just days before kickoff. With bags in hand they set out for the East Coast.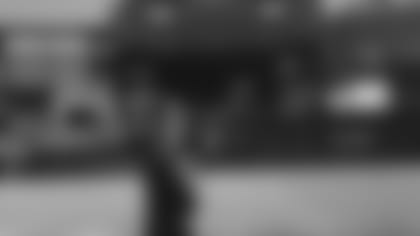 What awaited Emmerich upon arrival at the stadium on Friday was a scene right out of his dreams. The energetic youngster, affectionately nicknamed "Bug," was left speechless when he found out he would soon be standing on the playing field – the same field that Tom Brady and the Patriots completed another remarkable fourth-quarter comeback on just days prior.
Armed with his Patriots t-shirt, hat and that charismatic smile, Emmerich had the chance to feel the rubber turf pellets in his hands, race his mom to the 50-yard line and even check out the media workroom. The team even surprised him with passes to The Hall at Patriot Place where he could not wait to pose with the five Super Bowl trophies.
When game day rolled around on Sunday, the family joined the locals for some Boston-style tailgating and parking lot football.  Unfortunately, Emmerich and his new-found Patriots friends didn't quite get the outcome they wanted as New England fell 33-30 in heartbreaking fashion to Carolina.
Emmerich expects to catch some flak from his friends for being a proud Patriots supporter in Fargo, but he already knows what he'll say once he returns home.
"Most of them are probably going to say 'Oh, sorry your Patriots lost,' and then I'm going to say 'Well, at least I got to go to the game and got to go on the field.'"
It sounds like Emmerich won't let one loss put a damper on his trip. He knows just how unforgettable his time at Gillette Stadium was. As the Netland family prepared to leave, the 8-year-old had just one last thing to say:
"Now *that *was the best day of my life!"