Patriots fans who were wandering Patriot Place at the right time on Thursday night were in for a show. With the team rocking their first Color Rush jerseys, it was only appropriate to embrace the blue, and who better to help Patriots Nation do that than Blue Man Group?
The notoriously mischievous and silent crew in blue hung out with fans, created art in the Fan Zone and fired confetti cannons alongside the End Zone Militia to dive into the spirit of the Color Rush.
While three Blue Men kept fans on their toes in the hours before and during the game, a member of the group got to watch his fellow actors perform as a bystander. Adam Erdossy is in his 11th year as a Blue Man came along the trip to Gillette Stadium, and while Adam wasn't a part of Thursday's antics, he said coming to a place like Gillette Stadium gives the group a special experience. Being able to act continually, rather than a set performance on a stage, is a thrill, he said.
"It's really exciting because the whole idea of the show, the theme of the show, is about connecting as a group and getting people connected to each other in a common space," Adam said. "Any time that we get the chance to get out of our everyday space, which we are in control of in the theater, is really fun to add the chaos. The Blue Men really come alive outside of the theater too. It's very exciting, a little bit scary and a lot of fun."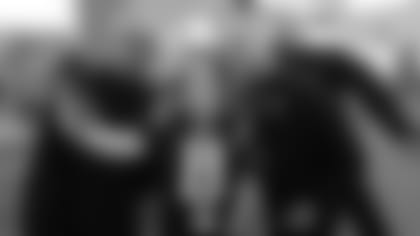 The group began the night with the crew of Thursday Night Football on CBS, staring into the cameras and take photos with fans expecting to watch pregame analysis. They launched t-shirts into the crowd with a slingshot and created spin art using their mouths, creating a show wherever they went.
And of course, their inherent blueness complemented the night's theme.
"It plays perfectly. It's wonderful to have this opportunity to be a part of it because that's our color," Adam said. "That is what we use to connect everybody, and here we are in a place where people also come to gather and connect to each other and root for their team."
Blue Man Group is celebrating its 25th year of performing and creating chaos with a world tour, a new album, "THREE," and its first book, "Blue Man World." Patriots fans who had the chance to interact with the group on Thursday certainly appreciated their ability to connect and create a "blue" energy for the Color Rush. For pictures of the Color Rush antics, check out the photo gallery below.
FUN GALLERy
Blue Man Group was on hand when the Patriots took on the Texans Thursday night.