Four-thousand two hundred and seventy-two words, 29 minutes, 12 seconds and an exceptionally eclectic list of 39 mentioned names later, it was clear Bill Belichick had that Friday feeling when he addressed the New England media for the final time before the Patriots head to Pittsburgh to take on the Steelers in Week 7 action this Sunday afternoon. 
From the likes of Chuck Noll and Paul Brown to Lou Gehrig, Bill Russell and Mick Jagger, Belichick named them all. He offered stories, analysis and insight in preview of Sunday's matchup and in talking about a franchise as rich in history and tradition as the Pittsburgh Steelers, there was surely a lot to say. 
The six-time Super Bowl Champion coach discussed the respect he has for legendary teachers of the game like Noll and Brown and how his time spent studying the Pittsburgh organization during the early years of his career helped impact his own coaching success.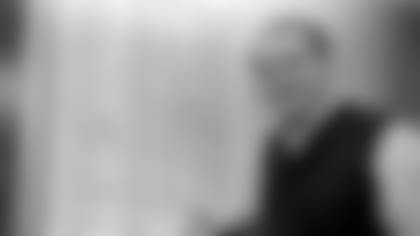 '[I have] tremendous respect for Chuck Noll and certainly through the whole Paul Brown connection and all… [Coach Noll] was a very intelligent guy. He had a great way of mixing football with life….Because of their consistency I've learned a lot from studying that organization and I think Coach Noll was just – did a tremendous job…He had great stability, very good fundamental coach. He believed in what he believed in and they got good at it…I would say learning, part of the learning tree in the early part of my career, even though I wasn't with those coaches, I felt like I learned a lot about their programs and what they did through people that were very closely in that program."
When later asked about Patriots fourth-year defensive back Duron Harmon's emergence as a team leader, the New England head coach shared a concept he learned from yet another renowned sports great. This time, he spoke on a more local scale in referring to Boston Celtics legend Bill Russell while also mentioning some respected Patriot leaders of the past in the process.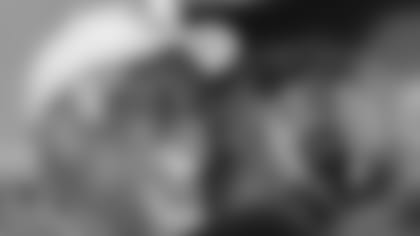 "Duron [Harmon] is, I'd say every team, or most every team I've ever coached, there are always a couple guys on the team that I would say, for lack of a better word, that are silent leaders. They have leadership but it kind of comes out in a little bit of a different way than Junior Seau or Tedy Bruschi or somebody like that…But I would say, and Bill Russell taught me this, that in a way, a silent leader in some respects is more powerful than a more vocal leader because you hear the vocal guy, you see him, you're very aware of it, but then there are guys that give you that quiet leadership that in a way is more powerful because it's not quite out there as much, but it's that quiet push that sometimes can maybe have a little more impetus."
Belichick went on to cite an anecdote he'd been told by Alabama's Nick Saban from his days playing quarterback at Kent State. The story was about Saban's former teammate, turned Pro Football Hall of Famer, Jack Lambert, but the tale quickly took a turn when Rolling Stones lead singer Mick Jagger and baseball great Lou Gehrig were worked into the mix.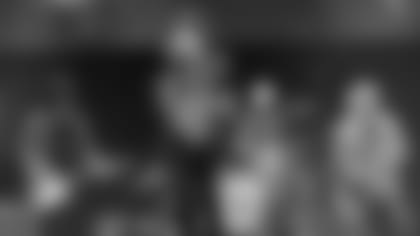 "When [Nick Saban] was at Kent State, speaking of the Steelers. You know, how Lambert couldn't get on the field. He was a backup linebacker and didn't play. The kid in front of him [Bob Bender] was really their leader, he was kind of the heat and soul of the Kent State defense…Anyways, the kid dropped out of school, went to work for Mick Jagger, he was a security guy on tour with the [Rolling] Stones, and Lambert became the starting middle linebacker. He probably would have never played had that not happened, and you know, [now] you have a Hall of Fame player. Sometimes things take a turn, and then once they get that opportunity and they get in there, the Tom Brady's of the world or whoever, you can't get them out of there. Lou Gehrig, it's just, you know."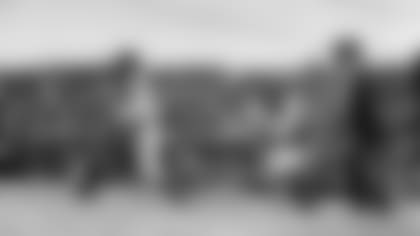 Other names like Mike Vrabel, Rob Ninkovich, Elandon Roberts, Shea McCellin, Dont'a Hightower, Rolando McClain, Courtney Upshaw, Malcolm Butler, Le'Veon Bell, Dan Radakovich, Rollie Dotsch, Bud Carson, Jerry Glanville, Bill Cowher, Tom Landry, Ed Hughes, Joe Greene, Lynn Swann, John Stallworth, Franco Harris, Rocky Bleir, Terry Bradshaw, Mike Webster, Floyd Reese, Greg Schiano and Logan Ryan were also mentioned in the Friday presser. 
"Extending the play here a bit?" ESPN reporter Mike Reiss asked the coach in reference to the lengthy morning chat. 
"Yeah, extending the play. A little scramble," Belichick replied with a smile.