ORLANDO, Fla. – For opponents and observers alike, it's often difficult to predict what Bill Belichick is going to do. Just when you think you've got him figured out, he does something to surprise you. That holds true both on and off the field.
At the 2018 NFL Annual Meeting in Central Florida, the Patriots head coach granted New England reporters an impromptu question-and-answer session on Sunday evening, two days before he was scheduled to do so. However, he promised he'd also attend the yearly sit-down with league coaches bright and early on Tuesday morning.
Belichick's table at the casual breakfast setting was set up in the near right corner of the venue. Perhaps it was no coincidence that one of his former players, Mike Vrabel, was stationed at the table directly next to Belichick's. At 7 a.m., a good 15 minutes before the affair was scheduled to start, Vrabel – the former Patriots linebacker, current Tennessee Titans head coach, and longtime jokester – strolled over with a full plate of food and a good-natured wise crack for the many media he recognized at Belichick's table.
"Is this seat taken?" he quipped as he pointed to Belichick's empty chair. "Or are you going to sit on Bill's lap when he gets here?"
Perhaps Belichick got wind of the remark, because when he finally arrived 45 minutes later, he'd arranged for the sizeable media contingent to move to the nearby corner of the room, where everyone was forced to stand up for his interview session. He also brought a retort for Vrabel, whom someone pointed out was seated close by.
"Yeah, with three people at his table," Belichick smirked.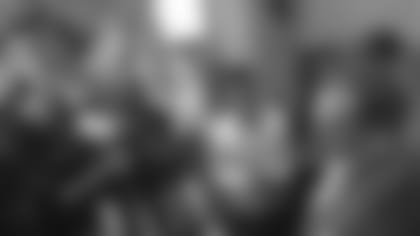 All kidding aside, Belichick expressed admiration for the many former Patriots players, coaches, and scouting personnel who are now in prominent roles with other NFL clubs, including Vrabel and general manager Jon Robinson of Tennessee, head coach Matt Patricia and GM Bob Quinn with Detroit, Houston Texans head coach Bill O'Brien, and Tampa Bay Buccaneers GM Jason Licht.
"It's no different than free agency. It's the NFL. People move on. We've all done that," Belichick observed. "I wish them all well, except when we play them. They're great people, did a great job for me, and they're in positions that we didn't have open in our organization. I'm happy for the opportunity that they have."
As he did Sunday with a smaller group of reporters, Belichick reiterated Tuesday how thrilled he is to have retained offensive coordinator Josh McDaniels, adding that he feels similarly about offensive line coach Dante Scarnecchia, who appears to be staying on the staff in 2018.
"Very fortunate to have a good coaching staff. They're two of the best coaches I've ever worked with. Great guys."
Media reports have indicated that with former defensive coordinator Patricia having just left for the Lions, linebackers coach Brian Flores will assume control of New England's defense, minus the official DC title. Belichick would neither confirm nor deny those reports. Likewise, Belichick would not provide any reason for the frequent appearance of longtime college coach Bret Bielema by his side wearing Patriots-issued clothing at numerous pre-draft workouts this offseason.
"[Flores] has done a lot of different things for us, done them all well, gained a lot of experience. He's a quality person, a quality coach… I think everybody on the defensive staff will take on additional responsibilities," Belichick acknowledged. "We haven't really added anybody to the defensive staff. I'm not saying we won't or will [in future]. We'll have any formal and final staff announcements later in the spring."
Another topic Belichick wouldn't delve into when asked directly about it on Tuesday: safety/co-captain Duron Harmon's customs entanglement during a recent trip overseas.
"I think it's all been covered," he explained. "The Patriots released a statement. Duron released [an apology on social media]. So I don't have anything to add to that."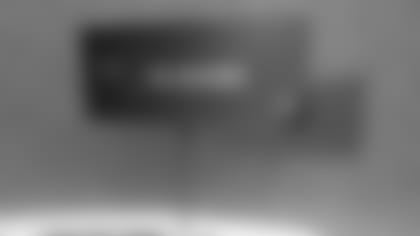 He was more willing to comment on the six new players the Patriots have acquired this offseason, as well as the many New England free agents whom the team re-signed over the past several weeks. As usual, he praised all of them for their individual traits, but qualified his thoughts by saying, "We'll see how it goes" with respect to what impact they each might have with the 2018 squad.
The head coach also touched on the several players who inked deals with other clubs this offseason, namely left tackle Nate Solder (New York Giants), wide receiver Danny Amendola (Miami Dolphins), and cornerback Malcolm Butler and running back Dion Lewis (both Tennessee Titans).
"We lost several players in free agency. That's the NFL. Every team goes through that. Malcolm, Dion, Nate, Danny – they signed contracts that were better than what we were able to give them. They all did a great job for us. Wouldn't have had the success we had without the contributions of those and many other players.
"All the players we added, signed, re-signed, extended, whatever," Belichick continued, "all those things we did because we wanted to do them and reached an agreement with the other party. We'll do the same thing with every player: put them in our program, our system, teach it to them, give them an opportunity, see how it goes. That's what OTAs [organized team activities in the spring] are for, that's what training camp is for [in the summer]."
Those sessions, of course, are still a long way off. In the meantime, Belichick's media obligations are believed to be done until the weekend of the NFL Draft in late April. Until then, he left reporters with this promise.
"There's a lot of team-building left for [the Patriots]."