...New England's offensive line set the tone for the game right off the bat, exploding out of their blocks and driving the Cincinnati front seven off the line of scrimmage. The opening 10-play drive featured just three pass plays – one of which broke down and QB Tom Brady wound up scrambling, so, in effect, just two passes were thrown. This aggressive, run-heavy play-calling gave the Patriots offense (and the crowd) the enthusiasm it so desperately needed after a lethargic performance the previous week in Kansas City.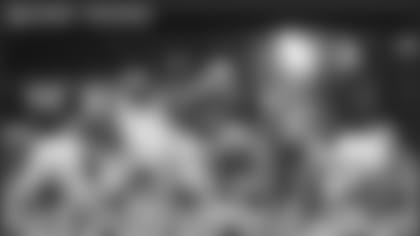 ](http://www.pjtra.com/t/RUBKRExHR0BKSElGRUBISEtERw)...The game's first drive went 80 yards, ending in a Stevan Ridley touchdown run from a yard out. New England used a traditional "jumbo" package, featuring two tight ends –Rob Gronkowski to the left and Michael Hoomanawanui to the left, both in three-point stances, and tackle-eligible Jordan Devey on the right side as well, next to right tackle Sebastian Vollmer. Fullback James Develin was in an I-formation in the backfield with Ridley behind him. Hooman motioned to the left pre-snap and ended up next to Gronk. Develin took aim straight ahead and delivered a solid block at the line of scrimmage against oncoming linebacker Jayson DiManche. That block drove DiManche back slightly into fellow LB Rey Maualuga, so, Develin effectively blocked two players at once. Rookie center Bryan Stork also executed a nice seal block on DT Domata Peko. That area was the point of attack and Ridley ran right behind his two lead blockers into the end zone.
...CB Darrelle Revis' INT on the Bengals' first drive was called off because he was flagged for illegal contact on WR A.J. Green. The two did some hand-fighting at the line of scrimmage within the allowable 5-yard limit, but there didn't appear to be much more that. Questionable call by the officials there.
...Revis looked much more aggressive covering Green than he had in previous games against other receivers. He was playing tighter early on and not worrying so much about hanging back and preventing deep balls. He stuck close to Green on every route. It was refreshing to watch after Revis had looked more tentative in the first four games.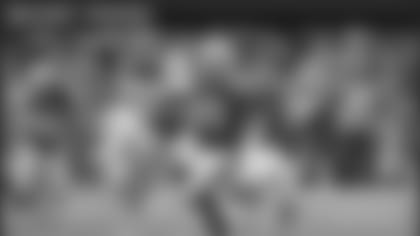 ](http://www.pjtra.com/t/RUBKRExHR0BKSElGRUBISEtERw)...Brady's 50,000-pass yards milestone pass came on a simple 5-yard out-pattern by Gronk, who then turned up field, shaking a would-be tackler from his ankles and rumbling down filed for what turned into a 27-yard gain. It was reminiscent of Gronk plays of old, with the tight end charging full speed ahead and driving his shoulder into defenders when they made contact. It was the most Gronk-like play I've seen from him in a long time.
...Next play was Brady's first TD pass of the night. New England had all three tight ends in the game (Tim Wright being the third), plus WR Brandon LaFell split left and Ridley in the backfield. Wright was in a three-point stance on the left, with Gronk and Hooman on the right side of the formation, tight to the o-line. LaFell motion their way pre-snap. Brady then called for Hooman to motion to the vacant left side, giving New England a balanced look. Brady play-actioned to Ridley, while Wright ran straight down the numbers between two Bengal defenders in the Cincy zone D. Brady's pass was a big behind Wright, who had to make a clockwise spinning turn in the air to make the grab, then held on as he was drilled at the goal line.
...Brady was sacked on the last play of the quarter when Gronk lost a rare 1-on-1 pass protection assignment against DE Robert Geathers. Gronk simply got overpowered by Geathers, who drove Gronk back with a couple of strong shoves to the chest. You don't see that very often out of Gronkowski.
...One of Brady's dozen incompletions on the night came when it appeared the right side of his line, including Gronk, failed to hear the snap count. When the ball was snapped to Brady in the shotgun early in the second quarter, none of his blockers on that side moved and the Bengals were able to get into the backfield to pressure Brady. He was also getting heat from his left side, where Solder had allowed DE Wallace Gilberry to penetrate into the backfield. Brady recognized all this and wisely threw the ball away out of bounds.
...Left guard Dan Connolly was flagged for a chop block on the next possession. Legit call, as he dove at Peko's legs while that player was being blocked by Stork.
...Another of Brady's incompletions was a deep ball to LaFell. It appeared that LaFell slowed down midway through the go-route, and was unaware that Brady was targeting him until the ball was too far out of reach.
...CB Alfonzo Dennard, in his first action since the season opener, got flagged for a holding call that was technically legitimate. He grabbed hold of the back of the receiver's jersey for a split-second on an in-and-out route close to the line of scrimmage. Dalton appeared focused downfield, and that's where he ultimately threw the ball (an incompletion), but Dennard's quick tug helped kept the drive going.
...Rookie DL Dominique Easley picked up a foolish personal foul penalty when he blocked Bengal RB Giovani Bernard in the back during an apparent fumble return by Patrick Chung. The play was ruled an incomplete pass (correctly ruled that, upon inspection), and while there was confusion on the field as to whether the play was dead or not, Easley was smart to play on as if it were continuing. However, whistles were being blown and several players had stopped moving altogether. Easley's infraction was at the very least a block on the back, but the way he dove into Bernard's body was just cause for the 15-yard penalty he drew for unnecessary roughness.
...Bengals should have had a TD pass on that drive, when TE Jermaine Gresham had badly beaten LB Jamie Collins on a corner route. Dalton's well-placed ball just went right through Gresham's hands in the end zone. Bad drop by the intended receiver and not a great effort by Collins to keep up with him in coverage.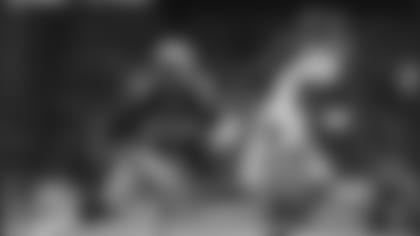 ](http://www.pjtra.com/t/RUBKRExHR0BKSElGRUBISEtERw)...Dennard again was flagged for holding WR Mohamed Sanu on the same drive, only this time he held on a lot longer than the previous time. As Sanu was running his seam route, Dennard just grabbed ahold of his jersey near the shoulder and didn't let go. Easy call for the officials.
...Revis' strip of Green after a 19-yard catch just before the half was a nice individual effort. Revis wrapped up Green nicely with both arms, and as he was dragging the receiver to the ground, he used one arm to knock the ball loose. Collins recovered for New England. He then fumbled as he was hit by a Bengal, and the ball was picked up by Dennard, who advanced it further, but because the play happened within two minutes of intermission, rules state a team cannot advance its own fumble. So, the ball was blown dead at the spot where Collins lost the ball.
...The 47-yard punt return by Adam Jones that set up Cincinnati's first touchdown should have been brought back. Gunner Matthew Slater appeared to have been blocked in the back by at least one, if not a pair of Bengals right in front of Jones when he fielded the punt. That's what sprang Jones down the right sideline. Looked as blatant an infraction of its kind that I've ever seen, but it went uncalled.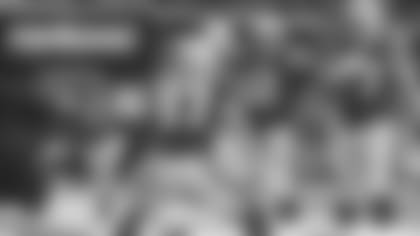 ...Very next play, Dalton in the shotgun had Sanu on the right of the formation, motioning all the way over to the left. New England was playing zone and allowed Sanu to get a free release at the line of scrimmage. Dennard gave Sanu inside, which was wide open with no deep safety to help. Post pattern by Sanu easily beat Dennard and Dalton made a nice throw to hit him in stride for the score.
...Brady and the offense responded with a 10-play, 86-yard drive that took five minutes off the clock. Some excellent examples of run blocking by the New England o-line along the way, too. Brady's TD toss to Gronk was almost a pitch-and-catch against air. Cincinnati had no one in the middle of the field, and no Bengals got a hand on Gronk as he released from a three-point stance on the right side. A safety came up to make a weak attempt at bringing Gronk down by diving at his legs, but the tight end kept his balance and literally walked into the end zone.
...On the ensuing kickoff, Brandon Bolden on the kick coverage unit was the first player to meet returner Brandon Tate, from the left side of the kicking team. Bolden made a nice form tackle, wrapping up with both arms, and his helmet dislodged the football. LB Ja'Gared Davis, newly promoted from the practice squad, swiped at the loose ball to get it away from converging Bengals. Heads-up play by him, as the ball squirted toward the sideline and was scooped up by an unblocked Kyle Arrington. He then raced the next 10 yards and somersaulted into the end zone for the punctuating score of the night.
...Cincy had one last gasp on their next possession. Green's 35-yard completion happened on a play when Revis wasn't playing tight, aggressive coverage on him. This allowed Green the space to separate from Revis down field and make a tremendous diving grab. Revis injured his left hamstring two plays later and had to be taken briefly to the locker room (he came back in the fourth quarter). In his stead, Logan Ryan came in to cover Green and Dalton immediately picked on him. Ryan didn't get a good jam on Green at the line of scrimmage. Then, to make matters worse, LB Jerod Mayo inadvertently screened Ryan momentarily as Mayo raced across the field in the opposite direction to cover another Bengal receiver. Green now gained separation from Ryan and had to adjust his body by spinning clockwise when Dalton's throw came in behind him. Green bobbled it, but held on as he kept himself in bounds in the back of the end zone.
…The game was a foregone conclusion by this point, but there were still a couple of noteworthy plays to examine. First, Chris Jones' sack of Dalton on 3rd-and-6. He was actually aided by fellow d-lineman Chandler Jones. At the snap, Chris faced a double-team, which he split perfectly and squeezed his big body in between the left guard and tackle. They seemed unprepared for his speed on that particular play. Chandler, meanwhile, also put a speed move on the right tackle, but had to fight through his block as well. Chandler got to Dalton first, forcing the QB to move up in the pocket and directly into the path of the oncoming Chris. Good teamwork by the Joneses.
…Arrington made another big play when he stripped WR Dane Sanzenbacher after a catch in the flat on the ride sideline. Arrington got screened by Sanu's crossing route and had to allow Sanzenbacher to make the catch. But when he got behind the receiver, he used his left arm to punch the ball out with a great underhanded swing. The ball traveled up-field where it was recovered by Duron Harmon. Patriots added a fifth field goal to close out the game's scoring several plays later.
DO YOUR JOB: The Offensive Line – Several players had positive individual efforts against Cincinnati, but as a whole, the offensive line was the most encouraging. After a dismal month of September, the line may finally be coalescing with rookie Bryan Stork at center, Dan Connolly at left guard, Nate Solder and Sebastian Vollmer at the tackles, and against the Bengals, Ryan Wendell at right guard. This combo might be the best option for New England going forward. It's the most experienced and talented, combined, and may be best equipped to both run and pass block. They certainly did all that against Cincy, tallying 220 yards on the ground and helping Tom Brady pass for nearly 300 yards.