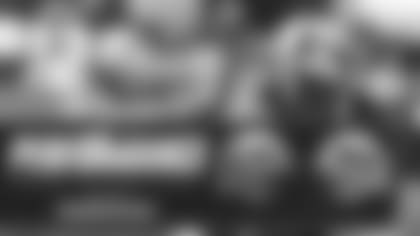 …The big play that set up Buffalo's first touchdown – WR Sammy Watkins' 43-yard catch-and-run – was nearly a great defensive play by CB Darrelle Revis. The kind, in fact, that he has made for most of this season and most of his career, actually. The rookie just ran a simple in-pattern downfield, and Revis was with him stride-for-stride. As the ball arrived, Revis dove in front of Watkins to try to swat the ball down, but he just missed it by inches. Revis hit the deck and Watkins took off. He was then able to elude S Devin McCourty and gain several extra yards before McCourty eventually caught up with him and brought him down at the NE 10-yard line.
…Two plays later, QB Kyle Orton hit a wide open WR Robert Woods for a 6-yard TD thanks to a busted coverage by the Patriots. The Bills were in a trips left bunch formation with Woods among the three. New England decided to blitz Orton, but the Bills picked it up nicely, giving him time to look into the end zone, where Woods was left uncovered from the start of his route to the end. Seeing nobody on him, Woods simply settled down in the middle of the field. It looked like either Logan Ryan or Malcolm Butler should have been responsible for Woods, but both players decided to take on the other two Bills receivers in the bunch formation. Problem was, so did S Patrick Chung. That left Woods wide open.
…New England's makeshift offensive line was missing two starters (RT Sebastian Vollmer with a back injury and LG Dan Connolly because of a knee), but it did a fairly good job of pass protecting for QB Tom Brady in the opening stanza. It left a little to be desired, however, when it came to run-blocking.
…One of the bright spots offensively for the Patriots was the play of second-year WR Brian Tyms. He ran some nice routes and read Buffalo's coverages well to get himself open and catch three of four passes from Brady for 31 yards in the first 15 minutes.
…Buffalo's second touchdown drive started at the end of the first quarter and continued into the second. It was mostly a product of good run-blocking by the Bills' o-line and hard running by their trio of backs: Boobie Dixon, Fred Jackson, and C.J. Spiller.
…The score came from a 3rd-and-goal from the NE 1. Buffalo came out in what looked like a traditional heavy package, with tackle Chris Hairston reporting in as eligible. The Bills went to the line of scrimmage with a tight formation, but then spread it out by sending Hairston and TEs Scott Chandler and Lee Smith out wide, along with Jackson, who motioned out of the backfield. That left just Dixon behind Orton. New England was forced to react by spreading its defense out as well, leaving a big open space where the inside linebackers would normally reside. The o-line had the advantage and executed their blocks well against an undermanned New England front. Dixon took the handoff and didn't need much effort to squeeze between his blockers and over the goal line. LB Darius Fleming was too far back to get up to stop Dixon's momentum and was blocked from the side by RG Erik Pears anyway. Too little, too late. Good play design and execution by Buffalo.
…Perhaps the best play of the day for New England came on defense. Bills had 2nd-and-8 from midfield. Orton was in the shotgun with Spiller to his right, Watkins split wide right, and three receivers to the left. New England showed man coverage. LB Jamie Collins came up the middle on a blitz and Spiller attempted to pick him up. Collins' speed was too much for Spiller, though, and Collins got by him. He made a flying leap at Orton, but missed. Orton stepped up in the pocket and quickly looked behind him to see where Collins was. Seeing the linebacker on the ground, Orton turned back around and looked downfield for a receiver, but Collins got back up immediately and Spiller again was unable to shield him from the QB. Collins swatted at Orton's arm as he wrapped him up from behind and the ball squirted out. DE Chandler Jones and DT Vince Wilfork, while both trying to recover the loose ball, knocked it back toward Collins, who reached one arm out and snagged it, drawing it back to his body. Amazing individual effort by Collins to the get trifecta of sack, forced fumble, and fumble recovery all on his own.
…Brady suffered his lone sack of the day on the ensuing possession. On 2nd-and3 from the BUF 19, Brady dropped back from under center. Josh Kline, filling in for injured Connolly, was driven back by an excellent bull rush from DT Stefan Charles. Kline never had his footing or leverage against Charles, who was able to muscle his way all the way to Brady for the takedown as he threw Kline to the ground at Brady's feet and the QB crumbled under the expected impact from Charles.
…RB LeGarrette Blount, after missing a week with a shoulder injury, ran well and hard in the second quarter for the Patriots.
…LT Nate Solder not only committed a blatant holding penalty just before the half, he also injured his right knee in the process. While trying to stop DE Jerry Hughes from getting to Brady, Solder clamped down on Hughes' left shoulder and pulled him to the ground just as Hughes was about to drill Brady from the side. As the two players fell to the ground, Solder's right knee took the full impact of his enormous body and weight. Solder got up and stayed in for the final two plays, but he was limping noticeably as he made his way to the locker room for intermission. Unclear if it was a serious injury or just precautionary that the team held him out of the remainder of the game.
…Rookie Jimmy Garoppolo spelled Brady at the start of the second half and was promptly brought down on the second play by DE Jarius Wynn. It was the first of three sacks of Garoppolo in the second half. RG Ryan Wendell was manned up on Wynn, but the Bills defender was able to use speed and good leverage to overcome Wendell's initial solid blocking. Wynn fought his way into the backfield, grabbed Garoppolo by the back of the jersey, and wrestled him to the ground.
…Orton was brought down for his second and final sack of the day when LB Akeem Ayers met him in the backfield on the next Bills drive. Orton was operating out the gun with an empty backfield. As they've done so often and so successfully all season, the Patriots defense executed yet another perfectly-timed stunt. Ayers was in a standing position on the offensive left side, next to Jones. At the snap, he ducked behind Jones and Wilfork to come rushing up the middle in a vacant alley directly at Orton. Easy play for Ayers to make, but it all came down to the timing of the stunt. It was also on a crucial third down, which forced the Bills to punt from their own territory.
…Second Garoppolo sack came next possession on 2nd-and-5. The rookie was under center and S Da'Norris Searcy came on a safety blitz from Garoppolo's right side. No one picked him up, as Blount didn't see him as the running back snuck up the middle to try to release as an outlet receiver for his QB. Garoppolo eluded Searcy, but as he stepped up in the pocket, he was swarmed by DE Mario Williams.
…He was brought down on the very next play, too, but it was wiped out by a Bills penalty. Garoppolo's right side of the o-line simply collapsed in on him and he was forced to try to run. Thankfully for him, the Bills committed a penalty in the secondary.
…Patriots OC Josh McDaniels used a Wildcat play for the first time I can remember. He sent Garoppolo in motion to the wide left and RB Brandon Bolden took the direct snap. Never see that when Brady is in the game. The play gained little, but the threat of it was a novelty from the New England offense.
…Blount's nice running continued into the third quarter. He showed good patience and vision as he read his blockers and hit his holes decisively.
…Garoppolo showed some good instincts and elusiveness as he scrambled a number of times. One play that came up short was a 4th-and-1 from the BUF 13. It was a designed QB-keeper for the rookie to take to the left side, but his blockers, including FB James Develin (lined up wide, then motioned in to crack down), mostly missed their assignments and about four Bills defenders converged on Garoppolo to take him down short of the sticks.
…Garoppolo was forced to scramble – and actually picked up yardage – on the Patriots' penultimate drive of the game because of breakdowns on the left side of his o-line. Specifically, Marcus Cannon, who began the game at right tackle in place of injured Sebastian Vollmer, but moved over to left when Solder was knocked out of the game. Both times, Cannon couldn't handle his man, the much lighter and quicker Hughes, who harassed Garoppolo into leaving the pocket.
…Cannon was responsible for Garoppolo's third and final sack a few plays later, when he couldn't contain Hughes. Garoppolo felt the pressure coming and tried to spin away from trouble, but in so doing, he backed himself up about 15 yards and the Bills front was able to break through the crumbling o-line. Before he knew it, three Bills defenders were on top of him, including Hughes. But Cannon was the cause of the initial leak.
…It only got worse for Cannon, who was flagged on the next play for holding Hughes to avoid getting his QB dropped yet again.
…An unfortunate play for LB Jonathan Casillas drew him a personal foul penalty for roughing Orton. Technically, by the letter of the law, it was the right call. Casillas came in and made (ever so slight) contact with Orton's facemask as he wrapped his arms around the QB as Orton unleashed a pass. Casillas didn't make violent contact with Orton, but the fact that he aimed high on his attempted tackle, instead of going for the midsection, was the linebacker's mistake. Best to stay away from opponents' heads when trying to tackle them. His sloppiness cost the defense 15 yards.
---
DO YOUR JOB: Brandon LaFell – On a day when several New England starters were either given the day off entirely or most of it to rest their bodies, LaFell was an exception. He was a vital part of the offense all afternoon, leading the team in receiving yards and even carrying the ball twice on a pair of end-arounds. He appeared to injure an ankle late in the game, but was able to shake it off and return to action before the final whistle.