INDIANAPOLIS -- Last Halloween, Browns Executive Vice President of Football Operations Sashi Brown made a big trade with the Patriots. This spring, many have speculated that the Browns boss might do another deal with New England.
Wednesday morning at the 2017 NFL Scouting Combine Brown was much more interested in talking about the former – a midseason trade for linebacker Jamie Collins – than he was the latter – the much speculated potential interest Cleveland could have in dealing for Patriots backup quarterback Jimmy Garoppolo.
"I wouldn't comment on a player on another team. It would just be inappropriate for me to do and against league rules," Brown responded to the first question of his press conference regarding Garoppolo. "I understand the interest in that and I've seen all the headlines that have been written, but I wouldn't comment on that."
A few minutes later came a follow-up regarding whether Brown and the Browns would even look into a potential deal for New England's backup.
"I wouldn't comment on that in this forum. It would be inappropriate and against league rules," Brown said, sticking to his script.
Brown actually guided the Browns to a pair of previous deals with the Patriots, a training camp pick-for-player swap for Barkevious Mingo preceding the Collins trade. As such he has an existing relationship working with the Patriots.
"Good," Brown said describing the lines of communication between the two teams. "I think they are easy to work with. And I would describe it as good."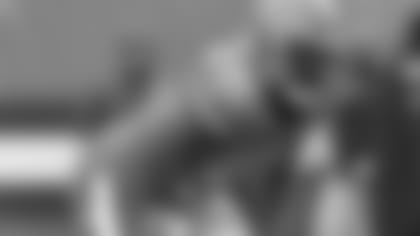 After avoiding another would-be Garoppolo trade query – "This is a back-door Garoppolo question?" – Brown brought up the acquisition of the Pro Bowl linebacker Collins as an example of how a player's contract situation factors into trade values.
"I don't think anybody thinks Jamie Collins is a third-round talent," Brown said, alluding to the compensatory pick -- No. 103 -- that Cleveland swapped for the athletic playmaker. "It's just when you looked at the number of years under control, under his contract, what you are trading for and how long you may or may not have him on your roster, certainly factors into discussions you have with other teams."
Brown made it clear Cleveland is quite happy with the deal it made for Collins, especially after signing him to a four-year, $50-million extension this winter.
"We really liked the Collins trade. I think it worked well for New England. Worked well for us," Brown said before describing what he's seen from his big-money linebacker. "Really talented player. Really passionate about football. High football intelligence. And incredibly athletic. So we like all those things. They fit within our building. Fit with our coaches. He and Hue [Jackson, Browns head coach] have a good and growing relationship. So we liked everything we saw about him. And he played well adjusting to a new system."
Brown also ensured that there is no reason for pause when the Patriots move on from a player, despite New England's impressive record of personnel decisions under Bill Belichick.
"No. Because I think we've seen in time that they have acquired and let go of players for a variety of reasons. You have to make your own individual evaluations and trust those. We felt good about Jamie and still do."
How they feel about Garoppolo and a potential trade, though, remains uncertain after Brown's tight-lipped approach to the topic at the Combine.