Rookie cornerback Malcolm Butler has been standing out since training camp began. The undrafted player has steadily seen his reps increase, to the point that he's now seeing action on the opposite side of the field from Darrelle Revis.
It's been an admittedly meteoric rise for the 24-year-old from West Alabama.
"You've got to earn those. They're not going to be given to you," Butler said after the second joint practice session with Washington.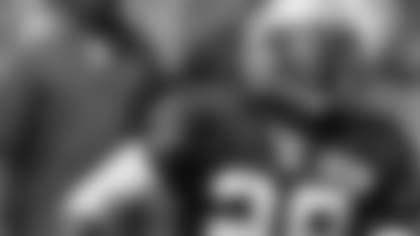 "I mean, it was head-spinning at first, adjusting to everything. It was a big challenge for me, but I'm coming through well. I'm getting with the program, learning things week by week. Still learning, getting better."
Butler concedes he's still not quite to the point where he can just go out on the field and play instinctively on every down, that there are still times when he has to think too much, but he's working hard to change that.
"I have off and on days, which is not good. You've got to be consistent. Bill [Belichick] is always talking about consistency. So, that's my main goal – just be consistent every day."
Though he's young and undrafted, Butler exudes a confidence beyond his years as he talks about his abilities and the reps he's earned on the field so far for New England. He spoke about watching Division II star Danny Woodhead earn a job with the Patriots and how that inspired him when he was signed in the spring.
"My high school and college coaches told me they're big on finding guys from small schools that really just want to play football. It's still kind of shocking to me, but I've worked hard for it. I kept pushing because I knew what kind of talent I had. I just kept believing. It's a big opportunity to have these chances I'm getting with the New England Patriots."
Patriots coaches have mostly placed Butler on the edge, and while he says he's fine with playing on either side, he also wants to learn to play in the slot.
"Whatever to help the team, I'll do it," Butler said.
With that attitude, it's little surprise that Butler has risen as quickly as he has. Nevertheless, he's not taking anything for granted and is anxious to take the field in his first preseason game Thursday against the Redskins.
"When I first came here and heard Bill Belichick talk, I knew this is the place I wanted to be, because they're disciplined. I just want to prove that I belong here, that I'm not just some practice player, that I can get it done under the lights. I'm just trying to do whatever to make my team better. I wouldn't want to be in any other organization than the New England Patriots."
Joint practices are productive
Since 2010, the Patriots have routinely conducted joint training camp practices with preseason opponents, though none of the sessions ever went as long as Tuesday's three-hour session in Richmond.
Thankfully for everyone in attendance, the weather was warm but not as oppressively hot as had been forecast, which helped make the practice a crisper one than the day before.
"It cooled off for us. It got off to a hot start but it wasn't as hot as I thought," Brady told media from both markets afterward. "We've run a lot of lot of plays. This is probably one of the longer practices I can remember. We did a lot of situational stuff. It was a lot to do. There were a lot of two-minute drills, we did a lot of red area stuff today, a lot of one-on-ones – just a lot of competitive situations. There's not a lot of individual work in days like this. It's just more competitive team stuff and we did a lot of different things. When you practice against your own defense, you get a lot of the same looks but what we're seeing here the last couple days is pretty different than what our defense does so hopefully it serves us well in the long run.
"We got a ton of reps. Yesterday, I'd say it was probably 80 or 90 reps. Today was probably pretty similar. Typically you don't get that in a given week. I think we're going to learn a lot from today's practice. It's been two fun days to go against another team and have a different kind of energy out here than a normal training camp practice. It's been a lot of fun. Hopefully we finish off with one good day tomorrow then we play Thursday night."
"I thought it was a really good day for our football team. We got a lot better," Belichick added in his remarks to reporters.
"I thought that both teams worked well with each other. It was great work but also good cooperation. It's kind of what we came down here for. I think that, as I said, Jay [Gruden, the Skins' head coach] and the coordinators – Sean [McVay on offense], Jim [Haslett on defense] – have really done a really good job with the team. They're fundamentally sound, they compete well, they play well and I thought we had real good cooperation out there.
The Redskins facilities at the Bon Secours training center may not have been ideal – Patriots players, for instance, didn't have their own locker room there – but Belichick said he was pleasantly surprised by at least one development in Richmond.
"A lot of fans – saw a lot of Patriots fans out there. That was good; didn't expect to see that."
!Although it was a long, hot work day for the players, at least two of them were able to maintain their good humor afterward. Brady was asked about his on-field relationship with wide receiver Julian Edelman, last year's leading Patriots receiver.
After saying how proud he was of Edelman's growth from a long-shot seventh-round pick to a trusted target, Brady then received a question about Brandon LaFell, an offseason free agent acquisition who's the tallest of New England's receiving corps. Brady took the opportunity not only to laud LaFell, but also to take a playful jab at Edelman and fellow diminutive pass catcher Danny Amendola.
"I've got some of the little pygmies out there like Julian and Danny and it's nice to have a little bigger guy out there from time to time who has a bigger catch radius. Hopefully Danny and Julian don't get mad at me for saying that," the QB smiled, pausing for effect, before adding, "They won't. They know I'm joking."
Later, Edelman was told of the Brady barb and, grinning with tongue firmly in cheek, said he was "fully, fully mad" at his quarterback.
"I wouldn't expect anything less from him," Edelman joked.
!Buy: Patriots receivers – Julian Edelman and Danny Amendola carved up the Redskins secondary for the second straight day, and after a shaky start to camp, Brandon LaFell suddenly seems to be catching everything thrown his way.
Sell: Brandon Browner – He's still getting beaten far too often at the line of scrimmage, and has even surrendered some reps to undrafted rookie Malcolm Butler.
Play of the Day: During 11-on-11 reps, the Patriots offense was moving the ball well in a down-and-distance game simulation. With the ball around the 30-yard line, Tom Brady dropped back to pass. The o-line formed a perfect pocket for No. 12, who looked off the safety in the middle of the field, then turned to the left, where Danny Amendola had beaten his man by a step down the sideline. Brady fired a precision strike that landed over the defender's head and right into Amendola's waiting arms. He corralled the pass and tiptoed over the pylon for the score.