On any given game day Joan Fisher, Jeanne Dooley and Jane Hardy rival just about anyone as the most famous people at Gillette Stadium. They can't get more than a few feet without being stopped, hugged and greeted by familiar faces and a lot of friendly strangers.
"How was the boat ride? Was it choppy today?" one asked. "You three are great!" another said walking by.
For more than 20 seasons Jane, 77, Jeanne, 85, and Joan, 87, have traveled to each home game from Nantucket, which for a 1 p.m. kickoff means waking up at 4:45 a.m., catching a ferry to Hyannis and trekking down to Foxborough. Though the day begins before 5 a.m. and won't end until they get home around 10:30 p.m., every step is worth being able to watch the Patriots play at Gillette Stadium.
"We love the game, and we love seeing all of the players and the excitement of actually being on the scene," Jeanne said.
"There's nothing like being with the crowd," Jane continued.
"It's a lot more fun than watching at home. You can't beat being with the crowd," Joan said.
Without skipping a beat, they finish one another's thoughts in excitement. 
No matter the weather, fans can expect to see Jane, Jeanne and Joan wearing Patriots earrings, their Tom Brady jerseys and practically permanent smiles. Even if it snows, they've got it under control.
"No big deal," Jeanne said. "We just wear different clothes."
Their dedication earned them the Bank of America Fan of Year Award in 2005 and a spot in the movie that plays at The Hall at Patriot Place presented by Raytheon.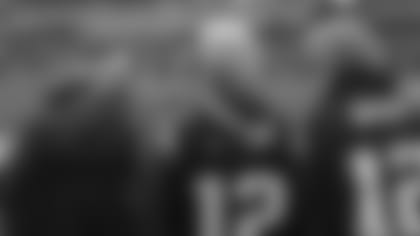 They are Patriots Nation celebrities in their own right, so when Robert Kraft attended the Boston Pops on Nantucket, he made sure to stop and say hello to three of the team's most dedicated fans. A couple of months later, the trio met Mr. Kraft again on the field before the Patriots hosted the Bills on Oct. 2. 
No matter how many times the sisters have made the trip to Gillette Stadium, each game is new, thrilling and an adventure. Jane, Jeanne and Joan watched their favorite team warm up from the sidelines, admiring their catches, speed and, in the case of Alan Branch, dance moves. They laughed with each other and with people they had just met as they studied their team up close. 
From a young age, the sisters learned to love the game of football and watched with their father. The game and the team give Jane, Jeanne and Joan a chance to spend time together and create their own traditions. While it's a shared experience, it means something a little different to each one. Each game, no matter the stakes, Joan is nervous. Jeanne loves the physicality of the sport, and Jane feeds off the energy of the crowd. 
While the Patriots have left their mark on the sisters, they have also returned the favor. When Gillette Stadium was built, Jane, Jeanne and Joan got their names on their respective seats in Section 236. With the love of their team literally engraved in the stadium, it is also something they share with their own families. They'll bring their grandchildren from time to time, and they have all seen the video at The Hall more than once.
"They love seeing the video," Joan said. 
From the aluminum seats at Foxboro Stadium and seasons where wins were hard to come by to a new stadium, complete with four Super Bowl Championship banners, Jane, Jeanne and Joan have been there watching it all unfold. As Jane said in the movie at The Hall, they couldn't, wouldn't and haven't stopped cheering for the Patriots, "no matter what."
RELATED LINKS