Patriots director of player personnel Nick Caserio held his pre-draft press conference Wednesday afternoon at Gillette Stadium.
During the Q&A session with the media, Caserio discussed a variety of topics with differing degrees of responsive clarity.
For instance, he included the positions of wide receiver, running back and defensive line when he was talking about some of the deeper crops of talent that will be available for all 32 teams come May 8-10. He also emphasized the importance that the underclassmen, a record group of just more than 100 players, will play in the draft process.
From his perspective he also said that "this year is really no different" when asked about the attention-grabbing reports that have tied the Patriots to such high-profile quarterback prospects as Johnny Manziel and Teddy Bridgewater during the pre-draft process.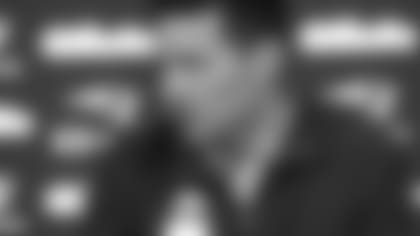 Maybe the most simplistic but accurate thing that Caserio had to say was in regards to the roster. He relayed that he Patriots currently have 65 players on the roster, meaning that in the near future as the team moves toward OTAs and mini-camps that more nearly one-third of the 90-man roster limit remains to be worked out.
So even though there has been plenty of activity this spring both major – signing Darrelle Revis and Brandon Browner for example – and less notable – like adding a special teamer in the form of Josh Hull – there is also plenty of work left to be done. Next week's NFL Draft will be the biggest part of that, but not the only aspect of the continued roster evolution.
"I don't think there's really a set formula going into it, how we're going to approach it," Caserio said of a Draft that's just more than a week away. "We've hopefully put the work in and prepared and have the evaluations correct and then ultimately have to make the decision that we feel is best for our team in an effort to try to improve our team. This won't stop the team building process. There will be other opportunities for us to do it but with the roster at 65 right now, so there's probably 25 spots, give or take, that are available. The large bulk of those will probably come next week and I would say in the few weeks moving forward as well."
The Patriots currently hold eight selections over the three-day draft. That would leave 17 slots coming as potential undrafted free agents or veteran free agents – with reports still keeping the idea of adding veterans like Will Smith and Michael Bush very much alive. Of course a trade, including the distinct possibility of adding picks if the team were to trade down and out of the first round, could add more draft picks for a New England team that was already extremely youthful a year ago.
So Bill Belichick and Caserio have put together a group of 65 guys who'll compete to eventually make up the 2014 New England roster. They will continue to add 25 or so more in the coming weeks.
There is still plenty of work to be done. And those additions could come at just about any position, even one in which the Patriots would appear on paper to be pretty well stocked.
"I think what you don't want to do is pass on a good football regardless of your circumstances," Caserio said. "We've talked about this a little bit in years past. When we drafted Nate [Solder], with Matt [Light], we felt like he would be coming back and we had Sebastian [Vollmer]. When we drafted Nate, at the time did we necessarily need to draft that player? Maybe, maybe not. But we felt like that was player that we had conviction about. We felt good about the player and we'd figure out a way to utilize him. You never want to pass up a player. Look, if they are equal value maybe you go to a different position but if there is a good football player and he's head and shoulders above the rest then internally we just have to make that decision. But you don't want to pass on a player just because he has a position where there might be numbers or volume or whatever the case may be."
Could that even include considering drafting a quarterback? The heir apparent to Tom Brady?
"I would say we're focused on improving our football team in whatever capacity we can do. We'll always consider that," Caserio said in maybe his best Belichickian response of the day.
To read the full transcript of Caserio's pre-drafty press conference click here!