Thursday morning was anything but a normal shopping trip for Jon Kanavich of Hudson, Mass. Jon, his wife and two sons arrived at the Patriots ProShop, did some light stretching and waited for broadcaster and former Patriot Scott Zolak to start the clock.
Jon was this year's Gear Up & Go sweepstakes winner, hosted by 98.5 The Sports Hub and the Patriots ProShop. He was given 98.5 seconds to grab as much merchandise from the Patriots ProShop as possible, retrieving one item at a time, dropping it in a basket by the registers and hitting the floor again.
Though Jon came in with a plan – a shopping list written on the palm of his hand – he said he had to "call an audible" once he actually began. He even had the technique down to maximize time and energy.
"[I planned to] empty the gas tank on the items far away, so when I got tired I could get the stuff that was closer to the register," Jon said after the shopping spree.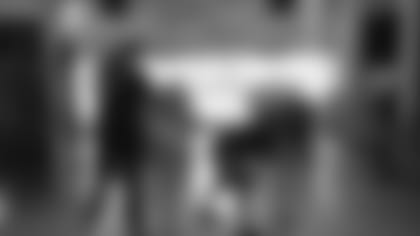 This plan of action worked.  Jon walked away with seven of the 11 items on his list, including a couple of jerseys and sweatshirts for his children and wife, for a grand total of $659.92 worth of merchandise.
Jon said he thought he did alright, but the pressure of the day got to him.
"Maybe a few items got away from me with the cameras and Zo busting on me," Jon said. "Maybe it didn't help, but it was a lot of fun."
Much of what Jon grabbed was for his kids, and it is only right, as he said his sons are a large part of why he was able to do well in the first place.
"My kids, they're always all over the house and climbing things. I'm like Rocky Balboa chasing around chickens getting ready for a fight to get quick," Jon said. "I used to be faster though, that's for sure."
In addition to the shopping spree put on by 98.5 The Sports Hub and the Patriots ProShop, Jon also received tickets to the Patriots preseason game Thursday night against the Bears.
Check out all of Jon's run in the video below.
https://www.facebook.com/patriotsproshop/videos/10157331642875646/
RELATED LINKS