Students at the Mather School in Dorchester were in for a treat on Tuesday. Not only were members of the Patriots, cheerleaders and Pat Patriot attending a school-wide assembly, the oldest public school in America was about to get a 21st century upgrade.
The Patriots teamed up with Southern New Hampshire University to provide a $25,000 grant to a local school to upgrade and improve technology resources for its students. The Mather School used the grant to create a technology lab, including brand new desktop computers, tablets, a television, furniture and more.
Patrick Chung, Jordan Richards and Brandon King were all on hand to unveil the Patriots-themed technology lab, alongside New England Patriots Charitable Foundation President Josh Kraft, former Patriot and Pro Football Hall of Famer Andre Tippett, Mather School Principal Rochelle Nwosu, Executive Vice President of Southern New Hampshire's College of Online and Continuing Education Amelia Manning and Deputy Superintendent of Student Support Services of Boston Public Schools Karla Estrada.
After an assembly with the entire school, a third grade class had the opportunity to see the technology lab first and participate in a digital scavenger hunt with some help from the Patriots. Groups of students were tasked with finding answers to questions like, "How tall is Nate Solder?" and "Who are two tight ends on the Patriots?"
Patrick said his table was getting quite competitive finding the answers. The day was a fun chance for him, Brandon and Jordan to get in the community, and Patrick said this kind of investment makes learning exciting for students of all ages.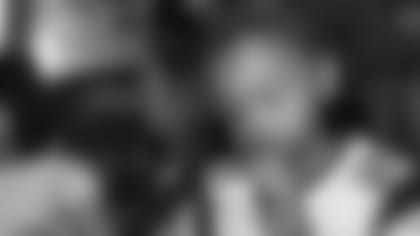 "I would have used this every day. My son would probably use this every single day just looking things up because nowadays technology is big," Patrick said. "If you use it the right way, you can learn a lot of things. I think it's good for kids to have a lot of technology so they can learn things. They can play games and have fun. They want to come to school."
The technology lab next door to the library and completely decked out in Patriots detail. From the computer backgrounds to posters on the wall, the Patriots will be cheering on as the students take advantage of the technology at their fingertips.
Rochelle said it has been a thrilling ride since Robert Kraft called and told her about the grant.
"I was expecting to be excited for this day. I'm just overwhelmed, excited and happy for the students because the sense of pride that they feel, that they have this space at their school," Rochelle said. "It's not just a technology space. It's a Patriots technology space. I don't think the kids will ever forget this experience, especially this third grade class. Being able to navigate with the players, the cheerleaders and Pat Patriot, I think it's an unforgettable moment for them. Those are the pieces that you don't sign up for when you come to school in the morning, and we were able to provide that for them today."
Director of Partnership Marketing at Southern New Hampshire University Steve Thiel said that one of the university's missions is to expand educational access, and being able to work with the Patriots to provide this lab for the Mather School has been rewarding. His hope is that the technology will help connect teachers and students even more.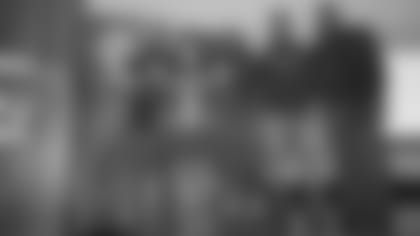 "It allows teachers to connect to a generation via technology that is used to growing up with technology. Most of the teachers, I imagine, grew up in a time when technology wasn't readily available at all hours of the day, and the students did grow up in that way," he said. "They're used to learning with technology, their phone, the internet. It'll be a nice way to connect those generations and allow for a more efficient teaching environment."
In the first day with their new technology, the students were already engaging and learning where to find reliable information for their scavenger hunts. Patrick, Brandon and Jordan guided their groups, but the kids were quick to find the answers on their own. They grabbed pencils to write their responses from "Do Your Job" mugs on each table, and when the class reviewed the scavenger hunt as a group, every question was answered correctly.
Check out more photos for the unveiling in the gallery below.
Fun gallery
Patriots players Patrick Chung, Brandon King and Jordan Richards visited The Mather School in Dorchester, Mass., on Tuesday, Sept. 13, to unveil a new technology lab. The Patriots Charitable Foundation teamed up with Southern New Hampshire University to provide a $25,000 grant to improve technology resources at the school, the oldest public school in the country.