INDIANAPOLIS -- Plenty of Combine prospects profess to be fans of certain players or teams, usually focusing on elite NFL talents at the position they play.
But thanks to his girlfriend, Clemson mid-round tight end prospect Jordan Leggett not only is well aware of Bill Belichick's football team but also owns a Patriots jersey. It's not, though, a No. 87 shirt, as one might expect.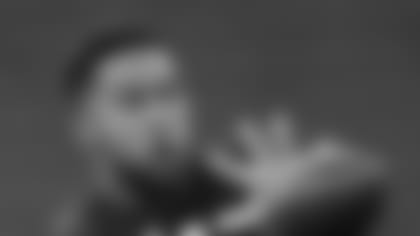 Nope, Leggett has a LeGarrette Blount jersey. But let's let him explain that his focus on the Patriots over the last year was about more than just his awareness of the team's dynamic tight end duo of Rob Gronkowski and Martellus Bennett.
"My girlfriend is a huge Patriots fan," Leggett said in Indy. "I've got a LeGarrette Blount jersey (that she gave him).
"But those two are so much fun to watch, especially Gronk. He's honestly just an entertainer -- everything he does on and off the field. He's probably the most freaky athlete pound for pound that you can have on a football team. Once he got hurt, Bennett definitely stepped up to the plate."
Leggett apparently watched the Super Bowl with his girlfriend, whose Patriots fandom stems from her mother having attended Boston College. She dressed for the big game wearing her own Tom Brady jersey and Patriots Chuck Taylor shoes.
Leggett also said he had a formal meeting scheduled with the suddenly tight-end-needy Patriots on Friday night.