INDIANAPOLIS – The NFL Scouting Combine took on a bit of a different look in 2017. No longer is the event being held inside Lucas Oil Stadium, where cramped quarters often made the logistics of interviewing players and coaches difficult.
Instead the operation moved next door inside the spacious Indiana Convention Center with the media located in a separate area, which left plenty of room for the players. In the old set up there were three podiums and a number of round tables where the interviews were conducted.
This year the room featured eight podiums, and an adjacent area where fans were on hand to watch events such as the bench press and an NFL Combine Experience. The adjustments gave the entire event a different look and feel, and with 1,300 media credentials given out and 330 players invited, the improvements were a welcome addition.
Mum's the word in Cleveland
Jimmy Garoppolo has been the talk of the town in the early going in Indy. National reports regarding his potential availability or lack thereof have dominated the scene, and several coaches have been asked about the backup quarterback's ability/potential.
Most have responded with positive reviews. First-year broncos coach Vance Joseph was effusive in his praise after watching Garoppolo tear apart the Dolphins defense he ran a year ago. Arizona's Bruce Arians was also complimentary, citing his poise.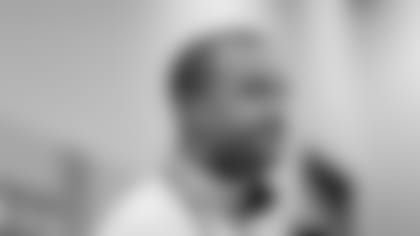 The Cleveland Browns were not one of those teams. The Browns could potentially be in line for Garoppolo's services but their brain trust obviously decided to steer clear of the topic in Indy. On Wednesday executive vice president of football operations Sashi Brown ducked Garoppolo-related questions, citing tampering rules. On Thursday it was head coach Hue Jackson's turn to avoid the obvious topic.
"I wouldn't comment on a player on another team. It would just be inappropriate for me to do and against league rules," Brown said on Wednesday. "I understand the interest in that and I've seen all the headlines that have been written, but I wouldn't comment on that."
Brown did describe the working relationship between his team and the Patriots as "good" and said the Patriots were "easy to deal with."
Jackson was similar when asked about the possibility of trading for a quarterback, even when Garoppolo's name was not specifically mentioned.
"I'm not going to get into all those things," Jackson said while dealing with almost all quarterback-related questions during his 15-minute briefing.
Later he was asked if his quarterback for 2017 was currently on the roster, which Brown said was a possibility a day earlier. "We have to feel that way because it could happen," Jackson said, offering little support for the trio of Robert Griffin III, Cody Kessler and Kevin Hogan. "We're doing anything and everything we can to find a quarterback for our team.
"We all get it," he added later. "We need to find a guy who can lead this team."
While neither said it, it was hard not to come away with the feeling that Garoppolo is very much in Cleveland's plans. The radio silence plan is right out of the Bill Belichick playbook and would seem to be a solid first step in making such an impactful deal.
The fact that the Browns have been so evasive on the subject, plus the abundance of draft capital (first and 12th overall picks) the team possesses, only adds to the speculation that Garoppolo could be heading to Cleveland.
Still in the Mix
One player who was not among the 330 invited to the Combine is Oklahoma running back Joe Mixon. Mixon is a talented player but was arrested for punching a woman before his time with the Sooners even began back in 2014. The video of that incident became public recently and the NFL decided not to invite him to Indy as a result.
Some teams – and the Patriots could very well be one – will remove him from their draft boards as the league is trying to repair its sullied image in regard to violent acts against women. Others may want the chance to speak with Mixon and try to understand if he's a person who displays remorse or if he's simply a lost cause, but they won't get that chance at the Combine and that didn't sit well with Detroit general manager Bob Quinn.
Quinn, who is in his second season with the Lions after a long career in the Patriots personnel department, expressed disappointment with the league's decision to ban Mixon and Ole Miss quarterback Chad Kelly, who was also not invited due to off-field issues.
"Yeah, we're going to leave the door open on Joe. I think it's really disappointing that Joe's not here," Quinn said on Wednesday. "We come here to see the best college football players in college football. So there's 330-340 some-odd players here and for him not being here because of those issues, personally I don't think that's real fair because we have a lot of investigation that we want to do on him. To get him in one spot for all the teams would have been great.
"I'm not part of those decisions about how guys are chosen, but I think it is a disappointment that guys like him, and there are a few others you can put in that category, that we're going to be chasing around in the months of March and April and it's really unfair to the players, to be honest with you. So the door's open and I'd like to be able to get down, get a chance to sit down with the people that know Joe or Joe and kind of see what the circumstances were around the incident. He is still on our draft board, yes."
On the flip side, Pittsburgh GM Kevin Colbert had no problem with the team's stance on Mixon and Kelly.
"It won't affect our evaluation process," Colbert said. "The decision that the league made, we agree with [and] we respect it. To be here is a privilege. To play in this league is a privilege. And if the league deems that certain players aren't eligible for that privilege, then we'll respect it. And we'll get our work done as need be. So that's a decision we agree with, we abide by, and we'll get our work done regardless of whether a guy is here or not."
End of Leap Year
The days of Jamie Collins, Shea McClellin or any other athletic defender jumping over the line to block a field goal or PAT may be over.
The so-called "leaping" technique that Collins mastered in his time in New England and which earned McClellin a questionable penalty in Super Bowl LI may be in the crosshairs of the NFL's competition committee thanks to a recommendation from the NFLPA.
According to the Washington Post, the NFLPA proposed to ban the technique with an eye on player safety during a meeting on March 1 at the Combine.
"The jumping over on the field goal, I think, is just leading to a really dangerous play for everybody," Eric Winston, offensive lineman and NFLPA president, said via the Post. "If you jump over the center, the jumper is in a really bad spot. He can land on his head. I think the guys that are getting jumped over are going to end up getting hurt, with those guys landing on them. So I'll be very interested to see what they'll do there. I think something probably needs to be done."
Current rules prohibit players from lining up over the long snapper at the line of scrimmage as well as landing on an opponent. But the NFLPA would like to essentially eliminate leaping altogether and sounds confident that the competition committee agrees with the potential ban.
"I think they're probably on board with that," Winston told the Post, going on to describe the potential injury threat of the play. "[It's] just becoming a really, really dangerous play and now especially because everyone's on the lookout for it, right? So someone's ankles are going to get clipped. They're going to go ass over teakettle, and either someone's going to get landed on or he's going to fall on his head. And they're really bad injuries, too. It's not like, 'Oh, he could sprain his ankle.' Those are neck injuries. Those are bad knee injuries. We expressed that to them, and I hope they follow through on that."
Mexico plans
The Patriots will travel to Mexico City next season to take on the Oakland Raiders. It will be the second straight year in Mexico for the Raiders, who defeated Houston 27-20 there last season, and coach Jack Del Rio was asked about what he learned from the experience.
"Quite a bit. We had a good post-op review as well. We're not going to share any of that with you or with Coach Belichick," he said with a smile. "We loved the experience going down and playing in that environment was a great environment. We look forward to going down again."
While Del Rio enjoyed the experience, he did mention a change he would like the league to implement going forward.
"I would love it if somehow the commissioner could make sure that maybe every other year we'd have it as a road game and not always a home game for us," Del Rio said. "We don't really look forward to playing nine road games and seven home games so other than though it was a tremendous experience."
Extra points
Belichick will be the keynote speaker at the All-Access Texas Coaches Clinic on April 7-8 at the University of Texas in Austin. First-year Longhorns coach Tom Herman made the announcement March 1 and participants will have the opportunity to hear from Belichick as well as the Texas coaching staff. … According to the Boston Herald, the Patriots and Dont'a Hightower "have maintained a positive, productive dialogue as they try to work toward a contract extension." The report indicated Hightower's preference is to return but he is seeking a competitive deal. They also indicated the Patriots made Alan Branch "a solid offer" and the sides are "deep in negotiations." … *USA Today *is reporting the Patriots will release Sebastian Vollmer, who missed all of 2016 with a hip injury. Vollmer is scheduled to earn $2.25 million in 2017 but will instead hit the open market unless he chooses to retire.