INDIANAPOLIS - Ask players about their experiences at the Combine and most will explain the unpleasant nature of the medical checkups. Doctors and trainers do their share of poking and prodding, and often times the players don't appreciate the entire process.
NFLPA president Eric Winston recounted his experiences on PFT Live earlier in the week and explained that the goal of the entire medical process is to "piss off" the players.
At least one was particularly perturbed this season, and as a result he was sent home.
Multiple reports indicated that Alabama linebacker Reuben Foster was sent home from Indy after a "heated altercation" with a hospital worker. An NFL spokesman told ESPN the potential top-10 pick was sent home for "personal reasons."
Foster was Alabama's leading tackler last season and a unanimous first-team All-American. He also won the Butkus Award, given to the nation's best linebacker.
Most draft experts have him rated as the top inside linebacker and it will be interesting if the incident, which several reports indicated devolved into Foster trying to intimidate the worker by using his credentials as a top prospect, affects his draft status.
He is coming off surgery to repair a torn rotator cuff in his right shoulder and wasn't scheduled to work out over the weekend anyway, but now won't participate in interviews or any other aspect of the process.
Reports said that Foster had been waiting for an extended period for what the NFL calls his "pre-exam" when he grew increasingly impatient and began questioning a hospital worker. The worker took exception and eventually the two were face-to-face in a heated exchange.
Foster's absence left Vanderbilt's Zach Cunningham (6-3, 230) as the top-rated linebacker. Cunningham has loads of athleticism and versatility, traits that have him positioned to become the first Commodore taken in the first round since Bears tackle Chris Williamsin 2008.
"I like I play instinctively and that allows me to play fast," Cunningham said. "I feel my length as a player allows me to stand out. I'm a speedy sideline-to-sideline type of player so my speed and instincts allow me to the best player I can be."
The inside linebacker crop is not overly deep, as is normally the case, but there are a handful of versatile performers who believe they can fill a number of roles. Ohio State's Raekwon McMillan (6-2, 240), Florida's Alex Anzalone (6-3, 240), LSU's Kendell Beckwith (6-2, 252) and Northwestern's Anthony Walker (6-1, 235) are all solid mid-round candidates with impressive athleticism.
"I can play all three positions – SAM, MIKE and WILL," said Anzalone, who began his collegiate career playing for Bill Belichick favorite Will Muschamp with the Gators and mentioned he had an informal interview with the Patriots. "I like to play sideline to sideline and get physical with guys."
One other player who stood out among the group was Clemson's Ben Boulware (6-0, 236).  Boulware was a tremendously productive player for the national champs but his size scares some scouts, many of which list him as a borderline player to even be selected.
Boulware has other ideas.
"I feel like I'm the best linebacker in the draft," the well-spoken and obviously confident Boulware explained. "I've made over 300 tackles, been the MVP of three bowl games including the national championship. No disrespect to any other linebackers who are here but there isn't anyone you can see pointing out where the ball is going before the play the way do.
"For me to be rated so low just because of my height … I would just say watch the tape."
Overlooking the obvious
The quarterback class is not considered to be overly strong and there have been a lot of questions posed to the prospects about proving the experts wrong. Several have either brought up overlooked quarterbacks who've succeeded in the past or been asked about specific players who fall into that category.
Virginia Tech's Jerod Evans fell into the latter group when he was asked if Cowboys rookie Dak Prescott, who was taken in the fourth round last year before starting every game and leading Dallas to a first-round bye, showed it didn't matter where you're drafted.
Evans offered a quick reminder of the greatest overlooked prospect of them all.
"No, I think Tom Brady did," he said simply.
Jersey boys
Plenty of Combine prospects profess to be fans of certain players or teams, usually focusing on elite NFL talents at the position they play.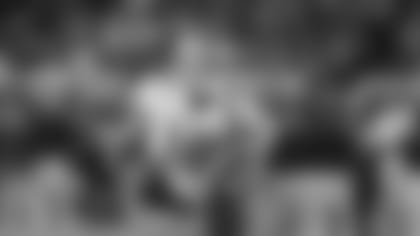 But thanks to his girlfriend, Clemson mid-round tight end prospect Jordan Leggett not only is well aware of Bill Belichick'sfootball team but also owns a Patriots jersey. It's not, though, a No. 87 shirt, as one might expect.
Nope, Leggett has a Nate Ebner jersey. But let's let him explain that his focus on the Patriots over the last year was about more than just his awareness of the team's dynamic tight end duo of Rob Gronkowski and Martellus Bennett.
"My girlfriend is a huge Patriots fan," Leggett said. "I've got a Nate Ebner jersey [that she gave him].
"But those two are so much fun to watch, especially Gronk. He's honestly just an entertainer – everything he does on and off the field. He's probably the most freaky athlete pound for pound that you can have on a football team. Once he got hurt, Bennett definitely stepped up to the plate."
Leggett apparently watched the Super Bowl with his girlfriend, whose Patriots fandom stems from her mother having attended Boston College. She dressed for the big game wearing her own Tom Brady jersey and Patriots Chuck Taylor shoes.
Leggett also said he had a formal meeting scheduled with the suddenly tight-end-needy Patriots on Friday night.
The Chipotle Prospect
Coming out of high school at 6-4, 195 pounds, Adam Shaheen had the height but not the weight of an NFL tight end prospect.
So, the two-sport graduate went to the University of Pittsburgh at Johnstown to play basketball. Not a bad fallback.
But after attending a football game, he got the bug to get back on the gridiron and decided he would do anything to play football again.
That landed him at Division II Ashland as the 225-pound third tight end with the NFL far from his radar.
But now, he's at the Combine as part of one of the best tight end crops in history, his 6-6, 278-pound frame making him a possible second-round pick. He left Ashland early after catching 57 passes for 867 yards with 16 touchdowns.
How did he get from a 195-pound prospect without a place to play football to a 278-pound NFL talent in just a few years later?
"A lot of Chipotle burritos. A lot of burritos. No, in all honestly it was a lot of burritos. But it was a ton of consistency for, going in and doing one hard week of training and then lazy the next. It was a year and a half to two years of constant … 'Sorry, guys, I can't hang out. I gotta go eat.'" Shaheen said with a laugh.
That growth and on-field efforts has even gotten to the point where some have even compared Shaheen to Gronkowski, though it's a flattering comparison he's clearly far from comfortable acknowledging.
"Uh, I am not too sure how to respond to people comparing me to  Gronkowski," Shaheen said, also acknowledging that he had a Friday night formal meeting scheduled with a Patriots team very much in the pre-draft mix for a tight end.
Caserio on Caley
Speaking of tight ends, the Patriots have a new coach at the position in Nick Caley. Caley spent the past two season as a coaching assistant after working in the college ranks for 10 years. He coached at John Carroll (2005-06), Akron (2006-07), Auburn (2008), Iowa State (2009-11), Eastern Illinois (2012), Arkansas (2013) and Florida Atlantic (2014).
Although much of his college experience came on the defensive side of the ball, director of player personnel Nick Caserio explained switching sides in not uncommon for young Patriots coaches.
"Nick came in last year, very bright guy," said Caserio during his sit down with Bob Socci for "Patriots Today." "He really worked on the defensive side of the ball when he was in college and we put him in the offensive side of the ball this year.
"A lot of our young coaches, Nick Caley, Steve Belichick, Jerry Schuplinski --they're cut from the same cloth and that was the decision coach made and that was the decision we thought made the most sense for us. Nick has an opportunity so now his responsibilities will be different from the past but he's worked hard so hopefully that continues."
Extra points
Ben Volin of the Boston Globe tweeted out the following regarding the potential for former Jets wideout Brandon Marshalljoining the Patriots.
While Marshall is a talented receiver, his history with Josh McDaniels coupled with his high-profile media forays would seem to make it a questionable fit. Marshall famously pouted his way out of Denver shortly after McDaniels became the Broncos head coach in 2009, refusing to catch passes on the practice field before finally getting dealt to Miami. Obviously time can heal wounds and Marshall seems to have matured, but this reunion seems unlikely.