INDIANAPOLIS -- The Patriots entered the 2016 season with arguably the best duo of tight ends in the NFL as Martellus Bennett arrived via trade to pair with freakish positional measuring stick Rob Gronkowski.
But the position has a far different look and feel heading into the 2017 offseason. Gronkowski missed the second half of the season after undergoing the third back surgery of his career, while Bennett seems set to hit the lucrative waters of free agency and likely move on after a solid season helping New England to Super Bowl glory.
A position of strength now is position of doubt. Not only is the health and depth of the personnel uncertain, but the coaching at the spot is in transition with Brian Daboll moving on as the offensive coordinator at Alabama to be replaced by former coaching assistant Nick Caley.
That overall uncertainty is far from ideal given the importance of the tight end spot in the New England overall offense.
While the Patriots will potentially look to the free agent market to add a value veteran to pair with Gronkowski, the team is also likely to target the position in the draft at some point.
Bill Belichick has never been afraid to invest in tight ends near the top of the draft. Benjamin Watson (2004) and Daniel Graham(2002) arrived in New England in the first round. Gronkowski was a second-round selection. The Patriots have actually taken a tight end at least once in each of the seven draft rounds in Belichick's 17 years in New England.
League wide no tight end has been taken in the first round since 2014. That short streak will end this year. NFLDraftScout.com lists 20 prospects as draft worthy, including a sure-fire first-rounder in Alabama's O.J. Howard(6-6, 251).
"This is a great tight end class," declared NFL Network draft analyst Mike Mayock, projecting that Howard clearly would not make it to the end of the first round where the Patriots currently sit.
According to one NFC tight ends coach, the impressive class is unique and enticing in that it includes a solid group of traditional, all-around prospects and "not just slow wide receivers who added some weight."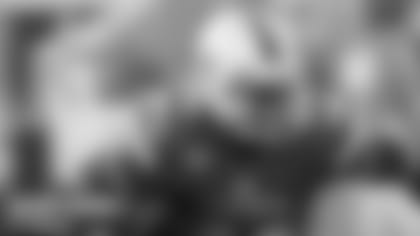 Even the players themselves on hand in Indy are aware of the hype of the class. In fact athletic Miami prospect David Njoku (6-4, 246), who might also hear his name called in the first round, said that part of the reason he left the Hurricanes early is that he wanted to compete and prove himself worthy as part of such a special group.
Howard's production for the talent-rich Tide doesn't jump off the page. He caught 45 passes for 595 yards with three touchdowns as a senior. That followed up a junior campaign with 38 catches for 602 yards and two scores. But his combination of versatility, size, athleticism and production make him the top target.
And he's more than happy to promote his blocking ability, something that isn't always a given for tight end prospects.
"I take pride in it," Howard says, something he feels NFL teams have taken note of. "I think scouts understand I'll stick my nose in there and block."
Howard has always patterned himself after Panthers playmaker Greg Olsen, and believes his versatile role at Alabama has readied him for the next level.
"When you can put a tight end in so many places on the field, it's hard to defend," Howard said going on to admit he'd very much like to be the first guy taken in such an impressive group. "We have a great class this year. To be the first guy off the board would be a great accomplishment. But I still have a lot of work to do."
Njoku, the son of Nigerian immigrants, had 43 catches for 698 yards (16.2 avg.) and eight touchdowns in a breakout season for the Hurricanes that pushed him to leave school early.
"Njoku is a freaky kid that looks like a wide receiver, and you can't believe that he's actually as big as he is," Mayock said. "Catches the ball well, can get vertical and what I like is if you watch enough of his tape, he gets after some people in the run game. He's not really a good run-blocker yet. But the key is he gets after it. And as long as you get after it and you have a willingness to do it, you can be taught. So I'm bullish on Njoku."
A former national champion in the high jump, Njoku is expected to shine in Combine testing to potentially propel him into first-round status.
"Mostly I'm looking forward to the broad [jump], because I think I'm gonna break a record. We'll see," he said with a bright smile consistent with his confident, affable personality.
With obvious physical abilities, what does Njoku believe is his greatest strength?
"I think every team asked that. Like I said, first off, I didn't perfect anything. I'm trying to better myself in every aspect with blocking and even speed, strength, route running or my hands. I don't think I did anything to perfect anything, so I'm still working. If I continue to work, that'll take me a long way," Njoku said in polished fashion.
Njoku said he had a private meeting scheduled with the Patriots as he tries to stand out in the crowded class.
"That's also what made me declare: people telling me to stay because of the big tight end class. I love competition," he said. "I was the national high jump champion in high school at like 220 pounds. The next jumper was 30 pounds lighter. I love competing, so once people told me to stay, that made me want to declare even more because I want to go against the greats."
Though not likely a first rounder, Virginia Tech big man Bucky Hodges (6-6, 257) is another well-rounded athlete looking to go early as possible come draft time. Hodges has had at least 40 catches, 500 yards and six touchdowns over each of the last three seasons for the Hokies. He considered entering last year's draft and now has eyes on proving himself very much among the best in this year's impressive group.
"I want to make a statement that I'm one of the top players in this draft," Hodges said of his goals this week, having already met with Patriots scouts. "I think they're starting to understand, but I want to just make a statement."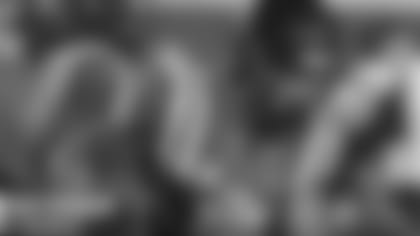 Like Hodges, Mississippi'sEvan Engram (6-3, 234) is projected as a second-round pick at this point. He's more of an undersized pass catcher, coming off a senior season in which he caught 65 passes for 926 yards and eight touchdowns with most of his action coming out of the slot.
"This class is so deep," Engram said. "But, myself I feel I can do everything. I see myself as the total package.
"To be part of the best tight end class in a while is cool. It's so talented."
South Alabama's Gerald Everett(6-3, 239) is another smaller player from the smaller school, where he ended up after issues with his grades/test scores out of high school kept SEC offers from coming. Despite a route to the Combine that includes stops at junior college and UAB, Everett's consecutive 40-catch seasons and 12 touchdowns over the last two years at South Alabama got the NFL's attention.
"I think it feels pretty good to be with such great tight ends, the elite caliber," Everett said. "Coming from a small school, we don't really get as much publicity as some of those SEC programs. But to be able to be at the same threshold and on the same pedestal as those guys is monumental for me."
He's also confident he can play with the big boys from the big schools.
"Just being a complete tight end, showing my willingness to block and also showing the vertical threat that I am," Everett said of his work to stand out. "By being able to blow past safeties and linebackers at any given time in the game, I feel like it gives myself more opportunity and more benefit than the rest of the tight ends in this class."
One of the more well-known names in the tight end class is Michigan's Jake Butt(6-5, 246) who won't work out at the Combine as he continues to rehab from Jan. 10 surgery to repair a torn ACL suffered in the Orange Bowl. That could make him a value pick for a team in the middle of the draft.
Butt is not allowing his health to put a damper on the experience this week.
"For me, I was excited to do all this medical stuff because I'm so far along in my rehab, I'm doing so well, I'm ahead of schedule," Butt bubbled. "I know where the average man would be at this point in time and I know I'm ahead of that, so I've been really excited to show teams that. Aside from that, this is something you dream about as a kid, just getting to be out here and recognized with some of the best players in the country, that's just been really special."
Butt is a proven blocker as well as a productive pass catcher in his time in Jim Harbaugh's system. He had 51 and 46 receptions over the last two seasons, respectively, and feels as pro ready as any guys he's competing with.
"Interviewing with some coaches, they understand that we're running a pro-style system, we're two backs, two tight ends. I've flexed out, played so many different positions, and that's going to help me at the next level," Butt said.
Having previously gone through an ACL injury, Butt expects to be cleared for cutting and football drills by May. He knows people are doubting his health and his skills – he's dealt with some of those doubters on Twitter – and is more than ready to prove them wrong.
"This has been a lifelong dream, so there was no added motivation needed," Butt said. "But I've kind of built my career on people doubting me, came in high school a skinny kid, not a lot of people expected me to have the career that I had at Michigan. Now there's people out here that don't expect me to ever play in the NFL or even play next year. Just knowing the kind of competitor I am, I save those tweets that I see. I got them screenshotted and stowed away. If I ever get tired I guarantee I'll be doing a couple extra reps for those people."
Another guy with Butt's build and similar mid-round draft slotting is Clemson's Jordan Leggett (6-5, 258). He tallied 40-plus catches each of the last two years for the reigning national champions, hauling in 15 touchdowns in that span.
He's made big plays in big games, something that might be of value to a team like the Patriots. And oh by the way, Leggett happens to be very familiar with New England's work over the last year.
"My girlfriend's a huge Patriots fan," Leggett said. "I followed the whole year. I have a [LeGarrette] Blount jersey."
As such, he's well aware what Gronkowski brings to the table for Tom Brady's offense.
"He's probably the most freaky athlete you can have on a football team," Leggett said, revealing he also had a formal meeting scheduled with New England.
If the Patriots don't use an early- or middle-round pick to add to the tight end position, there are still somewhat well-round options to be had later on draft weekend.
One such option would be Iowa's George Kittle (6-4, 247). Ten of Kittles 42 catches over the last two years resulted in touchdowns, and playing for former Belichick assistants Kirk and Brian Ferentz (New England's former tight ends coach) for the Hawkeyes ensures that he's a well-school blocker.
Pittsburgh's Scott Orndoff(6-5, 253), a Pennsylvania native who'd like to pattern himself after former Steelers star Heath Miller, is also a well-rounded guy who might be had in the seventh round. The son of a high school football coach who's played his entire football career in his home state, Orndoff knows he's probably going to have to branch out and is ready to take on that challenge.
"I'll go wherever this process takes me. I'll be on the first flight out. I'm excited," Orndoff said, coming off a career-high 35 catches and his second straight year with five touchdowns. "It doesn't matter where I go. I'll give it everything I have, no matter where in the country I end up. I have my support system back home. They're excited. I'm excited for this process. Wherever I end up going, it will be a blessing for me."
The Patriots have a clear need at tight end and are clearly taking a close look at the prospects at the position at the Combine. That group offers up some potentially elite talents, a slew of all-round options at the position and other pass-catching possibilities. In some ways for New England it looks like a perfect capitalist equation of supply meeting demand.