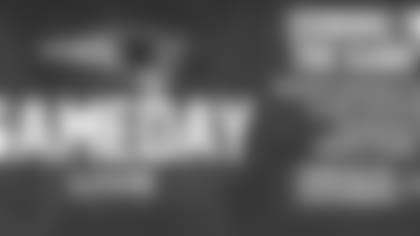 ](/media-center/patriots-gameday-live-app.html)
If you're coming to the game at Gillette Stadium, download Patriots Gameday Live to your iPhone, Android or Windows 8 device today! Replays of all the plays, live field cameras, statistics, league scores, restroom wait times, weather, traffic and more.
Last year the Patriots introduced Gameday Live to all fans at Gillette Stadium with iOS, Android and Windows 8 devices. At the core of the apps is its live and on-demand video offerings. Once connected to Gillette Stadium's Wi-Fi network, fans have access to live replays after every play along with exclusive live camera angles. This includes NFL RedZone, the NFL's awesome Sunday show offering live look-ins of games in progress.
New for 2014 are two new live video channels. "Cheerleaders" will get you up close to the Patriots fabulous sideline squad no matter where you are in the stadium. "What's Hot" can be anything – from the sidelines to the stands and everything in between – you never know what you might see!
Also new for 2014 is an enhanced stadium map feature. The Patriots teamed up with Venyoo to create a complete layout of the Gillette Stadium grounds including all the parking areas and Patriot Place. Type in your section number and you'll be able to find your seat, find your car and easily search for any amenity Gillette Stadium has to offer.
What makes Gameday Live truly amazing is the on-demand video. If you missed a play or just want to see it again, they're all there, right in the palm of your hand. Every play is ready for viewing about 15 seconds after it happens. It's your own personal DVR!
Beyond the video, another feature that makes Patriots Gameday Live powerful is its notification system. Traffic, parking, weather and all the breaking news affecting your game day experience will be sent immediately to your phone. Even if you're using another app or not using your phone at all, you'll be notified with important developments in real time.
Then there's the Restroom Wait Time feature. We've all had that conversation with ourselves, "Should I go now? Should I wait? I don't want to miss any football!" With this feature, plug in your section and you'll instantly get the wait times for the closest bathrooms to you. Now your decision at least gets a little easier.
And Patriots Gameday Live goes beyond Gillette Stadium. Download exclusive alarm clock tones and you can have Tom Brady wake you up in the morning! Choose Tom or one of his teammates to be your morning motivation.
These are just some of the features you'll find on Patriots Gameday Live. Download it today from your app's marketplace and get ready for game day! Search "Patriots Gameday Live" in your app marketplace. For iOS download here and for Android download here.