Monday morning in Foxboro was bright and clear. What clouds were in the sky withheld precipitation, rolling on unbothered on an ultimately dry day.
The same, however, cannot be said about Sunday night.
As the Patriots took the field against the Ravens on Nov. 15, what started as a drizzle quickly turned into sheets and sheets of relentless rain. At one point during the fourth quarter, the rain was coming down in a way that made it difficult to see, even at home.
Mother Nature truly did not hold back, and the Patriots seemed to enjoy the windy and rainy win.
Damien Harris said though he didn't play in many rain games in college, he enjoyed every second of the true New England football experience.
"I am on cloud nine right now, that was a tough game in that kind of weather," Harris said. "Ever since I've been here, I've been hearing all these stories about new England weather around November so I guess that was my first taste of it and I loved every second of it."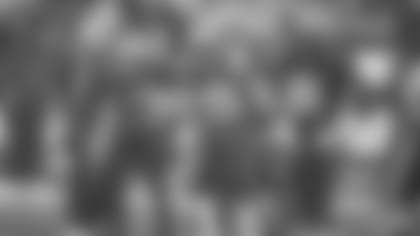 While the immense rain might have been annoying for fans watching at home, it seemed Harris wasn't alone in having fun in that kind of weather.
"I was dancing, and I was having fun," Chase Winovich said. "At first, you kind of resist the rain and try to stay dry enough where you can still tackle, but after a while, it's just a matter of taking the approach and mindset where you tell yourself you want it to pour and be cold .... When you have that attitude, it comes infectious to your teammates. Playing in the rain was fun."
As fun as it was, the team still had a job to do, and playing in those conditions against an opponent like the Ravens is a test on all fronts.
"Having the mentality to stay mentally tough throughout that whole tsunami it felt like," Cam Newton said. "We just wanted to make sure that we do great things while we have the football, protecting the football, making great decisions."
J.C. Jackson, who snagged his sixth interception of the season, including five consecutive games, said they were ready for anything.
"The weather doesn't matter. It doesn't matter where we're at, how the weather is, you've got to play football man," he said. "We're built for this."
Ultimately, maybe that's what made it feel so special, Harris said.
"Being out there in that atmosphere and being a part of this team in such a special moment, including the weather, like I said earlier, I can't even express to you guys how excited I am and how happy I am and just how much love I have for this team, how much love I have for this game," Harris said. "Tonight was a real special moment in my personal career, and I'll definitely remember that for a long time."