A quiet Tuesday afternoon at Edgar B. Davis School in Brockton, Mass., was soon upended, only to be replaced with laughter, cheers and sheer excitement. Students from kindergarten to eighth grade lined the halls from the main entrance to the library, jittery with joy and rocking Patriots gear. 
Not long after they lined up, Patriot Danny Amendola was running through the school's hallways, high fiving students along the way.
"It was the best welcoming I've ever seen in my life. It was awesome," he said.  
Danny was on hand to unveil the school's new reading room, courtesy of his Catches for Kid's Foundation. For the past three years, the foundation has dedicated book rooms through it's "Catch a Book Room" program to local Title I schools to cultivate a positive environment for students and their families to read.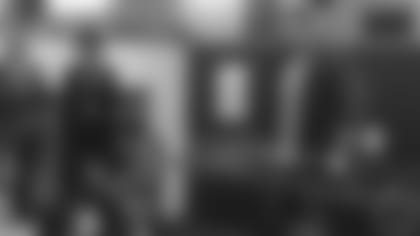 The room at Davis School is loaded with more than 600 new books, brightly colored chairs, bean bags and a freshly painted mural on the wall. It's a fun space, and Danny said that's the idea. He wants to book room to help make students excited to pick up their next book. 
"I'm just encouraging students to read. It's something you can do daily. It's something you can do whether you're sitting at home reading a newspaper or ordering something online," Danny said. "It's endless. All I'm doing is trying to make an environment that's colorful and fun so kids can come and enjoy themselves."
After cutting a ribbon with school and city officials, Danny read a second grade class a "Curious George" book. He also spoke about the importance of education and reading in his own life. In order to play football, he said, he had to do well in school. Principal Darlene Campbell said this message resonates with her students when it comes from a professional athlete.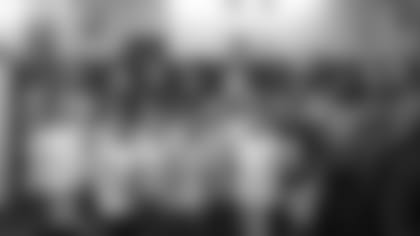 "He just stood up here and told them to read. This is his reading room, and for them to have the availability of that, it's huge," she said. "We have children that when they come to us in kindergarten, they have never held a book. Now, they're going to be able to come and enjoy this room."
Danny said the room has a "good vibe" for the students, and if having the book room in Davis School gets students even a little bit more interested in reading, then it's a positive addition.
"If this gets them to read one or two books extra or just whatever they want to read, get involved with something they're interested in, it's worth it," Danny said.
RELATED LINKS