For the past several days we've heard the players and coaches speak with anticipation about the visit from the Carolina Panthers for joint practices. The desire for a change in the routine and an increase to the insanity level after two-plus weeks of working against themselves permeated those discussions.
On Tuesday the Panthers arrived, and the intensity level did not disappoint – unless you happened to be Bill Belichick or Matt Rhule. Tempers flared early and often during the long and spirited workout in Foxborough and several players were not around for the end of practice as a result. Fighting is not condoned during practice and Kristian Wilkerson, Kendrick Bourne and James Ferentz all hit the showers early while Xavier Woods was at least one member of the Panthers sent to the locker room.
While Belichick and Rhule were likely annoyed by the lack of discipline, the feistiness did make for some interesting moments. The first altercation came when Wilkerson took exception to being tackled after a short catch during 11-on-11 work. He jawed with the Panthers sideline for a moment before it escalated into a full-scale altercation with players involved on both sides. Bourne and Woods were among those throwing punches, and therefore sent off the field.
Later, there were a couple other incidents that didn't rise to that level but still led to Ferentz being sent to the locker room after losing his helmet in a skirmish.
"I don't really have anything to say about that," Ty Montgomery said. "Everybody saw what happened. Fights happen. It is what it is."
"You can't fight in a game and you can't do it in practice," Damien Harris added.
When the teams actually got to playing, the Patriots probably felt better about the way things went than Carolina did. That was particularly true on defense, where New England's front controlled the action virtually from start to finish. They were consistently able to get in the backfield and made life difficult on both Baker Mayfield and Sam Darnold. Also, the secondary – led by Jalen Mills who was solid throughout – performed well against both D.J. Moore and Robbie Anderson as the Panthers failed to generate much consistent production.
Interestingly, the defense featured a variety of blitzes from the secondary with Kyle Dugger and Jabrill Peppers among those showing up in the backfield periodically. With very few exceptions the run defense was stout as well, a highlight coming when Davon Godchaux pursued Christian McCaffrey from behind to blow up an off-tackle carry.
The flip side was positive as well as the offense had some encouraging moments. It wasn't as impressive as the work on defense, but Mac Jones was able to make a few connections with DeVante Parker on a pair of jump balls and found Jakobi Meyers, Tyquan Thornton and Nelson Agholor on a variety of slants and drag routes.
It wasn't perfect, and Jones wasn't particularly sharp on a two-minute drill to close practice, but there was a rhythm to the attack that has been largely missing throughout camp.
Parker was asked about his impressive downfield work and his growing rapport with Jones after practice. He said his ability to high-point the ball is a skill he's always had.
"I feel like that's a skill I've had since high school that I've brought with me to the NFL," Parker began. "I have a mindset where those 50-50 balls are like 80-20 balls for me."
The running game remains a work in progress as the most productive carry of the day saw a modest Damien Harris gain wiped out by a holding call. (Two crews of officials were on hand for the practice).
Jones appeared sharp as practice was coming to a close, opening a hurry-up drive with completions to Montgomery and Jonnu Smith to kickstart things. But some pressure forced some hurried throws (perhaps back-to-back sacks under live conditions) before he went underneath to Montgomery on a shallow cross.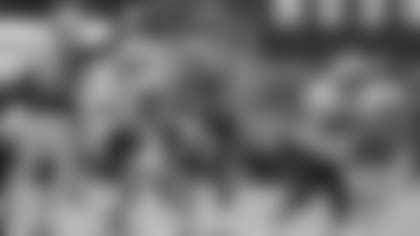 Jones then tried a fake spike that fooled no one and his quick out to Thornton fell incomplete. On what appeared to be a final play of the game scenario, Jones faced heavy pressure up the middle and tossed one in the end zone toward Smith, only to have it deflected and picked off to end the threat.
Overall, though, it was a promising start to the work with the Panthers as the Patriots appeared to get the better of things on both sides.
Here are one man's observations from Day 13 of Patriots training camp, the first of two joint sessions with Carolina.
*Multiple reports suggest the Patriots have lost the services of Joejuan Williams for the season due to a shoulder injury suffered in the preseason opener against the Giants. Williams is expected to be placed on season-ending injured reserve. Although he appeared to be on the bubble for a roster spot, his loss will potentially impact the cornerback depth.
*The Patriots were once again without the services of Malcolm Butler, Bill Murray, Justin Herron and Isaiah Wynn as well as rookie Andrew Stueber, who remains on NFI. Wynn missed his fourth straight practice while it was the second straight for the other three. On the positive side, Cody Davis returned after missing Monday's practice.
*There were a number of guests on the field for practice including former Patriots Tedy Bruschi and Patrick Chung. Fox analysts Daryl "Moose" Johnston and former Raiders GM Mike Mayock were also on hand.
*The Patriots wore white uniforms while the Panthers dressed in their teal. The exceptions for the Patriots were the quarterbacks and specialists, who wore red.
*The practice began with extensive one-on-one work on the corners of the fields. Offensive and defensive linemen for both sides went at it while the receivers and defensive backs worked as well. Tre Nixon flashed with a nice route to shake free of former Patriot Duke Dawson while Tyquan Thornton used a nice double move to grab a diving touchdown behind his former college teammate Kalon Barnes.
*The first set of 11-on-11 play saw very little production from either teams' running game. The holes were consistently filled by both defenses, although McCaffrey was able to shake loose for one potential big gain when he found a gap over right guard.
*Jones executed a nice play-action bootleg off a zone look and found Jakobi Meyers for a nice gain on the second play of the set. Meyers did a nice job of high-pointing the ball downfield for a solid pickup.
*Lawrence Guy and Anfernee Jennings provided excellent pressure on Mayfield to prevent any rhythm for the Panthers quarterback, who was forced to settle for mostly underneath completions during the series.
*Hunter Henry was present but appeared to be limited as Devin Asiasi and Matt Sokol saw plenty of reps alongside Jonnu Smith.
*The 7-on-7 period surprisingly featured some physicality, mostly from the Panthers defensive backs. There were at least three potential completions that either resulted in fumbles or incomplete passes due to the Panthers defensive backs knocking the ball loose. Asiasi, Smith and Sokol all appeared to be caught off guard by the hits and failed to secure the passes. On the other side, Terrance Mitchell was showcasing his ball punching technique that he used to cause a fumble against the Giants. After several days of little contact, the defensive backs were active during the period and the added intensity was evident.
*Nick Folk booted several field goals toward the end of practice, the last coming from 50 yards out from the right hash. He's been rock solid throughout camp once again.
*Neither side seemed to be able to set up any successful screens despite several attempts to do so. The linebackers on both sides did a great job of sniffing them out and neither side managed much production.
*Adrian Phillips, Yodny Cajuste, Montgomery, Parker, Damien Harris and Deatrich Wise all stopped by to chat with the media after practice.
*The teams will get together again on Wednesday for what will be the Patriots final practice open to the public this summer. Gates are set to open at 8 a.m. in Foxborough with practice to begin at 9:30 a.m. As always, please check with Patriots.com for the latest updates to the team's practice schedule.