Rain can often put a damper of outdoor activities, but that wasn't the case at Patriots training camp this Sunday. In fact, it had just the opposite effect. The wet weather brought out the kid in several players, none more so than tight end Rob Gronkowski.
He had his fair share of drops and intended passes knocked down by defenders, but he more than made up for those rare miscues with some spectacular catches, a couple of them for touchdowns.
The first one, during the team 11-on-11 period, saw Gronkowski leap over safety Patrick Chung and reach behind him to collect a lob pass from Tom Brady in the back right corner of the end zone. Gronk was so excited he flung the football into a nearby tent of invited guests of the team.
Shortly thereafter, on a similar pass play, he outraced linebacker Jamie Collins to the same spot and hauled in another score, after which he threw the ball in the air and celebrated with the fans in the tent.
"It's great to go out there and have some fun. Obviously, it's a grind, but you want to have some celebrations, too, when you make some plays," Gronkowski told reporters afterward. "The defense celebrates, too, when they make plays. As a group, you want to have fun. The crowd was getting into it. So, it was a fun day out there."
His enthusiasm was infectious. Right after his second touchdown of that period, the offense ran the same play, this time with QB Jimmy Garoppolo tossing to a well-covered tight end Martellus Bennett, who made as acrobatic a catch as Gronkowski did on the first one. Later, rookie tight end Bryce Williams made an equally impressive catch in traffic on almost the exact same play.
"I was super excited to see [Bennett] go out there and make a couple of big catches," added Gronkowski. "It's great to see other players making big plays. It's all about a team coming together, celebrating together. We had a couple running backs make some nice runs and put it into the end zone."
New England's rushing attack also had a solid showing on a day when the offense outshone its counterparts on defense. And Gronkowski's infectious antics helped add to the excitement on the second day of full pads and fourth straight practice to open camp. After this many sessions in a row, players' energy levels can sometimes naturally drop, but Gronk and the offense did their best to stave off the doldrums of camp life.
"The energy was there without the pads, too, but the physicality definitely picks up when you put the pads on," he continued. "Yeah, [training camp] is a grind. Sometimes you see me bent over, huffing and puffing. Today, my cleats are probably 20 pounds each [because they're waterlogged], so, it was a little more physical on the body trying to bust through the routes and cut the corners. You have to have more technique when it's rainy and wet so you don't slip as much.
"You don't always get rain days, so, it's cool to practice in the rain whenever you get the chance to make sure you're working on your technique, learning how to catch the ball in the rain, making sure it doesn't get knocked out. You saw a couple people slipping, the ball going through our hands. It's a good time to work.
"We're all here for the fun of it, for the grind. It's part of the competition," Gronkowski emphasized. "If you don't want [the defense] celebrating, make the play and stop them. If they don't want us to celebrate, they have to stop us. It goes both ways. That's what's cool about it."
Meanwhile, a Boston Herald report after practice indicated that Gronkowski and the team are trying to negotiate a new contract for the All-Pro tight end, who has four years remaining on his current deal. Perhaps that had something to do with his added intensity level on the field.
Ups and downs for rookies
New England's 2016 rookie class has had its moments, both good and bad, thus far in camp, just like any other year. Some players, like top pick Cyrus Jones, are under more scrutiny due to their draft position. He's fared well as a punt returner, getting even more reps there with veterans Danny Amendola and Julian Edelman on the PUP list to start camp.
At cornerback, though, Jones' performance has been more inconsistent. Sunday, for instance, he was beaten by receiver DeAndre Carter on a fly route during 1-on-1 drills and has struggled at times in coverage during team period action. Jones, though, has tried to remain philosophical about his debut training camp with the Patriots.
"I'm just taking the reps that I get, trying to do my best at whatever position I play and come out here and just try to put good days together.
"Football is always fun," he stressed. "I think that's what makes it great. When you're not having fun out there, that's a problem. This time of year is definitely super-intense. It's training camp. Everybody's just fighting for a job and trying to do something to catch a coach's eye and separate themselves. So, you definitely feel the intensity out there, but it's still a game. You've just got to come out here and work hard and everything else will take care of itself."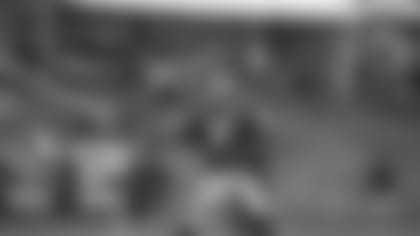 QB Jacoby Brissett, a third-round choice, has also shown that he has an NFL arm, but has balanced some of his great throws with a tendency to hold onto the ball too long – an issue that often plagues rookie passers.
Frequently in drills and team periods, Brissett has been forced to throw the ball away intentionally to avoid throwing an interception.
"Just practicing good habits, so in a game it will become second nature," Brissett mused. "Sometimes, that is the best play, so you've got to be able to take it and move on to the next play."
Brissett, of course, has the luxury of learning from one of the best players of all time at his position, in Tom Brady. The rookie was asked what piece of advice Brady has given Brissett that most resonated. His response? Be patient.
"One day at a time," recalled Brissett, "and see how [the veterans] operate faster and try to get up to their speed."
Staff appreciation
One of the hallmarks of New England's success under Bill Belichick has been the relative longevity of his assistant coaching and scouting staffs. There has been very little turnover in those ranks, compared to other clubs, throughout the years.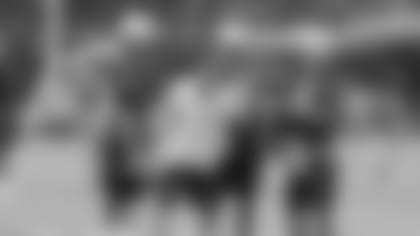 "These guys do an excellent job. I'm very blessed to have an excellent staff," Belichick raved. "We've got some coordinators, we have a good coaching staff, we have coaches that have a variety of experience. Dante [Scarnecchia], Ivan [Fears], Ernie [Adams]; guys like that and then there are other coaches that have only been here for a year, or less than a year, or two years that are in there early to mid-twenties, whatever it is, and many in between.
"It's a mix. It gives me a lot of different opinions, perspectives. They do a good job. They work hard. They work well together. They're team-oriented. The team gets better consistently, so we're very fortunate to have them."
Belichick's coordinators on offensive and defense, Josh McDaniels and Matt Patricia, respectively, are back after an offseason that saw them receive interest from other clubs to fill head coaching vacancies. McDaniels acknowledged that while he's happy with his current job in Foxborough, he'd welcome a chance to become a head coach again one day. He briefly held the top spot in Denver from 2009-10.
"This is an incredible place to work. I love being here," McDaniels asserted. "I'm happy to do this job as much as I can, as long as they'll have me. And I do, I want to be a head coach [again] at some point in my life. I've learned a lot over the last so many years. Hopefully gained a lot of wisdom. If and when that time comes, I look forward to the challenge of doing it again."
[wysifield-embeddedaudio|eid="453761"|type="embeddedaudio"|view_mode="full"]
Stock Watch
Buy: Joe Thuney – For a rookie, this 2016 draft choice is being given ample opportunities to win a starting job and seems to be handling them quite well. He's been particularly stout in 1-on-1 blocking drills versus the defensive line.
*Sell: *Nate Washington – After vomiting on the field on Day 1, Washington has been nothing more than a spectator on the field in his 84 jersey. Meanwhile, some younger receivers are taking advantage of his absence with extra reps.
Play of the Day: With the rain coming down hard, quarterback Tom Brady took a red zone snap and looked to the right corner of the end zone. Tight end Rob Gronkowski was streaking for the pylon, with linebacker Jamie Collins right on his tail. Brady's pass sailed just above Collins' reach, but Gronkowski extended both arms and managed to haul in the wet ball. He kept both feet in bounds and celebrated the score by whipping the ball high in the air, then jogging over to a nearby tent of invited guests of the team and high-fived several fans inside.