For 10 years, the New England Dairy and Food Council, the NFL and local dairy farmers have worked tirelessly to get kids eating healthy breakfasts and moving for 60 minutes every day through Fuel Up to Play 60. This partnership, which includes school visits, guest speakers and student leadership development, has reached 1.7 million kids in New England since 2009.
On Thursday night, the New England Dairy and Food Council and its supporters celebrated this milestone with its first Stars Among Us gala, and Devin McCourty was on hand to help host the night.
From 2013 to 2017, Devin served as a Fuel Up to Play 60 ambassador, and during an honoree panel, Devin, Jaclyn Galvin, a Fuel Up to Play 60 student alumnus, and Pat Roach, Chief Financial Officer of Springfield Public Schools, spoke about the value of the program.
"I've always felt that the children and our kids are the most important part of our community. I think this is another way to give back to them and develop them like Jaclyn said," Devin said. "You talk about leadership, you talk about doing the right thing when no one's looking, you talk about doing the right thing when other people might be doing the wrong thing. I think you create those skills and you do it in a positive way, you give kids the opportunities to do things they couldn't imagine doing."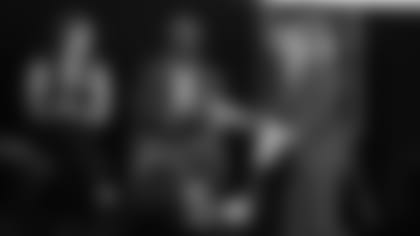 Jaclyn is living proof this. She is finishing up her freshman year at Emerson College in Boston, where she is majoring in sports communications and said the experiences she had through Fuel Up to Play 60 helped her realize what she wanted to pursue.
"Knowing that if you instill this in your community or in your school, it's giving students not only physical activity tips and tricks and nutritional aspects, but it's also giving them such an amazing opportunity in front of them – leadership, public speaking, all those aspects," Jaclyn said. "It really has changed my life."
Patrick has seen the benefits in Springfield Public Schools, as well. The school system implemented a breakfast in the classroom in all of its schools, and providing students with a healthy breakfast to begin the day has changed how they walk into the building in a meaningful way.
"We have a 75 percent poverty rate in Springfield, so we have really hungry kids. Hungry kids can't learn. Getting these kids into school and eating breakfast is so important to us," he said. "Before breakfast in the classroom, we had a 23 percent participation rate. After doing breakfast in the classroom, it went up to over 80 percent. It's been a really big deal for our kids."
With a healthy breakfast, kids can take on the day, and Devin also stressed the importance of kids getting outside to clear their minds and exercise. When he was growing up, he said, the kids in his neighborhood were always outside playing games and riding their bikes.
Kids now have so many temptations to stay inside, Devin said.
"Technology just wasn't that advanced. I think now you have a lot of kids who grow up thinking it's cool to watch football, play video games, doing all of these things inside. I think it's very important [to get outside]," he said. "For one, it gives you an opportunity to be physical, get good exercise. Two, I think it gives you the opportunity to meet friends, have fun with people your own age. You can do a lot of different things in the community doing those things, you get to know people around you."
For more information about Fuel Up to Play 60, you can check out its website here.