The first time Devin McCourty was on a duck boat, he was celebrating a Super Bowl victory. The second time, he was in the copilot's chair, helping to lead a tour of Boston with a duck full of Patriots fans. 
Passengers on the trip won a seat through Pepsi's Unlock the NFL contest, scoring a one-of-a-kind experience with Devin.
While Devin didn't know what a duck boat was until he boarded one after Super Bowl XLIX, he got acquainted with the Boston staple pretty quickly on April 2. His "decent" background in history helped his commentary on the driving tour, but he said he found himself learning more about Boston and its ties in American history. 
"It was a lot," Devin said with a laugh. "It was just cool coming out here and having fun. I've been playing here for six years and not knowing a lot of that information, it was just cool to sit here and travel through the city and learn about it."
Fans were able to take turns driving the duck boat once it was water bound. Devin even got behind the wheel, as well. 
He said being able to spend the day with fans, despite the cold and rainy start to April, made the experience even better.
"It's cool just to see the fans come out. If they have a great time it allows me to have a good time, so I think the excitement was good to come out on a day where it was raining, the weather's not great, but everyone was excited and happy to be here," Devin said. "We had a great tour guide, Skipper the Skydiver, so I think that made everything better."
From the Old West Church to Bunker Hill, Devin, Skipper and guests talked history, Patriots of the American Revolution and the Patriots in 2016. The modern American history and the sites dating back to the American Revolution were colored in with Patriots moments and questions for Devin.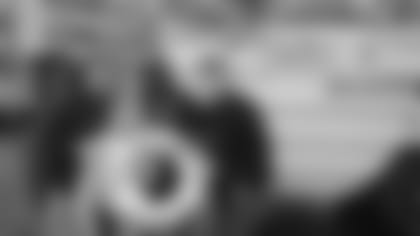 They learned Paul Revere, in fact, yelled "The Regulars are coming!" on his famous midnight and that Devin's No. 32 with the Patriots was almost No. 26. They saw a piece of the Berlin Wall and heard about Vince Wilfork's dance moves at Aqib Talib's wedding. They passed by Sam Adams' final resting place and heard what it was like to be on the field when Malcolm Butler made his Super Bowl winning interception.
One winner, Mary Beth Crowley of Boston, said she is always on the lookout for sweepstakes like this. Combining her love for the Patriots and "taking Pepsi intravenously" made for an incredible day, she said. 
"It was a lot of fun. I'm from Boston, so I do know a lot of the history, but there's always something new," Mary Beth said. "It was fun to be with everybody else, and Devin was really cool … It was just so much fun because you don't get an opportunity to get up close and really have a conversation with the players."
Before the passengers disembarked from the 80 minute journey, Devin thanked them and Pepsi for making the tour possible and gave them something to look forward to as the 2016 season approaches.
"Hopefully we'll go 16-0, win another Super Bowl and make it 19-0," Devin said to cheers. "But if we lose a couple of games on the way, we won't be too mad." 
As the tour went by the Battle of Bunker Hill site, the skipper made a similar point. 
"The British won the battle, but guess what? We won the war, and that's what counts," he said.
And if the Patriots "win the war," it won't be long until Devin is back on a duck boat for another ride.