PHOENIX - Dispatches from day two of the NFL annual meeting at the Arizona Biltmore Resort....
* Ravens longtime head coach John Harbaugh, only half-jokingly, rejoiced at the headline. Jets CEO Christopher Johnson noted that it was obviously "good news" for his team in the New England-dominated AFC East.
But in reality Rob Gronkowski's retirement announcement in late March doesn't quite eliminate the Patriots from playoff contention just yet. The stranglehold New England has had on the rest of the AFC isn't being declared over around the rest of the conference.
"Look, New England is a good football team, and until somebody actually beats them, I don't know if you can quite say the conference is now in play," said Colts general manager Chris Ballard, whose team was one of only four AFC clubs to win a playoff game last season. "We're not ready to go there."
Even if the Colts and the rest of the AFC conceivably win with the Patriots being not as formidable without Gronkowski, it's a loss for the NFL to see him no longer on the field, Ballard said.
"He's a special player," Ballard said. "In my mind he's a first ballot Hall of Famer. But it wasn't just about his play. It's the way he loved to play. I don't think any time we ever watched him play you didn't see a big smile on his face, like a big kid having fun playing football. That's why he had such a great career, too."
* There's something undeniably strange about this year's NFL annual meeting, and it's impossible not to notice. Browns owner Jimmy Haslam is walking around the Biltmore with his head held high, and has the look of - dare we say? - a winner.
This time last year at the annual meeting in Orlando, Haslam was presiding over a laughingstock team coming off a winless season and a 1-31 two-year record, was still searching for the franchise's first franchise quarterback in forever, and had a club coached by the incomparably overmatched Hue Jackson.
This year? The ascendant Browns own more buzz than any team in the NFL, just traded for the supremely talented Odell Beckham Jr., and have added the likes of Baker Mayfield, Jarvis Landry, Nick Chubb, Kareem Hunt, Olivier Vernon and Sheldon Richardson to their talent-dotted roster. Shoot, the Browns don't even own a first-round pick this season, let alone being in their near-annual position of once again leading off the very top of the draft.
What a warp speed trip to contention it has been for Haslam, if you can get past the fact it was years in the making. Cleveland is even thought to be in strong contention to open the season at New England in the Week 1 Sunday Night Football slot, when the Patriots hang their latest Super Bowl banner.
"It's exciting and the town's excited," Haslam said. "We've got great fans and we're looking forward to the season, but we've got to perform on the field, right?"
Details, details. Cleveland won five of its past seven games last season and have only gotten better since then, especially with the firing of Jackson at midseason and the elevation of well-liked and respected offensive coordinator Freddie Kitchens to the head coaching job.
Between Mayfield and Beckham Jr., figuring out who might emerge as the face of the Browns franchise might actually be a multiple choice question.
"They're all highly competitive and that's what you want," Haslam said. "Pro football started in Ohio. Northeast Ohio is a huge football community, and even as poorly as we've performed the last several years, the fan support has been tremendous. Cleveland's a great sports town, a great football town and everybody's real excited."
Suddenly the misery of 2016-2017 in Cleveland feels far away and perhaps even partly responsible for where the Browns find themselves today.
"We went through a couple of tough years stockpiling (picks) and tearing down the roster, and (general manager) John (Dorsey) and his team have done a great job of using those picks and those assets wisely," Haslam said. "Hopefully they'll continue to do so, although we don't have as many picks as we have had.... It won't be like the first night (of the draft) has been the last couple (years). But that's a good problem to have."
* I continue to hear Kansas City's proposal to change the overtime rules to mandate both teams get a possession in the extra period is going down to a big defeat here at the annual meeting. It's not even close to garnering the necessary 24 votes of support for passage. Coaches seem somewhat split on the idea, the Competition Committee has no consensus support for it, and it's thought that owners and general managers won't pound the table for it as well.
With the league putting out statistics that say 80 percent of overtime games since 2010 have featured both teams having a possession, and that only 53 percent of the time a team wins the overtime coin flip and continues on to win the game, many within the league - including Troy Vincent, the NFL's executive vice president of football operations - consider the Chiefs' OT proposal a solution in search of a problem.
But as NBCsports.com's Peter King pointed out Monday, the NFL has had 589 overtime games since it adopted the extra period in 1974. Teams that have won the coin flip in overtime have elected to receive on 577 occasions, or 98.0 percent of the time. If's really little to no advantage to win the coin flip and receive in overtime, how come almost every coach does it?
"I've been on both sides of it, so I know the pluses and the minuses," said Falcons coach Dan Quinn of the overtime rules debate. "But, yeah, there's a side of me that says (one possession each) is worth considering. I think we're doing such a good job on the scoring side in the league these days, maybe let's give both offenses a shot in overtime."
Quinn's open-mindedness to the proposed overtime change seems to be in the distinct minority, and at best perhaps the NFL will assign further study of the topic and table the issue for now.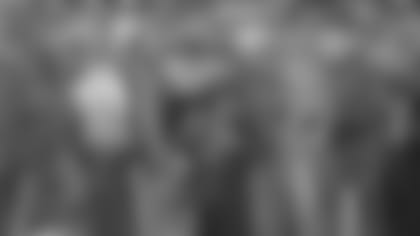 * A lot of eyebrows were raised last Friday when NFL Competition Committee chairman Rich McKay said no one on the eight-person rules-making body supported the "Sky Judge" proposal, putting an eighth official in an upstairs video in order to correct egregious officiating errors in real time, a'la the new Alliance of American Football system.
After all, isn't Saints coach Sean Payton - the leader of the "Whatever it takes to get the calls right club" - a member of the committee? How could Payton not get behind an idea that would have served to reverse the embarrassing late-game non-call on pass interference that effectively kept the Rams alive in the NFC Championship?
Giants co-owner John Mara, also a member of the committee, cleared up some of the mystery surrounding that question.
"I think (Payton) would prefer that (the 'Sky Judge') to nothing," Mara said. "But I think he prefers (expanding) the challenge system for replay reviews."
For his part, Payton made his views clear in an NFL Network interview Monday, declaring that if the league doesn't make any moves to expand its replay review system this offseason, "then ownership is saying they're comfortable with what happened" in the NFC title game.
Via ESPN, Payton in that NFL Network interview also called on the league to have all full-time officials at this point.
"There are a handful of things that we've got to be better at right now," Payton said. "Our best at playing and our best at coaching are spending 20 hours, 18 hours a day. Our best at officiating, it's their second job. That has to change, because it's too hard. There's too much at stake for someone who's a teacher at a school, who's a florist, an attorney. That's backward thinking.
"And really as we move forward into the next 10 years, for instance, of our game, where do we want officiating? With all of the technology we have available to us, our fans are closer to the game, our fans are way more in tuned and educated as to the correct calls in the game. And we just need to be better."
* For a league that both reveres and wraps itself in its history, the NFL's decision to open the 2019 season with the latest renewal of the storied Packers-Bears rivalry on Thursday, Sept. 5 makes some sense, given that this year marks the 100th season in league history. But what about the history and tradition of having the defending Super Bowl champion given the distinction of opening the new season at home, before a celebratory crowd?
The NFL has been doing that since 2004, with the exception of when the 2103 Ravens-Broncos game had to be moved to Denver due to a scheduling conflict with the baseball Orioles in Baltimore. That's no small slice of tradition the NFL is bypassing this year in order to highlight its 100th anniversary season with two of its oldest franchises.
So the Patriots will face off against a team TBD on Sunday night of the first NFL weekend this time around, perhaps the Browns. Which is a fine matchup and a decent enough showcase, I suppose. But it still smacks a bit of changing the rules in the middle of the game, at least to my way of thinking.