NFL Draft analyst Rob Rang offers his evaluation of the top center prospects in the 2019 NFL Draft class.
Garrett Bradbury, North Carolina State, 6-3, 306, 4.92
Strengths: Former tight end who kept getting bigger but never lost his athleticism. Above-average timed speed demonstrated at the Combine shows up on tape with Bradbury showing terrific initial quickness and agility blocking on the move, projecting well to a zone-blocking scheme. Turned heads with his 40-yard dash but was even better in the other drills, leading all offensive linemen in the 3-cone (7.41), tying for first in the short shuttle (4.53) and second in the vertical jump (31 inches). Balanced and square in pass protection, showing excellent lateral agility to mirror pass rushers. Alert and poised against surprise blitzes. Has experience at guard. Team captain.
Weaknesses: Slightly shorter than ideal for the position with below average arm length (31¾ inches). Does not play as powerfully as his impressive 34 repetitions of 225 pounds at the Combine suggest, relying more on quickness and positioning to wall off defensive linemen than bulldozing through them.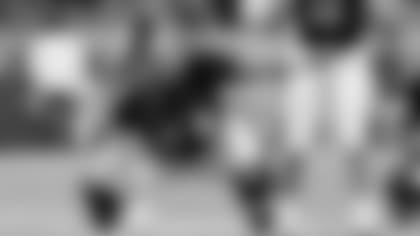 Erik McCoy, Texas A&M, 6-4, 303, 4.89
Strengths: Prototypically-built interior lineman with long arms (33 inches) and a thick lower half, as well as good knee bend, leaving him well-suited to winning the leverage battle. Generates movement at the point of attack with his raw power and turned heads at the Senior Bowl and Combine with his athleticism – which was not always exploited in A&M's power-based scheme. Three-year starter. Team captain. Some starting experience at guard.
Weaknesses: Not as agile as his impressive 40-yard dash at the Combine might indicate, losing track of assignments at the second level. Appeared to play to the level of competition, at times, raising questions about his competitiveness and consistency. Aided by A&M's skill-position athletes (including dual-threat QBs), who rarely needed him to block for long.
Elgton Jenkins, Mississippi State, 6-4, 310, 5.0
Strengths: Rare size for the position with excellent arm length (34 inches) and a powerful, well-distributed frame. Good knee bend and core strength to anchor against bull rushers. Above-average initial quickness and overall athleticism for an interior offensive lineman, especially one of his size. Three-year starter with experience at both tackle positions and left guard, as well as center. Good functional strength, including powerful hands to catch and control opponents.
Weaknesses: Not truly the sum of his parts. Is not as overpowering at the point of attack as his size and impressive weight room strength (29 reps of 225) suggest, failing to keep his legs driving on contact to forcibly move defenders. Timed well but struggles reacting to moving targets at the second level. Struggled with top-rated DT Quinnen Williams and Alabama in a high-profile matchup.
Lamont Gaillard, Georgia, 6-3, 305, 5.20
Strengths: Short, squatty build conducive to winning the leverage battle inside with disproportionate arm length (33½ inches) to keep defenders at bay. Quicker than he looks, generating movement at the point of attack with his snap-to-step quickness, power and hand placement. Plays with a tenacious, junkyard dog mentality, never backing down from a challenge and working hard to finish blocks. Good awareness of blitzes and stunts. Performed well against top competition. Three-year starter with experience at guard as well as center.
Weaknesses: Just average athlete for the position, fitting best in a power-based scheme similar to the one run at Georgia. Tops out quickly when attempting to block at the second level, struggling to adjust to moving targets. Heavy feet, which leave him laboring to slide laterally to mirror in pass protection. Carried too much extra weight around his middle in 2018.
Ross Pierschbacher, Alabama, 6-3, 309, 5.20
Strengths: Four-year starter with his first three seasons outside at guard (26 at LG, 13 at RG) before making the successful transition to center – where he projects best in the NFL – as a redshirt senior. As his experience suggests, Pierschbacher is battle-tested and technically sound, routinely sealing off bigger, stronger defenders with his savvy, hand placement and underrated agility. Above-average initial quickness and agility for a center, showing the burst and body control to pull and adjust to linebackers at the second level. Good balance and lateral agility to mirror in pass protection.
Weaknesses: More quick and controlled than colossal or country strong, Pierschbacher is not the powerful drive-blocker many associate with the Crimson Tide's typically-dominant running game. He showed just average strength in the bench press (20 reps), which aligns with his tape. Lacks the length (32 1/8- inch arms) teams are looking for at guard and therefore may not offer the positional versatility that his college background suggests.
Best of the Rest:
**Alec Eberle**, Florida State, 6-3, 295, 5.21
**Sam Mustipher**, Notre Dame, 6-2, 306, 5.19
Toa Lobendahn, Southern California, 6-2, 295, 4.96
Sleepers:
Nick Linder, Indiana, 6-3, 306, 5.25
John Keenoy, Western Michigan, 6-2, 300, 5.27
Will Noble, Houston, 6-4, 295, 5.17