NFL Draft analyst Rob Rang offers his evaluation of the top tight end prospects in the 2019 NFL Draft class.
T.J. Hockenson, Iowa, 6-5, 251, 4.70
Strengths: Rare full-service tight end equally adept at securing contested catches on underneath routes, attacking down the seam or generating movement as a blocker. Quality athlete who accelerates smoothly into his routes, exhibiting good quickness out of his breaks to create separation. Soft hands to pluck outside of his frame. Excellent height and leaping ability (37.5-inch vertical jump) to win jump balls. Starred in an offense that has consistently produced quality NFL tight ends. Plug and play talent with Pro Bowls in his future. 
Weaknesses: Picking nits but Hockenson came in slightly lighter and slower than tape suggests. Operated in a pro-style offense that featured two tight ends and a downhill rushing attack that inflated his production. Left Iowa as a red-shirt sophomore with just one dominant season.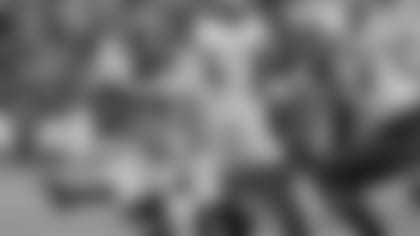 Noah Fant, Iowa, 6-4, 249, 4.50
Strengths: New-age NFL tight end who projects as more of an overgrown wide receiver rather than a traditional in-line blocker, though he is competitive in this area. Exceptional athlete for the position with eye-popping speed and explosiveness as a leaper (39.5-inch vertical jump), excelling as a catch-and-run seam threat and red zone monster with 18 TDs scored in final 24 games at Iowa. Burst into his release stands out regardless of whether he's lined up in a three-point stance, in the slot or split out wide, offering his NFL play-caller lots of creativity to create mismatches. 
Weaknesses: Competitive as a blocker, showing good hand placement and reasonable strength (20 repetitions of 225 at the Combine) but lacks the raw power (especially in his lower body) and nastiness to generate movement. Needs to add some glass to his diet. Can get pushed off his route and fails to break tackles at the second level consistently enough despite typically towering over the DBs covering him.
Josh Oliver, San Jose State, 6-5, 249, 4.63
Strengths: True diamond-in-the-rough candidate who might be viewed as a consensus top 64 option had he played at a more prominent program. Was the featured target at San Jose State and opponents knew it, drawing multiple defenders often. Fluid acceleration for a big man with soft hands, body control and good size to attack all levels of the field. Asked to run a variety of routes, showing balance, burst and impressive straight-line speed. Proved he belonged amidst the top talent at the Senior Bowl and Combine. 
Weaknesses: Sleepers should dominate at the lower level and Oliver never did that, catching a total of seven touchdowns in four seasons at SJSU, including four in his "breakout" senior season. Too important to this offense as a receiver to develop much as a blocker and to gain strength, grit and technique in this area. High ceiling but low floor prospect due to level of competition concerns.
Irv Smith, Alabama, 6-2, 242, 4.63
Strengths: Classic "move" tight end and H-back candidate with mismatch potential as a receiver and surprising effectiveness as a blocker. Good initial quickness into his route and shows core strength and balance to fight through traffic and create space. Emerged as a legitimate seam threat in 2018, providing more consistency than O.J. Howard, a first round pick by Tampa Bay the year earlier. Quality route-runner who ran a full route tree in Alabama's pro-style attack. Terrific bloodlines. Father, Irv Smith Sr., and uncle, Edward Smith, both played tight end in the NFL during the 1990s. 
Weaknesses: A bit of a one-trick pony as a short-to-intermediate receiving specialist who will be seen by some as a luxury pick. Competitive at the point of attack as a blocker but lacks the frame and physicality to handle true in-line duties against NFL competition. Below average height, arm length (31½ inches) and vertical jump (32.5 inches) to win contested throws. Good production in 2018 (44-710-7) but has some drops on tape too.
Foster Moreau, LSU, 6-4, 253, 4.66
Strengths: Powerful blocking specialist with limited production as a receiver but whose impressive athleticism shown at the Senior Bowl and Combine suggest this may be due to how he was used at LSU rather than his own limitations. Turned heads with the soft hands he demonstrated in Mobile as well as more attention paid to his route-running. 
Weaknesses: Raw route-runner and pass-catcher. Didn't play up to his timed speed or explosiveness (36.5-inch vertical jump) at LSU, struggling to make an impact as a receiver with just 52 grabs and five TDs for his career. Limited awareness of defenders near him in coverage.
Best of the Rest:
**Drew Sample**, Washington, 6-5, 255, 4.71
Jace Sternberger, Texas A&M, 6-4, 251, 4.75
Kaden Smith, Stanford, 6-5, 255, 4.92
Sleepers:
Caleb Wilson, UCLA, 6-4, 240, 4.56
Kahale Warring, San Diego State, 6-5, 252, 4.67
**Dax Raymond**, Utah State, 6-5, 255, 4.73