For the better part of a month now, Julian Edelman has been a regular participant at Patriots practices.
Problem is, after being diagnosed with a concussion during the Week 15 Dolphins game at Gillette Stadium, the wide receiver did not suit up for the team's final two regular season games. He has also been dealing with a thigh injury that first cropped up when he fell on the yard-marker sticks in Indianapolis in mid-November.
This Saturday, though, the veteran fully expects to be back on the field for the Divisional Playoff against Baltimore.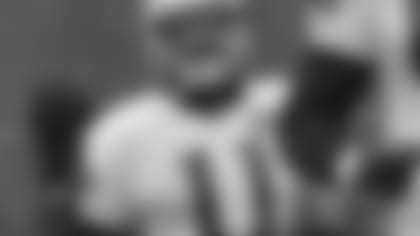 "Any time you don't get to go out and play with your teammates it's really tough," Edelman said Wednesday, his first public comments since the Dolphins game. "But all that's in the past, and I'm looking forward to today and preparing for the Ravens, getting ready for this playoff game.
"It's always tough to not be able to go out and compete with your team, and work on things to get ready for this last stretch. You have to play with the cards you dealt. You have to adjust, adapt and overcome. That's what I'm trying to do."
That preparation has included extra practice work with QB Tom Brady.
"We've been practicing the last week and a half or something; I know Tom a little bit here now, these last few years. He knows me. There's a foundation, but even if whatever happened didn't happen, we still have to continue to try to get better. That's what we're trying to do: staying after, throwing a couple extra routes, bouncing ideas off each other. Like any other week, I guess, but the stakes are a little higher."
Edelman has been so focused, it seems, that he hasn't touched a razor in the past month, as his unsightly beard would suggest.
"It's a playoff beard, I guess," the normally fresh-faced Edelman japed. "It's getting there."
Cornerback Darrelle Revis held court at his locker for most of the interview period time, as an unusually large group of media descended on Gillette Stadium.
Revis found himself balancing his emotions between being anxious to play again in the postseason, while staying level-headed in his approach to it.
"We're very excited," he said, speaking for himself and his club. "We were excited to get back to practice this week and on schedule. Second-round playoffs, we're definitely excited.
"I'm just trying to do the same approach I do every week and prepare the best I can. I'm not trying to put too much focus or make this a highlighted game. Just do the same thing, go and do the same routine."
New England trotted out all 63 players (including the 10 on the practice squad) for yet another practice, as they have for much of the past month or so – a remarkable feat at this time of the NFL year.
Today's session was in shells (lighter, smaller shoulder pads) and took place on the Gillette Stadium game field.