Just before N'Keal Harry left the Arizona State campus for his first weekend as a professional football player, his coach, Herman Edwards, offered the rookie some advice.
"I told him, 'Don't going dropping the ball on Captain America now. He ain't gonna keep throwing it to you if you drop it.'
And with that, Harry was off to Foxborough, and while he has yet to meet Captain America, or more specifically Tom Brady, his college coach felt he was in a great position to succeed.
Harry is a sturdy 6-2, 228-pound wide receiver who is a native of St. Vincent and the Grenadines, the first NFL player to hail from the Caribbean island nation. He moved to Chandler, Arizona, and lived with his grandmother as a child before catching Edwards' attention at the Under Armour All-America High School football game where he worked as a coach. Edwards was still a commentator at ESPN then, but often spent time evaluating the top 100 prospects with fellow former coach Steve Mariucci, who also was coaching at the game.
"Every year we were involved with the Under Armour we would look around and wonder how many of those kids would ultimately wind up in the National Football League," Edwards recalled. "There was always a lot of talent there. We'd look and say, 'He'll be in the league. He'll be in the league.' And N'Keal was one of them. You could just see the talent."
Little did Edwards know at the time but he soon got the chance to work with Harry even more closely when he left his retirement gig at ESPN to take the reins at Arizona State. In doing so he got to coach Harry last season, and the coach was sometimes left in awe watching his raw physical skills.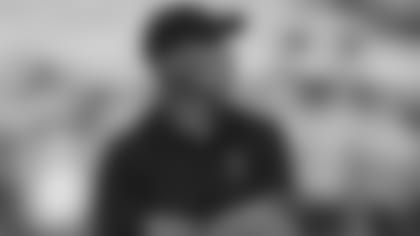 With every battle for the ball and leaping grab, Edwards knew his initial instincts on Harry were correct. His receiver would soon be plying his trade in the NFL, and the Patriots made sure of that when they took him with the final selection of the first round.
Like most scouts and draft experts, Edwards believes Harry's strength and ability to fight for the ball are his greatest attributes. The coach likens his skills to former Cowboys star Dez Bryant's, both in playing style and the emotion both play with.
"He has a lot of the core values the Patriots love," Edwards explained. "He has a great work ethic and is very passionate about the game of football. He loves to make plays on the contested ball. His height and weight are very similar to Dez. And he loves the big moments. When the game's on the line, he doesn't run to the shade; he runs to the light."
Having coached against Bill Belichick for years in the AFC East with the Jets, Edwards has an understanding of what make the Patriots tick. He believes Harry will thrive in such an environment.
"It's just a great place for N'Keal to be," Edwards said. "He'll be playing with the best quarterback to ever play with a standard of excellence that has already been established. He'll have an understanding of how to practice, meet, and play because we run our program like a professional team. He'll understand that every time you go out on the field, that's your resume. He won't be in shock over the efficiency he'll need – to be on time, disciplined, focused – there's a certain pressure in the building and he'll be comfortable with that."
The one consistent negative that comes up with regard to Harry is his occasional struggles to create separation with his routes. Edwards did not dispute this, but also felt the problem can be somewhat mitigated due to the talent he'll be surrounded by – specifically a certain Super Hero quarterback.
"Like I said, he's a lot like Dez and sometimes Dez didn't separate," Edwards concluded. "But again, he's playing with the best and all Captain America needs is a window to fit it in."
Now if Harry develops into Captain America's Bucky, the offense will be ready to take flight.