Kelsey Cunningham and her son Karson drove five hours from their home in Swoyersville, Penn., to Foxborough. It was a long ride for the duo, but it was worth it for the feeling of seeing Gillette Stadium again.
It had been almost eight years to the day since Cunningham's last visit for training camp, one that sticks with her for more than just seeing her team in person. As she and Karson checked out the Patriots Pro Shop, she knew the perfect thing to buy her son to make it a true, full-circle moment: a Devin McCourty jersey. More than a favorite player, McCourty has come to mean more to Cunningham and her family than anything he could accomplish on the football field.
Patriots fans have come to know McCourty as someone who doesn't hesitate to fight for what he believes in. He is a vocal leader in the Patriots locker room and in New England, but this isn't a story about him standing up for good in the public eye. Instead, this is a story of a quiet connection McCourty made when no one was looking.
Football has always been a family passion for Cunningham. She shares it now with her husband, a Chargers fan, and their three children, but Cunningham herself learned to love the game and the Patriots from her stepfather, Jack Kelly.
"I sat in the living room with him every single Sunday, and I would just listen to everything he was saying and just seeing his passion," Cunningham said. "I was like, 'Oh, wow. This game is pretty cool.' It became a passion of mine."
From a young age, it was how she and Kelly bonded. When an opportunity came up to bring Kelly to his first Patriots game, Cunningham pulled money out of her wedding dress savings to take him. The tickets weren't cheap and money was tight, but for Kelly, the cost didn't matter.
"My stepfather was pretty much my favorite person in the entire world. He would stop the world for me," Cunningham said.
In 2013, just months after their trip to Foxborough together, Kelly got the news from his doctors you hope to never hear. He was diagnosed with Stage IV brain and lung cancer. Cunningham, in her grief and devastation, thought of ways to lift Kelly's spirits in his darkest days. It didn't take long for her to land on the Patriots.
"I was trying to think out of all the players, who might I actually receive a response from," Cunningham said.
So she sent Devin McCourty a message hoping she might hear something back. McCourty did not let her down. Not only did he respond, he agreed to video chat with Kelly. Cunningham said the two spoke for nearly an hour.
"He was so taken aback. He was like, 'How the heck did you get him?'" Cunningham recalled. "They were talking football, like they were best friends for years. It was just amazing just to see that interaction, and Devin didn't even hesitate."
With the induction of Cunningham's favorite player, Tedy Bruschi, into the Patriots Hall of Fame coming up, she mentioned that they might make the trip for the ceremony. If they got to Foxborough, McCourty said to let him know, and they did. Cunningham, Kelly and McCourty met up in the parking lot of an IHOP, took pictures and chatted. McCourty even gave them tickets for a game later in the year.
In the months after, McCourty would reach out and check in on how Kelly was doing. Cunningham never forgot that.
"He did not have to do any of that," Cunningham said. "Every time he reached out, it would melt my heart. He is the most selfless person I've ever met. He didn't even need to acknowledge anybody in this situation."
Above all else though, seeing Kelly's joy because of this encounter was the most memorable part of it all. After his diagnosis, all she wanted was to give him something to be excited about.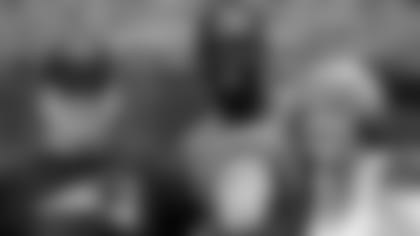 "Just seeing the smile on his face, there were just so many emotions," Cunningham said. "I was just so happy to see him smile for the first time since his diagnosis. That meant the world to me."
It's carried even more weight in the years since. Kelly passed away in May of 2016, and up until the end, the Patriots were a through-line for their family. Well before the season started that year, Kelly was adamant that it was the Patriots year. He just had a feeling about it. Of course, that season ended with the Patriots coming from behind in Super Bowl LI.
"It was just tears everywhere," Cunningham said. "That was the first thing that popped into my head. I was even telling my husband that Jack called it ... He was the 12th man out there."
Having happy memories to look back on, especially around football season, keeps him close for Cunningham. Now, she is able to share her love of the Patriots, that gift from Kelly, with her own kids. That significance wasn't lost on her when she and Karson got to Foxborough on Aug. 6.
"It felt like it was full circle at that point. It was so emotional being there because it was a weightless feeling. It felt like I was home," Cunningham said. "Someplace that I learned to love because of my stepfather, and now I can share that experience with my son. It was just emotional. I was in heaven."
With all of this in mind, Cunningham said it was a simple decision in the Patriots Pro Shop. It had to be a McCourty jersey for her son, and it has nothing to do with his play on the field.
"Everybody only sees so much," Cunningham said. "They don't get to see behind the scenes. Like this situation with Jack, nobody every knew about it ... Words cannot express what how much he has done for my family. Even my mom still talks about him to this day. She always says, 'That Devin McCourty, we are indebted to him.'"