As Jamie Collins sprinted down the field and towards the end zone after picking off a pass against the Dolphins on Sept. 15, his bright red cleats flew along with him. Though from the stands or the TV screen, the cleats appeared ordinary, the new kicks symbolized more than just a new look.
Elandon Roberts gifted his linebacker teammates new cleats before the Patriots road trip to Miami. On the toes of the shoes are the words that Roberts has made his motto: "Dark Grind." It's a mentality that's motivated him both on and off the field, an understanding that only you ever truly know how much work you put in day in and day out.
It's appears in every Instagram he posts as a hashtag, and on the day he made his media debut on Sept. 6 as a first-time Patriots captain, "Dark Grind" was right there on his shirt.
"Dark grind means every day you deal with stuff or go through stuff, and you've got that grind that you'll go by," he said. "For instance, you come to work every day and you've got that grind, but when you go home and tell your significant other or it might just be a friend, you know, you tell them [about] that grind. At the end of the day, they just don't understand because it's not their grind. It don't mean that they don't support you. They just don't understand your grind."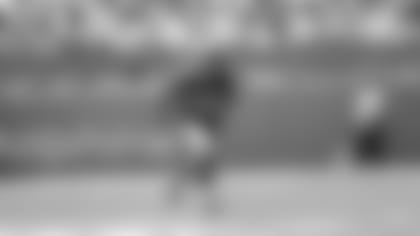 With that in mind, Roberts wanted to remind his fellow linebackers of their own journeys. Kyle Van Noy, Ja'Whaun Bentley and Collins were among some of the linebackers wearing the "Dark Grind" cleats agains Miami.
Though each Patriots linebacker goes his own path, they are a brotherhood and support each other through it all.
"I just wanted to give some cleats to my guys, camaraderie for the linebacker crew," Roberts said.
Every Sunday, friends, family and fans see the work the Patriots do. To get to those moments, to those interceptions, tackles and sacks, so much more goes in, and that dark grind is for the guys to know.