The final media availability for Patriots players before the bye week has a feeling that can only be compared to the last few minutes of class before a school vacation. It's giddy. Guys are smiling and laughing as they hurry out the door, ready to go home, rest and spend time with friends and family.
You can almost hear a bell ringing; picture papers fly through the air.
That single instance, as it turns out, isn't the only way in which the day-to-day of an NFL player is comparable to an education setting.
Every week, Patriots players enter the building, set to learn a new lesson, or opponent. They sit in classes, or meetings, and then they practice the strategy on the field, comparable to a lab. Then every Sunday, they take a test.
At least, that's how Patriots wide receiver coach and special teams coordinator Joe Judge sees it. To him, coaching is just another form of teaching, and he would know.
Judge is in the process of pursuing his PhD in education from Mississippi State University.
The journey to a PhD started in 2005, when Judge was a graduate assistant for the football team at MSU. Now, 14 years later, all that's left is for him to defend his dissertation. As a husband, father of four, a student and, oh yes, a coach in the NFL, finding the time to do so can be difficult.
"When I started, I was married with one child. Over the course of adding three kids, it's kind of delayed the process of just knocking out that final part," Judge said.
Though he finished his classwork and hours while at MSU, balancing it as a graduate assistant was a test in time management and hard work. He learned to wake up early, go to bed late and run on coffee.
"I would be at practice running drills, and when it hit a certain time at the end of practice, I had to sprint to my car to get over to class and present on whatever I was doing that night or take a test or get home in time to finalize a paper that had to be due at a certain time," he said. "Then I'd head back to the office and finish breakdowns and game planning for the next day."
By the time he landed at the University of Alabama in 2009, working as a special teams assistant under Coach Nick Saban, the time to work on his dissertation became even more scarce. In 2012, he landed with the New England Patriots, and well, here we are.
"The toughest thing is you always have intention to do it. You map out time in the offseason … then you're at little league games. You're taking visits to go work guys out for the draft. You're in spring practice," Judge said. "Summer comes around, and you're in more little league games. You're visiting, catching up and seeing people you haven't seen in some time. Sometimes life catches up with you, but I'd say along the way, it's still saved on my computer. It's still prioritized."
For Judge, getting a degree in education as a coach is a chance to learn the most effective ways to reach people where they are. Everyone, he said, learns differently, and football is no exception. By learning different ways of teaching, communicating and presenting facts, it makes all the sense in the world as a coach.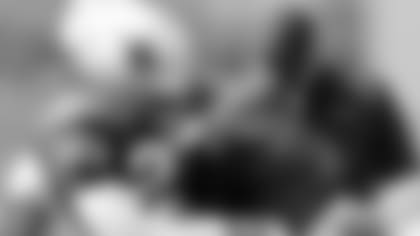 "To me, coaching has always been teaching. I worked for a guy a while back who told me that teaching is just to inspire learning. To me, learning different methods of teaching is the biggest thing," Judge said. "There is no one way to teach. Everybody learns differently, and you have to really learn who the class is, who the students are, so you can reach everybody. You can't teach to the highest in the classroom, and if you only teach to the lowest in the classroom, you're going to miss others. You have to find ways to teach to the entire spectrum at the same time through different methods and keep everybody engaged."
Whether it's a classroom or a football meeting room, that ideology applies.
Even though Judge has been on the cusp of this degree for years, when asked if he knew about it, special teams captain Matthew Slater had no idea but wasn't totally shocked either.
"I'm not surprised at all. Joe is such a smart guy, having been around him for all these years now," Slater said. "He knows so much about so many different things. He's really committed himself to his craft here, but it doesn't surprise me that he would want to continue to acquire knowledge and advance himself."
As impressed as Slater, and others likely will be, to find out, Judge is quick to say he is not done and it is nothing to brag about quite yet.
"Until I really dive headfirst in and I'm down in Starkville defending my dissertation, to me, it's an incomplete process that's really not worth elaborating on to the team," Judge said.
Regardless of how long it takes, Judge intends to see the degree through as a testament to what he is capable of. When he initially started the coursework, Judge was a new father, envisioning sharing the moment with his son.
The mental picture may be different now, but it's still certainly there.
"When my first son, who is now turning 14 next week, he was knee-high when I started it," Judge said. "I guess I kind of pictured carrying him across the stage to get it. Now, he'll probably be driving me there."
As far as the timeline is concerned, Judge is hopeful that it will be done in the near future. He still checks in with his dissertation committee, and they have been understanding of his dual journey as a student and a coach.
"I've started the process of reaching out to some of members of my committee and letting them know that I'm going to wrap this thing up sooner than later," Judge said. "They kind of laughed about it and said it's about time. They've been supportive, and they all know what I'm doing. As long as I send a Patriots hat every once in a while, they all keep in good spirits."
The day the degree is finally complete, framed and hanging on a wall, Judge said he'll have a party, and though Dr. Judge has a regal ring to it, he's going to stay humble about it.
"Other than close friends, I don't think I'll make anyone call me 'Doctor.' My kids are definitely going to call me, 'Dr. Dad,'" Judge said. "Other than that, it's just something that I'll know that I was able to accomplish, and that'll be enough for me."