Cornerback Terrence Wheatley speaks at Football for You.


On a beautiful Saturday afternoon, not even the lure of an ice cream truck's enchanting melody passing in the distance could distract the children from the football field.
The fourth annual "Football For You," a program geared toward teaching the game of football to the area's youth, took place May 30 at Madison Park Vocational Technical High School in Roxbury, Mass., with more than 150 boys and girls ages 10-15 on hand for the opportunity to learn from Patriots past and present.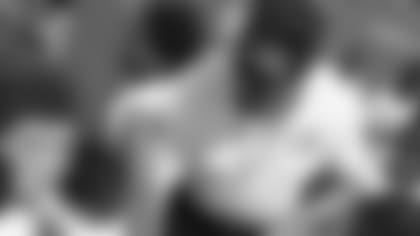 ]()Working under the direction of the New England Patriots Alumni Club (NEPAC), which 12 former players including Andre Tippett, Steve Grogan, Roland James, Pete Brock, several high school coaches and one very special guest, Patriots cornerback Terrence Wheatley, the youngsters participated in six stations, rotating through each when Tippett sounded his menacing foghorn indicating the start of the next segment. Each station was geared toward a different position and the children absorbed the fundamentals, such as proper stance and technique, along the way.
Wheatley addressed the group before fielding questions from his wide-eyed listeners. His message was a simple yet strong one – stay in school. Wheatley encouraged the kids to set goals and focus on bigger things in life, such as family, faith and education as well as football. In all endeavors, he stressed, the key to success is hard work.
He then fielded several questions, one of which allowed Wheatley to put his own message to work. One youngster asked Wheatley what it was like to play against Peyton Manning, and the second-year cornerback nostalgically recalled how he enjoyed watching the Indy great on television and fulfilling the dream of playing against him simply let him "know that [his] hard work has paid off."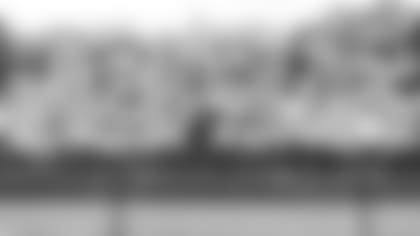 ]()"Football for You" intended to not only teach children the basic football fundamentals but also to take what they learned and apply it to areas that extend far beyond the field.
"Finish the drill even if you fall!"
Those motivational instructions were heard throughout the afternoon. Working together created group unity and personal accountability.
As Tippett put it, "The importance of teamwork, the development of work ethic and the camaraderie are all skills that can be applied to all aspects of life. Many of these kids walked in as strangers and will leave as friends. You can't have success unless 10 other guys are working with you."
Brock, NEPAC president, was elated at the support from the City of Boston. In its fourth year the program had its largest crowd. With the combined help of the Boston Centers for Youth and Family, community centers and public outreach, "Football for You" will continue to unite the kids. It is presented by NEPAC and the New England Patriots Charitable Foundation to the City of Boston