Tom Brady wasn't the only one making his return to Gillette Stadium on Sunday. Foxborough's own JoJo came back to her hometown to perform the National Anthem as the Patriots hosted the Bengals, and it was a day charged with emotion for the singer.
The day itself was more than a homecoming. The Patriots rocked pink cleats and gloves in honor of Breast Cancer Awareness Month and the NFL's Crucial Catch initiative, and JoJo herself wore a pink Patriots jersey to celebrate her grandmother, Connie Connors, who was diagnosed with breast cancer and won her battle five years ago. Connie was on hand as her granddaughter belted the National Anthem at Gillette Stadium.
Lifestyle sat down with JoJo to talk about the performance for Patriots Nation, her grandmother and her new album, Mad Love, which was released on Oct. 14.
How do you think the performance went out today?
J: It was amazing. I just feel so many emotions being back home and it's my first time singing the anthem here in a few years. After having put an album out just the other day, having my Nana be here, having it be Breast Cancer Awareness Month and celebrating her being a survivor, it's just a lot going on in my feels.
J: Good feels. I was a little nervous, but it kind of dissipated after I got out there.
How does it feel being able to perform in front of the hometown crowd and fellow Patriots fans?
J: Just full circle. I grew up and the stadium was pretty much my backyard. You could hear the games and concerts going on, and it's still my dream to sell out Gillette [Stadium]. It's something to work towards. It's an amazing feeling to be back here, especially after being able to put out an album and have new material out that I can talk about.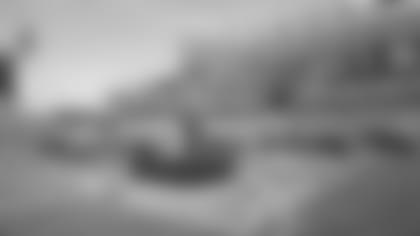 What are you most excited about with the release of "Mad Love?"
J: That it's new material and I'm able to tour off of it, and I'm able to continue the story. You are in control of when your story ends, and you're done when you say you're done. I wasn't done. I'm just really excited that at 25 I can be having a quote-unquote comeback. It's pretty cool.
After 10 years and legal battles with your former record label, you must have a lot of emotions about getting new music out there. What's it like for you to be able to put it out to the world?
J: I had a lot of anxiety leading up to the release of it, but then three days leading up to it I was just kind of like (exhales). I stopped obsessing about it, and I knew that it wasn't going to be for me anymore. It's going to now be for my fans, and that made me feel a lot better. I feel a lot of gratitude. I feel like it's a culmination of a lot of hard work and blood, sweat, tears and years. It's been a long time coming, but it's very satisfying and amazing.
Now, it's Breast Cancer Awareness Month, and you're rocking your pink for the game. What does it mean for you to be here for this game?
J: It's just amazing, and [my Nana] is such a strong woman and to be able to have her here today… I was crying seeing her out on the field.
Connie: I can't explain to you how important it was for me to be with her today.
J: My mom and my aunt are here, and we're all going to celebrate life and be champions here at Gillette Stadium.
*This interview has been edited for clarity and brevity. *
RELATED LINKS