The NFL's 2017 league year (think of it as football's version of a fiscal year) begins this Thursday, March 9, at precisely 4 p.m. Eastern. At that time, teams are allowed to begin signing veteran free agents, making trades with other clubs, and conducting other such business that was precluded heretofore in the offseason.
As reigning Super Bowl champions, the Patriots could be active participants in free agency with more than $60 million available to them below this coming year's salary cap, which was initially set at $167 million per team, but increased to $172 million for the Patriots when they carried over an unused portion of 2016 cap space.
New England also has a number of needs at various positions that could be addressed via the free agent market. So, with that in mind, let's take a look at who might be of interest to the Patriots, position-by-position, starting on the offensive side of the ball.
OFFENSIVE LINE
I don't see the Patriots seeking help at guard after having drafted two players at that position in each of the past two seasons. However, center and tackle could receive some attention.
Ricky Wagner: At 27, Wagner is an experienced starter, having held down the right tackle spot nearly all of the past four years in Baltimore. While New England is set at that position with Marcus Cannon, it wouldn't surprise me if Wagner were given consideration. The Patriots might like a less expensive alternative at left tackle, where Nate Solder is scheduled to earn $11 million this season. Cannon has played on both sides and could be moved back there if New England chose to experiment by bringing in an established veteran of starting caliber, like Wagner.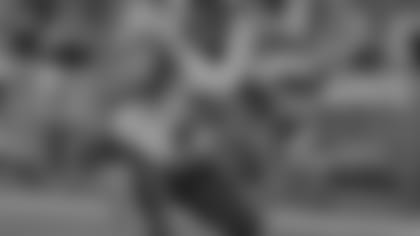 Matt Kalil: Though a hip injury curtailed his 2016 season, the former first-round draft choice had been a stalwart at left tackle for Minnesota the previous four seasons. Solder's been a solid left tackle for years, but if the team wants to challenge him, Kalil could be an option.
Nick Mangold: Easily the most talented center without a home at the moment after the Jets released him (officially with a failed physical), Mangold is an experienced veteran who would start for almost any team in the NFL. While a long-shot to join his long-time rivals in Foxborough, a Mangold addition would provide a serious challenge to young incumbent David Andrews.
Joe Hawley: The 28-year-old started nearly every game for Tampa Bay the past two seasons after beginning his career with Atlanta, where he rarely saw action.
Cody Wallace: Journeyman (late of Pittsburgh) coming off an injury is just the kind of player the Patriots love to acquire and see if they can squeeze anything out of him.
TIGHT END
Martellus Bennett: We never quite saw, for an extended period, what a healthy Bennett-Gronk combo might do to opposing defenses. Bennett could be positioned to cash in this offseason, but I wouldn't entirely rule out his return to Foxborough, either.
Jermaine Gresham: There was a time (2010) when some wondered who the best tight end was in that draft class. Clearly, it was Rob Gronkowski, but Gresham has had a decent career, and if Bennett leaves, his pass-catching spot might be available for Gresham to join his one-time draft rival.
Jared Cook: A good all-around player, Cook might also be an attractive Bennett substitute.
Jordan Cameron: A concussion ended his 2016 season prematurely. When healthy, could be a talented Gronk sidekick.
RUNNING BACK
LeGarrette Blount: New England has its share of small, so-called "third-down" backs, but needs a reliable "big back" to complement them. Blount has been and could still be that guy.
Eddie Lacy: If not Blount, Lacy would seem to fill the bill, but even coming off a season-ending injury, he could get serious offers from other clubs that the Patriots might not want to match.
Jamaal Charles: A sublime talent, but too often injured of late. I'd still give him a look, but proceed with caution.
Adrian Peterson: Still has gas left in his tank, for sure, but can he fit in this system/culture? Worth inquiring.
WIDE RECEIVER
The reported trade offer by New England for Saints WR Brandin Cooks over the weekend is intriguing. If true, it would indicate a serious interest on the Patriots' part to add to their receiving arsenal. New Orleans is said to have rejected New England's bid, but here are some other players who could fill the bill if the Cooks endeavor is unsuccessful.
Terrelle Pryor: The erstwhile journeyman QB spoke openly about nearly signing with New England in 2015, when he was transitioning positions. I wouldn't be stunned if the two sides revisit the idea now that Pryor has established himself as a bona fide wide receiver.
Alshon Jeffery: A dream target for Tom Brady, but doubtful New England will want to invest as much as he'll likely command.
Cordarrelle Patterson: Never quite lived up to the pre-draft hype in four years with Minnesota, but the Patriots could use another big-bodied pass-catcher in their arsenal.
Michael Floyd: His legal troubles remain unresolved, but Floyd made an impression in his short stint at the end of 2016 and could be back if the situation allows.
QUARTERBACK
New England is currently stacked at this position, but if backup Jimmy Garoppolo is dealt, a veteran could be added to provide insurance during the spring and summer. It will all depend on whether Garoppolo remains in Foxborough or not.
KICKER
Sure, normally automatic Stephen Gostkowski had perhaps his worst year as a pro in 2016, although he seemed to straighten out whatever was affecting him later in the season. I don't foresee a veteran being brought in to challenge him, but a rookie could be a possibility.
Up Next: A look at veteran free agents on defense, coming Wednesday, Mar. 8.