FOXBOROUGH, Mass. – On Halloween, Adrian Phillips went trick-or-treating – if you will – in his old neighborhood and came home with some goodies. Facing his original NFL club, the L.A. Chargers, for the second time in as many years as a member of the Patriots defensive backfield, the 29-year-old safety helped seal another New England win by registering his first-ever interception return for a touchdown as a pro, as well as his first two-INT game in the NFL.
Asked if the two accomplishments meant more to him for having come against the Chargers, Phillips sheepishly grinned, admitting they did. "Everybody always wants to kind of stick to their former team," he explained in the immediate aftermath of the Patriots' 27-24 road win this past Sunday. "This is a great organization that we played against today. Just to be able to go out there and play against them and end up having the game that I had, it was sweet. I loved it."
Three days later, the league honored Phillips by naming him the American Football Conference's Defensive Player of the Week. This, too, marks a first for Phillips in his NFL career, making him the first Patriots defensive back to win the award since safety James Sanders got one in 2010 (former Patriots cornerback Stephon Gilmore, now with Carolina, won Defensive Player of the Month for October 2019).
Back here in Foxborough, Phillips, having since turned the page to New England's next opponent, did his best to express gratitude for the recognition while remaining focused on the task immediately ahead of him and his teammates. He chuckled at a reporter's suggestion that the award came with a front-row parking space at Gillette Stadium.
"No, none of that. Just lots of congratulations and pats on the back ... I'm grateful, I'm happy. I put in the work for it and, being able to take advantage of the opportunities that I was given, being able to be Player of the Week, that's a big feat. But I'm on to Carolina now, so, I'm happy I got that, but it's on to the next [game]."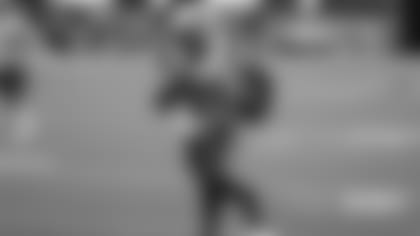 Offensively, the Panthers are struggling to overcome injuries to two of their most important players – QB Sam Darnold (concussion) and versatile running back Christian McCaffrey, who's attempting to return from Carolina's injured reserve list this week in time for New England's visit this coming Sunday. McCaffrey's been dealing with a hamstring issue for the past month or so.
"Dude is a beast, in the pass game and the run game," Phillips gushed about McCaffrey. "He can take the top off a defense … if he's playing, it's definitely going to make the game more challenging."
It's unclear whether or not Darnold or his backup, P.J. Walker, will start versus New England in Charlotte this weekend, but Phillips believes either man will present a similar obstacle for the Patriots secondary. "Darnold, he's a gunslinger. P.J. Walker can throw the ball, as well, and he can run. They both can run. That's the crazy thing about them. So, we have to be ready for the scramble drill when they get out of the pocket. Both of them are good quarterbacks."
What's more certain is that Darnold or Walker will likely want to get the ball into the hands of D.J. Moore, Carolina's leading receiver by a mile. Moore's 50 grabs and 645 receiving yards are about thrice the numbers of the next closest Panthers pass catcher.
"He can run any route on the field, and they feed him the ball," Phillips observed. "We go into this game knowing he's going to get his touches. It's up to us to make sure we have somebody in his face and make it competitive for him."