INDIANAPOLIS – Jameis Winston made everyone wait an extra day to talk to him, but the expected No. 1 overall pick made quite an impression.
After missing his scheduled media appearance on Thursday due to a reported shoulder injury that required further testing, Winston addressed a large group of reporters eager to hear from him on Friday.
"I'm out here to win games and be the face of someone's franchise," Winston said. "This is not a competition between me and [Marcus] Mariota, because one thing about me, I plan on winning the Super Bowl the next year. So, it's going to be Jameis versus Peyton Manning and Jameis versus Tom Brady. I want to be viewed like that.
"After all this combine stuff, you're not going to hear no more about Jameis Winston and Marcus Mariota. I want my name to stay relevant for the next 15 to 20 years of my career."
Winston downplayed reports of a shoulder injury, saying it was "fine" and that he had an MRI "like any other quarterback at the Combine." ESPN's Chris Mortensen said Winston underwent specific testing to determine what was causing weakness in his throwing shoulder that was discovered during medical evaluations, according to team and league sources.
He added that sources said Winston had "electromyography to study a weakness in his shoulder that often can be caused by a nerve problem and can be treated through therapy, if necessary."
Winston was well-spoken and at times confident bordering on cocky during his briefing, and showed off both when asked about his weight.
"A lot of people thought I was fat, but I look good and I know it," said the 231-pound Winston, who also indicated he'd be throwing on Saturday as part of his workout.
Rams coach Jeff Fisher is a key member of the NFL's competition committee that evaluates rules changes each offseason. It appears as if one of Bill Belichick's initiatives may receive additional consideration this time around.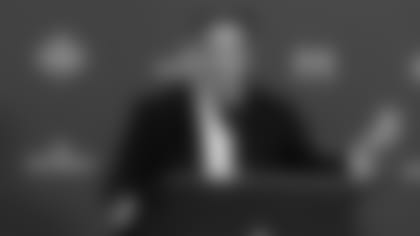 Fisher said that alterations to the league's instant replay rules will be a hot topic this offseason, and that there may be more support for Belichick's previous proposal that all plays be allowed for review, including penalties.
"We've got a sense for that," Fisher acknowledged at his Combine press conference at Lucas Oil Stadium. "There are a number of proposals this year, probably the largest number I can remember, with respect to replay and a number of those proposals involved including penalties. So that will be discussed. That will probably be one of the major topics discussed when we resume our meetings."
Not surprisingly, Fisher also said the committee will indeed be looking into rules and procedures surrounding the inflation of game footballs this offseason. This comes amidst the NFL's ongoing investigation into the alleged use of underinflated footballs by the Patriots in the AFC Championship Game.
"Every year we have Wilson come in and we discuss balls and gauges and discuss that. But I would submit that we probably wouldn't have any discussions until everything has been resolved at the league office," Fisher said, alluding the forthcoming Wells report of the NFL investigation.
Vereen replacements available
Shane Vereen may not be a household name across the nation, at least until he caught 11 passes in the Super Bowl, but some of the running backs entering the draft are well aware of the pending free agent's skill set.
Nebraska's Ameer Abdullah, who at 5-9, 210 pounds is similar in stature to Vereen, jumped at the opportunity to discuss New England's pass-catching back.
"He's nasty. I watch a lot of his film to help myself out in my route-running," Abdullah said. "He runs the best option route I feel like in the NFL right now. He does a good job of stemming the linebackers, snapping them off and using his head to get some separation. Outstanding hands. He's guy who's going to be in the league a long time."
With Vereen reportedly looking for $5 million annually (according to the Boston Herald), there's a real chance he's played his last game in New England. Rookie James White, who has some of the characteristics to be a third-down back, basically red-shirted in 2014 so he's largely unproven at this time.
Abdullah believes he could factor into the mix.
"I never want to put myself in just one role," he said. "I'd like to be a guy that can play on first down, on second down, on third down but if a team drafts me and says '[third down] is what they need me to do,' yes sir, I'll do that."
Miami's Duke Johnson is similarly undersized and also mentioned Vereen and the possibility of contributing in the passing game. The 5-9, 206-pounder had success between the tackles with the Hurricanes but has no problem emulating Vereen.
"I like it," he said of Vereen's style. "It's something that kind of looks like what I do. Just the way he comes out of the backfield, creates mismatches with the linebackers. He caught a lot of passes [in the Super Bowl] to help them win. It's a role I feel like I can do and also line up like a receiver and run routes."
Gordon, White Still connected
Rookie James White was part of a tremendous backfield at Wisconsin with Montee Ball and Melvin Gordon, and the final member of that group is scheduled to be the first back taken in April's draft.
Gordon enjoyed a ridiculous senior season that saw him rush for 2,587 yards, falling just 41 yards shy of Barry Sanders' all-time single season record set in 1988. He also turned in a 408-yard performance – in just three quarters – during a win over Nebraska. That effort broke LaDainian Tomlinson's single-game record, but just two weeks later Oklahoma's Samaje Perrine topped that mark with 427 yards.
Gordon was asked if he'd spoken to White during the offseason and he was eager to explain how his former teammates have lent a helping hand.
"I talk to James and Montee all the time," Gordon said. "I'm really close with those guys still. I've been talking with James a lot throughout this process. He's been coaching me up. He told me, 'It's going to be a mental grind, but you'll be able to handle it, you'll be able to get through it.'
"Any questions I have about, 'What did you experience in your interviews?' this and that, he was there letting me know. There were a lot of teammates that reached out to me and just tried to fill me in and help me out."
Gordon was then asked if he'd given any thought to reuniting with White in New England.
"That would be sweet," he said. "That would be sweet. We mentioned that a couple times and we thought it'd be cool. But with this draft in the NFL you never know where you're going to go."
Could the Bell toll for Nebraska WR?
The Patriots may or may not go after a wide receiver in this spring's draft. The position is neither the team's biggest need nor one in which Belichick has excelled at picking in his time in New England.
But if the Patriots look to dip into a deep, talented pool of wideouts in this year's Combine class, Nebraska's Kenny Bell (6-1, 185) might be an intriguing option.
Not only did Bell list the Patriots among the many teams he met with Wednesday night in informal interviews, but the Cornhusker sounds like a guy who'd fit in the Patriots way of doing business. Belichick often emphasizes reliability can be more important than simple ability, and that's an area that Bell touts as one of his strengths.
"The thing that I bring most to the table as a wide receiver is consistency and I'm reliable," Bell said. "You can rely on me to make big plays when they need to be made and I consistently catch the ball, do my assignments and I'm consistently reliable both on and off the field. In this day and age I think it's very, very important for guys to be just as reliable off the field as on the field."
Bell was a consistent, proven producer in his time at Nebraska. He had 47 catches for 788 yards and six scores in his final season. That came after consecutive 50-catch campaigns from a guy NFLDraftScout.com currently projects as a sixth-round pick.
"It's hard to sit here not even as a rookie but as a prospect to say, 'Oh, I'm ready to go play in the NFL.' I know everything up to this point has prepared me for this moment and now it's up to me to go showcase my talents," said Bell, whose father Ken played for the Broncos from 1986-89.
The younger Bell certainly thinks he has the brains to go with the necessary brawn to make the jump to the next level.
"Not that I'm much smarter or any other player lacks intelligence, but I think my on-the-field IQ and my field vision is a strength," Bell said.
Donatella Luckett, a 6-0, 210-pound wide receiver out of Harding, explained the origins of his unusual first name. "My mother grew a big fan of the Ninja Turtles. She was watching the show when she went into labor, so she named me Donatella." … Dante Scarnecchia isn't the only member of the family in town for the Combine. His son, Steve, is here as the assistant to new Falcons head coach Dan Quinn. … Belichick and Bills coach Rex Ryan walked side by side on their way to drills at the NFL scouting combine on Friday, with Ryan wearing a Thurman Thomas No. 34 jersey and Belichick in a hoodie for his charitable foundation. Interesting pair.