Every week, Patriots players take turns fielding questions from local students at The Hall at Patriot Place presented by Raytheon. On Tuesday morning, Ted Karras took the stage, and the sixth graders from Grafton, Mass., did not take it easy on him. 
In the segment hosted by Ashlee Feldman, the students asked a mix of thoughtful and hilarious questions that provoked thoughtful and hilarious answers from Ted. There were a few fun facts revealed, as well as some Ted hot takes about dabs, pizza preferences and social media. 
Here are 10 of the best facts and rant worthy topics.
1. Twitter is king.
Ted is a self-proclaimed "Twitter loyalist," and he refuses to use Instagram. 
2. Ted's family has an acting history.
Ted's uncle Alex played Mongo in "Blazing Saddles" and starred in the sitcom "Webster." Acting isn't for him, though. 
3. And an NFL history.
Ted is the fifth person in his family to play in the NFL, but if he didn't play football, he said he wouldn't have disappointed his family. "I don't think [I'd be a] disappointment. I think my family loves me enough. I would like to teach at some point. I'm the fifth player in my family to play in the National Football League. That's a pretty big legacy that I'm very proud to continue. I don't think I was ever pressured but maybe subliminally." 
4. The dab is "an epidemic among the young generation."
"I know you guys love the dab. Every time a camera pans to a young person at a stadium, it's dabs. It's incessant dabs in this nation right now."
5. When he's not playing football, he's an avid fisher and reader.
Ted once caught a 400 lb. tuna, and his favorite book is "Slaughterhouse-Five" by Kurt Vonnegut. 
6. Education is key.
Ted stressed the importance of education early in his Pats Chat, and he is serious about it. He earned two degrees from the University of Illinois -- a Bachelor's in communications and a Masters in recreation sports and tourism.
7. Hawaiian pizza is the worst pizza.
"Pineapple and cheese? That doesn't make any sense."
8. "The Office" over everything.
Ted's favorite shows are "Game of Thrones," "Entourage" and, above all else, "The Office." "I am the world's leading authority on 'The Office' trivia."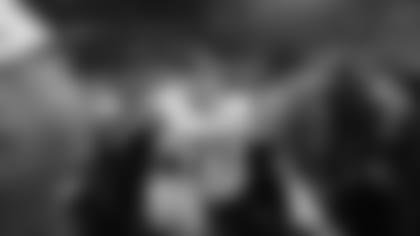 9. His hypothetical touchdown celebration is familiar.
"I'd have to hit 'em with a Gronk spike, not to come after him there, but I think spiking the ball is the best celebration in football."
10. One of his football idols is a teammate's dad.
Growing up, Ted idolized Jackie Slater, a Hall of Famer and father of Matthew Slater. He never met him, but after the Super Bowl, that changed. "For some reason in the bedlam of the celebration, I was hugging Jackie Slater. He was another personal hero of mine as a guy who likes NFL history." 
Be sure to tune in to Pats Chat every Tuesday on Facebook Live. You never know who will stop by.