When you're the significant other of one of the Patriots, the phrase "Sunday best" takes on new meaning. For many of the players' and coaches' wives and girlfriends, game day is a time to get together, dress up and wear the team colors with pride.
Coach Belichick's long-time partner Linda Hollidayhas been doing just that for years, bringing together her personal sense of style with her love for the team. Linda, who owned a boutique from 2005 to 2007, doesn't just throw something together the morning of the game, but starts thinking about what to wear at least a couple days in advance. 
After all, she has quite a few statement pieces to choose from. She's been a loyal customer of Bella Artistry by Leah Miller, who is known for customizing sportswear with Swarovski crystals. When she's spotted on game day, Linda is almost always wearing something sparkly in support of Coach Belichick and the team. 
"I have superstitious favorites," she told us. "The bracelet that says 'BB Do Your Job' goes to every game with me because Bianca Wilfork gave it to me at Super Bowl last year. And then I have a heart pin and it says 'BB' on it. I got it for several of the other Patriots wives with their husband's names, so we have a little statement that we all wear together.
"Ashley and Katie tolerate us all wearing those," she added with a laugh, explaining that her twin daughters, who run the fashion blog The Party of Two and join her at most Patriots games, are less into sparkles and more into streetwear. So, when we asked Ashley and Katie to style their mom in some game day looks to share with Patriots Lifestyle readers, they did their best to bring the two aesthetics together.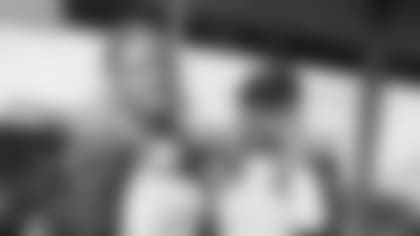 "I think they definitely defined my style with a little bit of theirs in between," Linda said of the experience. "I love their taste."
They started by showing how to dress for a suite or club with some of their typical ensembles. For Linda, they selected a black blazer with her signature Swarovski crystals – which she wore at last year's AFC Championship game – paired with leather pants, red stilettos and that lucky bangle.
"We tend to dress a little dressier in our suite," Katie explained. "We do wear jeans and things but, for example, we tend to dress more in blazers instead of sweatshirts and silk shirts instead of T-shirts."
Ashley added, "We like to buy things in navy and red, and going to the game is a fun time to experiment. That's one of the things I love about fashion; it's sort of a challenge. I love seeing what I can put together that supports our team but is still fashionable."
For those who can't invest in eye-catching custom pieces, Ashley and Katie suggest using patches and pins to make a statement.
"I always try to put them on my leather jacket when I'm wearing it," Katie explained. "I'll put one on the lapel or sleeve. It's a cool way to support your team."
That's not the only inspiration female fans can find in the women's fashion playbook, though. They like to wear red lipstick and paint their nails in Patriots colors. The three also show their support with hats, especially on those colder game days that New England fans know so well.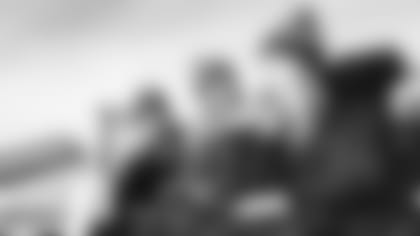 "We wear hats a lot," Ashley said. "We love the ProShop hats, we really do."
The women agree that it's a great way to wear your team colors even if your jersey or T-shirt is hidden below layers of warm clothes – although they admit that not everyone in the family believes in tackling winter weather by layering. 
"I really have to say, [Bill] wears the thermal turtleneck that they have for him and then he'll wear his sweatshirt," Linda revealed when asked about how her significant other stays warm on game day. "Other than that, unless it's extremely cold – once in a while you'll see him in the puffer jacket out there, but not often – it's part of his philosophy that these players are out there playing and they're being mentally tough and fighting through it. As the leader of the team, he's going to fight through it too. So, I'm telling you, it's nothing but mental toughness.
"He came in last night with short sleeves on and I said to him, 'You do know it's 19 degrees,'" she added with a laugh. "Sometimes he'll even say to me, 'You just have to be tough.' So yes, he follows what he preaches."
Coach Belichick's long-time girlfriend Linda Holliday and her daughters Ashley and Katie Hess show us how to be stylish while supporting the Patriots. Read more about the looks on Patriots Lifestyle.