The preseason came to an end with a wild 40-38 loss to the New York Giants. The Patriots fashioned a spirited comeback from a 31-14 halftime deficit and Stephen Gostkowski appeared to win it with a 55-yard field goal, but Giants rookie Aldrick Rosas' 48-yarder at the buzzer was the difference.
Here are some random thoughts from the summer finale
-Roster spots are always the top item of business during the final preseason game and that was the case again against the Giants. While the game featured a bevy a young players, many of which won't make the roster, there were some interesting names fighting for jobs. Two on defense were Geneo Grissom and Jonathan Freeny. Grissom had an uneven performance, coming up with a sack and applying occasional pressure throughout. He also lost contain playing against the Giants mobile backup quarterbacks, allowing Geno Smith and particularly Josh Johnson to get outside the pocket to make plays. Freeny, who started four of the five games he appeared in last season before landing on injured reserve, yet found himself playing wire to wire in the final preseason game. He was in the middle of a porous defense that couldn't stop the Giants all night, but more importantly his mere presence in the game could not be viewed as a good sign for his future with the team.
-The Hollister twins may not make it with the Patriots but they will have a final game to remember together. Wide receiver Cody grabbed a touchdown pass to open the scoring and was greeted by his brother, tight end Jacob, with a leaping hip-bump celebration on his way back to the sideline. Jacob later caught a touchdown of his own and Cody was right beside him congratulating him on the sidelines. Both showed the ability to catch the ball this summer, even if it won't likely be in New England.
-As is Bill Belichick's normal custom in the final preseason game, the coordinators took the night off from their play-calling duties. Wide receivers coach Chad O'Shea handles that chore for the offense while linebackers coach Brian Flores did so for the defense. Flores handled that role last season for Matt Patricia but it was O'Shea's first crack at it after watching Brian Daboll run the show a year ago.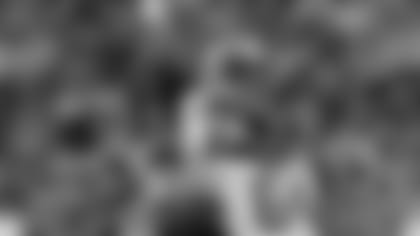 -Jacoby Brissett was simply awesome against the Giants. He went wire-to-wire in the finale and with very few exceptions was outstanding. He completed 28 of 39 passes for 341 yards and four touchdowns. He also ran for a touchdown and finished with a gaudy passer rating of 121.6. He did toss an early pick-six when he failed to recognize defensive end Kerry Wynn was not cut by tackle Conor McDermott and had his attempted screen pass intercepted and returned 15 yards for a touchdown. That was his lone glaring error, however. Otherwise he looked comfortable in the pocket and made good decisions with the ball. He really fell into a rhythm in the second quarter when he went 4-for-4 for 71 yards and a touchdown during an impressive scoring drive. He also rallied the offense to 17 points in the final quarter to take a brief 38-37 lead. His roster spot wasn't likely in jeopardy entering the night, but his performance was definitely promising and something to build on.
-Undrafted rookie free agent defensive backs have a propensity of making the Patriots roster. Over the years the Patriots have gotten solid contributions from the likes of Randall Gay, Malcolm Butler and Jonathan Jones. Based on the play of the secondary this summer, that trend could very well end. The backups on defense have struggled all summer long and that was again the case against the Giants. Corners D.J. Killings and Kenny Moore, as well as safeties Damarius Thomas, David Jones and Justin Thompson couldn't handle New York's receivers and each of the visitors' quarterbacks picked them apart. That has really been the case all summer as opposing quarterbacks have effortlessly moved the ball and put points on the board. Based on that performance, it doesn't look like a UDFA DB will make the cut.
-If one – perhaps Moore – squeaks his way into the picture it's likely that Cyrus Jones' knee injury helped pave the way. Jones went down in the second quarter with a non-contact injury to his right knee and reports indicated he tore his ACL. If true and Jones is lost for the season it would create an interesting situation with regard to punt returns. Jones handled most of them this summer and appeared ticketed to open the season in that role. Now it could force a relative novice such as Dion Lewis or D.J. Foster into the role. Danny Amendola would also be a candidate but with Julian Edelman lost for the season Belichick may not want to expose the wideout to further punishment. It's also possible that the team looks outside the organization and brings in someone with return experience, such as former Patriot Keshawn Martin, who was recently released by Detroit. Of course there will soon be more than 1,000 unemployed players looking for work so Belichick should have plenty of options.
-Not that it matters much in the preseason but Belichick had a couple of interesting decisions that turned out in his favor. Early on he successfully challenged the ruling of an incomplete pass, and after scrambling to find his red flag ultimately won. Will Tye caught a short pass and Travis stripped him just before the tight end hit the ground. The second decision was more nuanced as Belichick chose to kick the PAT after cutting the lead to 10 with just over six minutes left. It seemed like Belichick wanted to avoid the possibility of eventually tying the game by going for two and cutting the lead to 8. Instead, Gostkowski's PAT made it a nine-point game and Brissett was able to lead another touchdown drive before scrambling into position for Gostkowski's 55-yard field goal.
-Interesting note – Brissett made the first start of his preseason career after already having a pair of regular-season starts under his belt. …  Devin Lucien led the team with five receptions for 96 yards and one touchdown. He scored on a 12-yard touchdown pass from QB Jacoby Brissett in the third quarter. In the fourth quarter he caught a 45-yard pass from Brissett to help get in position for Brissett's 4-yard touchdown run. … Travis led the team with 10 total tackles. … The Patriots finished 1-3 in the preseason, the first time they failed to reach the .500 mark in the summer since 2012.