NEW ENGLAND PATRIOTS (3-2) at BUFFALO BILLS (3-2)
Sunday, Oct. 12, 2014 at 1:00 p.m. ET
* Ralph Wilson Stadium (73,079)*
The New England Patriots will travel to face the Buffalo Bills at Ralph Wilson Stadium in a battle for first place in the AFC East. Both teams enter this week's contest with 3-2 records.
!The Patriots own a 63-18 (.778) record in regular season AFC East games since the beginning of the 2001 season, the best intra- division record of any team in the NFL during that time frame.
The Patriots went over the .500 mark last week with a 43-17 victory over the Cincinnati Bengals at Gillette Stadium on Sunday Night Football, rebounding after a 41-14 loss at Kansas City on Monday Night Football the week before. The Patriots are now 36-4 (.900) in regular season games following a loss since 2003.
New England also improved to an NFL-best 38-9 record in the month of October since 2003.
The Patriots will continue to promote breast cancer awareness during the month of October as part of the NFL and the American Cancer Society's 'A Crucial Catch Campaign.'
TELEVISION: This week's game will be broadcast by FOX and can be seen locally on WFXT Channel 25 in Boston. Kenny Albert will handle play-by-play duties with Daryl Johnston as the color analyst. Tony Siragusa will work from the sidelines. The game will be produced by Barry Landis and directed by Bryan Lilley.
NATIONAL RADIO: This week's game will be broadcast to a national audience by Compass Media Networks. Chris Carrino and Brian Baldinger will call the game.
LOCAL RADIO: 98.5 FM, The Sports Hub, is the flagship station for the Patriots Radio Network. Play-by-play broadcaster Bob Socci will call the action along with former Patriots quarterback Scott Zolak, who will provide color analysis.
DIVISIONAL DOMINANCE
The New England Patriots own a 63-18 (.778) record in regular season AFC East games since the beginning of the 2001 season, compiling the best intra-division record of any team in the NFL.
The Patriots and Bills will meet for the 109th time and for the first of two 2014 meetings. The Patriots will travel to Buffalo this Sunday and then host the Bills at Gillette Stadium on Dec. 28 in the regular-season finale.
New England holds a 66-41-1 edge in the series following a series sweep in 2012 and 2013. New England' has swept the series 23 times. The Patriots have won 25 of the last 28 games between the clubs, dating back to the 2000 season.
The Patriots are 31-22-1 all-time in Buffalo, including 24-16 at Ralph Wilson Stadium.
The Patriots are 35-19 all-time in home games against Buffalo, including 12-0 at Gillette Stadium.
The series between the AFC East rivals began in 1960. The Patriots 66 overall wins over the Bills are their highest victory total over any opponent, nine more than they own over the New York Jets (56).
After seven straight series sweeps and 15 straight Patriots wins, Buffalo ended the streak with a 34-31 victory at Ralph Wilson Stadium in the first meeting of the two teams in 2011 on Sept. 25. The 15-game win streak is the third longest winning streak over a single opponent in NFL history. The Patriots avenged that loss in the 2011 regular season finale on Jan. 1, 2012 by overcoming a 21-0 first quarter deficit and scoring 49 unanswered points en route to a 49-21 victory.
The teams have had many memorable matchups over the years, including a five-game span from 1999 to 2001 where four of the five contests were decided in overtime.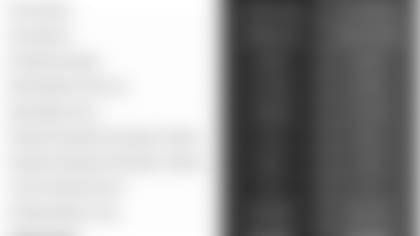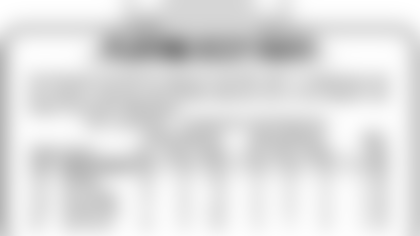 Home Record, 35-19
Record in Foxborough, 29-14
Foxboro Stadium, 17-14
Gillette Stadium, 12-0
Record in Boston, 6-5
Away Record, 31-22-1
War Memorial Stadium, 7-6-1
Ralph Wilson/Rich Stadium, 24-16
Largest Margin of Victory, 46 points (2007)
Largest Margin of Defeat, 35 points (1970)
Longest Win Streak, 15 games (2003-2010)
Bill Belichick vs. Buffalo Bills, 25-4 (25-3 with N.E)
The Patriots have recorded 66 wins over the Bills, the most by the Patriots against any one opponent - 10 more than they have over the Jets.
The Patriots have won 13 straight games against Buffalo at home, including a perfect 12-0 record at Gillette Stadium.
Bill Belichick has a 65-24 (.730) all-time regular season record against the AFC East as head coach of the Patriots.
BRADY VS. BUFFALO
Tom Brady has led the Patriots to 22 regular-season victories over the Bills, recording his highest regular-season victory total over any opponent. Additionally,
Brady has thrown for more touchdowns (54) against Buffalo than any other opponent. He has 43 touchdowns against the Dolphins and 32 against the Jets. Brady also has more 300-yard games (7) against Buffalo than any other NFL team. He has six 300-yard games against Miami.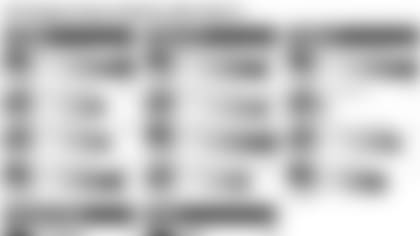 Bills CB Corey Graham attended New Hampshire from 2003-06, starting all 42 games and recording 302 tackles, 12 INTs, 31 passes defensed, four forced fumbles and three fumble recoveries. He also holds the New Hampshire school record with 1,787 kickoff return yards on 65 returns and three touchdowns.
!Bills WR Marcus Easley attended Bunnell HS in Stratford, Conn. and win a pair of state playoff berths in his final two seasons before playing collegiately at the University of Connecticut, where he finished his career with 53 catches for 997 yards and eight touchdowns.
Bills head coach Doug Marrone was the offensive line coach at Northeastern in 1994.
Bills head strength and conditioning coach Eric Ciano earned his bachelor's degree in 1997 from Springfield (Mass.) College, where he lettered in football.
BUFFALO TIES
Patriots TE Rob Gronkowski attended Williamsville HS just outside Buffalo, N.Y., for three years, earning first-team All-Western New York honors and second-team all-state as a junior in 2005.
Patriots DE Chandler Jones was born in Rochester, N.Y., and attended Union-Endicott HS in Endicott, N.Y., where he was a 2007 SuperPrep All-Northeast and PrepStar All-East Region selection. He went on to play collegiately at Syracuse University, where he was an All-Big East selection as a junior in 2011 after posting 39 tackles and 4 1/2 sacks.
Patriots defensive coordinator Matt Patricia attended Vernon-Verona- Sherrill HS in Sherrill, N.Y., before going on to serve as a graduate assistant at Syracuse from 2001-03.
Patriots tight ends coach Brian Daboll is a Buffalo, N.Y., native who attended St. Francis HS before playing collegiately at the University of Rochester. As a senior safety in 1997, Daboll once recorded three interceptions in a game.
Patriots running backs coach Ivan Fears coached the wide receivers at Syracuse from 1980-90.
FORMER PATRIOTS
Bills LB Brandon Spikes was originally drafted by New England in the second round (62nd overall) of the 2010 NFL Draft. He started 39 games over four seasons with the Patriots, totaling 286 tackles, one sack, 12 passes defensed and two interceptions.
Bills defensive line coach Pepper Johnson began his coaching career as an assistant linebackers coach for the Patriots in 2000. He coached the inside linebackers from 2001-03, the defensive line from 2004-11 and the linebackers from 2012-13.
Bills TE Lee Smith was originally selected by New England in the fifth round (159th overall) of the 2011 NFL Draft before being claimed off waivers and awarded to Buffalo on Sept. 4, 2011.
FORMER BILLS
Patriots LB Chris White was originally drafted by Buffalo in the sixth round (169th overall) of the 2011 NFL Draft. He appeared in 22 games for the Bills from 2011-12, playing mostly on special teams and recording two tackles and one forced fumble.
Patriots LS Danny Aiken went to training camp with Buffalo after joining the team as a rookie free agent out of Virginia in 2011. He was waived by Buffalo at the end of training camp and was claimed off waivers by the Patriots.
FORMER NFL TEAMMATES
Patriots head coach Bill Belichick coached Bills defensive line coach Pepper Johnson for several seasons. Johnson was drafted as a linebacker by the New York Giants in 1986, when Belichick was serving as the Giants defensive coordinator, and stayed with Belichick through the 1990 season. From 1993-95, Belichick coached Johnson in Cleveland, where he was the Browns head coach. Finally, Johnson finished out his playing career with the New York Jets from 1997-98, when Belichick was the team's assistant head coach/ defensive backs.
Patriots offensive coordinator/quarterbacks Josh McDaniels coached Bills QB Kyle Orton when he was head coach of the Denver Broncos from 2009-10. Orton started 28 games over the course of those two seasons, which were the best of his career. He set career highs in touchdowns (21) and yards (3,802) in 2009, and then established a career high in passer rating (87.5) in 2010.
Patriots special teams coach Scott O'Brien (special teams) and Bills defensive coordinator Jim Schwartz (defensive assistant) were both on the Baltimore Ravens coaching staff from 1996-98.
Schwartz began his NFL career as a college and pro scout under Bill Belichick in Cleveland from 1993-1995.
FORMER COLLEGE TEAMMATES
Patriots DE Chandler Jones played under Bills head coach Doug Marrone from 2009-11, when Marrone was head coach of the Orange.
Patriots C Bryan Stork (2010-13), Bills QB E.J. Manuel (2008-12) and LB Nigel Bradham (2008-11) were teammates at Florida State.
Patriots WR Brandon LaFell (2005-09), RB Stevan Ridley (2007-10) and Bills CB Ron Brooks (2008-11) were teammates at Louisiana State.
Patriots LB Dont'a Hightower and Bills DT Marcell Dareus were teammates at Alabama from 2008-10. Hightower also played with Bills OT Cyrus Kouandjio at Alabama in 2011.
Patriots LB Chris White (2009-10), LB Deontae Skinner (2009-13) and Bills RB Boobie Dixon (2006-09) were teammates at Mississippi State.
Patriots OL Marcus Cannon and Bills DE Jerry Hughes were teammates at Texas Christian from 2006-09.
Patriots DE Rob Ninkovich and Bills QB Kyle Orton played together at Purdue in 2004. In a game against Notre Dame on Oct. 2, Ninkovich posted two sacks and also caught a touchdown pass from Orton.
Patriots WR Aaron Dobson and Bills TE Lee Smith were offensive teammates at Marshall from 2009-10.