PHOENIX – Backup quarterbacks don't generate much attention during Super Bowl week and Jimmy Garoppolo certainly hasn't thus far in Arizona. But the rookie has an important job to do this week, and he's enjoying the experience thus far.
Playing the role of Seahawks athletic quarterback Russell Wilson is no easy task. Garoppolo is no stranger to moving around the pocket, but Wilson's running ability is at a different level. So, how has the rookie dealt with his job of impersonating such an athletic presence?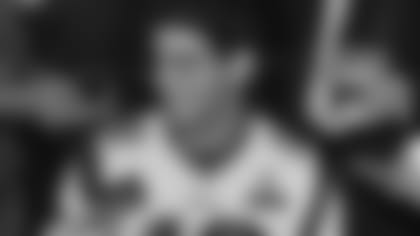 "I've had to get a lost faster real fast," he said with a smile. "Russell's an athletic guy, moving around the pocket, extending some plays and I've been trying to give them those looks. It's been a big workload and you have to find that balance between studying their offense and studying our offense and studying their defense. There's a lot of time management involved."
Garoppolo said that he's developed into his role over the course of the season. Having never had any experience as a backup, it took some getting used to once the regular season started.
"You have to take the mental reps, that's for sure. I've never been a backup before so that took some getting used to. If you take the mental reps it will help you but obviously you can't beat the physical reps. Never having done it, I didn't know how to be the scout team quarterback," he explained.
"How to give the defense a good look. It's something you just get more and more comfortable with throughout the year, and as the year progresses you learn what to do for the defense, what not to do. The better look I give them the better they'll play on Sunday."
Garoppolo hasn't been asked to do much beyond the practice field but feels his rookie season was made much easier by Tom Brady. He also said he's drawn encouragement from watching Green Bay All-Pro Aaron Rodgers, who was forced to sit and watch behind Brett Favre for three years before getting his chance.
"Tom is like an older brother to me. He's helped me out a bunch on the field, how to prepare and do the right thing. He's been great with that," Garoppolo said.
"I don't know if inspiration is the right word but [watching Rodgers] is definitely a positive to look at that and say, 'That guy sat for so many years and it worked out for him.' So, you want to try to keep in the same boat as that. Taking it one day at a time. In this business of you don't take it one day at a time they'll find someone who will. I'm in the Super Bowl my rookie year. That doesn't to happen to everyone. You have to enjoy it.