Former Dolphin Mike Gesicki was a key addition to the Patriots offense this spring and while his position listing might say he's a tight end, he's actually a unique threat that should bring a new element to the team's passing attack this fall.
By joining Bill O'Brien in New England, things have finally come full circle for Gesicki, who was originally recruited by O'Brien at Penn State but never got the chance to play for him. O'Brien left for the Texans before Gesicki arrived, but the tight end went on to have a productive career with the Nittany Lions, logging 129 catches and 15 touchdowns over four seasons. He was a 2018 second-round pick of the Dolphins and immediately found his way onto the field, dressing for all 16 games, starting seven and picking up 22 catches for 202 yards as a rookie.
Gesicki continued his ascension for three more seasons in Miami, setting career highs in catches (73) and yards (780) in 2021 as he wrapped up his rookie deal with the Dolphins. However, new head coach Mike McDaniel's arrival in 2022 signaled a major shift for Gesicki, as he was hit with the team's Franchise Tag yet saw his snap totals decline from 828 to 478 and became more of a role player on offense rather than the hybrid receiving threat he was in his first four seasons.
He wrapped 2022 with just 32 catches, his lowest output since his rookie year, setting the stage for Gesicki to make a move to New England.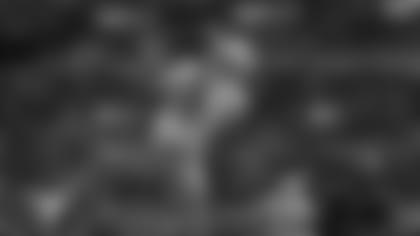 "Yeah, I mean, honestly, it's just how his business goes," said Gesicki of his final year with the Dolphins. "You've got to be able to be professional throughout good and bad and that's kind of who I've always been. So I thought that was a good opportunity for me to continue to practice patience and be ready when opportunities [came]."
In 2023, Gesicki effectively is expected to take over the roster spot occupied by Jonnu Smith over the last two seasons. With limited moves on offense other than swapping in Juju Smith-Schuster for Jakobi Meyers and filing out their tackle depth, Gesicki is one of the few new factors that could help get the Patriot offense back on track after a down year in 2022.
"Obviously I've got a little bit of history playing against this organization for the last five years and have a ton of respect for the way that things are run around here and the tradition and all that kind of stuff that is the New England Patriots," said Gesicki in the spring while meeting with the media for the first time as a member of the Pats. "So I thought was a good opportunity for me to come here and learn from a couple of other guys that are in the tight end room. Great coaching staff. Good opportunity."
Gesicki also highlighted what kind of a draw Bill Belichick's presence was in his decision to come to New England.
"It's definitely an exciting opportunity to have knowledge coming from the head coach, so excited to kind of gain some of that knowledge and kind of see the game from his perspective and continue to improve and get better in any ways that I can," said Gesicki.
But most intriguing is how O'Brien will deploy Gesicki, a player that he's had his eye on going back well into the last decade.
"That relationship, from when he recruited me way back when I was in high school, kind of picking back up where we left off, but it's awesome," said Gesicki. "He's awesome, a cool dude. Really excited to get to gel with him, getting his offense and getting to work."
With memories of what O'Brien did the last time he had two effective tight ends to work with in New England still fresh in our minds, the combination of Hunter Henry and Gesicki offers new, different possibilities. They're a different duo than the one that really defined the 2011 and 2012 offenses, but still a dangerous one should improve the team's 32nd-ranked red zone offense from 2022.
"OB has a great system and I think it's exciting to just kind of get in the meeting rooms and kind of hear that things are rolling. It's very basic right now but it's exciting to be watching some tape of how it's been run and things like that. So I think it's gonna be exciting, but right now it's still very, very basic," said Gesicki, adding that his experience with former Dolphins and Patriots coach Chad O'Shea has helped ease his transition. "There's obviously going to be similarities and everybody kind of has their nuances of how they run it and all that kind of stuff. But there are definitely some similarities with their ties here, and all that kind of stuff. So there is some [benefit] in terms of just kind of picking it back up."
At 6-foot-6, 247 pounds, Gesicki has elite athleticism for his size. He might not fit the traditional blocking tight end body type, but he'll do his damage out running routes, not staying in to protect the quarterback. For an offense that could use a jolt of everything he has, Gesicki might be the right fit at the right time for a bounce-back season.
After an early taste of life in Foxborough, Gesicki is on board with where things are heading for the Patriots this year and is glad he's no longer on the other sideline.
"I like that there's no there's no gray area, you know what you're getting every day and we're gonna come here and we're gonna work hard," said Gesicki of his early impressions of the Patriots. "You know that the Patriots aren't going to beat themselves, that's kind of what they've always hung their hat on. Going through film you know they're going to be disciplined, reliable and dependable and all that kind of stuff. So, I'm definitely excited to not have to face them anymore and be a part of that team."
For now, Gesicki is just trying to set his own expectations and show his teammates they can count on him when things get real this fall.
"I've just come in here and tried to know everybody and build camaraderie, show that I'm gonna work hard and just kind of earn everybody's trust that way," said Gesicki. "This way, when things get rolling when the season starts up, everybody knows what they're gonna get."