Mike Pennel Jr. signed with the Patriots in March as a free agent, and having come from the Jets, he is no stranger to Foxborough. The defensive lineman went undrafted out of Colorado State-Pueblo in 2014, ultimately signing with the Packers. In 2017, he moved on to the Jets, and last season, he had 16 tackles.
As it is Pennel's first year in New England, we asked him a lightning round of questions to introduce him to Patriots fans. Find out what Patriot he idolized growing up, where he got his love of cooking and why he starts every practice by smelling the grass below.
What was your first impression of Bill Belichick?
MP: The man, the myth, the legend. He's a lot more serious, but he has a sense of humor.
Coming here from New York, what was your impression of the Patriots and Patriots fans?
MP: They've got one of the best fanbases in the world. Their record and their history speaks for itself. I was well aware of the team before I came.
What was your first football memory?
MP: My first football memory, probably my first contact practice when I was five years old. I wasn't really that good. I think I was playing O-line, but I told my mom in the car that I would make it to the NFL. That's my first memory.
What made you say that?
MP: I must have been crazy, but it worked out.
Who was your idol on the field?
MP: It was a collection of guys – Vince Wilfork, Kris Jenkins.
Who did you root for growing up?
MP: The Kansas City Chiefs. [laughs] That has changed.
Did you have any nicknames growing up?
MP: Just "The Beast."
What's the story behind that?
MP: Not a real specific story, just big and decent at football.
I noticed when you walk out onto the field, you smell the grass every day. Can you explain how that started?
MP: It was always when I was younger, you know, all the conditioning practice, up-downs, things like that. My mom always used to tell me, "Always appreciate the game." Everything I come out on the field, a lot of the time it's artificial, but when it's real grass, I just like to smell the grass to get started.
Kind of like stopping and smelling the roses?
MP: Oh, yeah.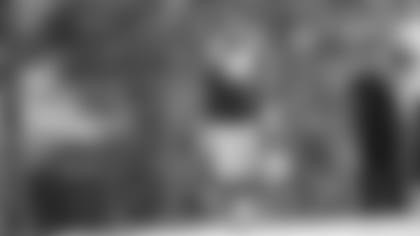 You cook. Is that right?
MP: I do.
How did you get into cooking?
MP: It was really out of necessity. When I got older, I ate a lot when I was younger, so eventually my mother said you're going to have to start cooking for yourself. I watched some cooking shows with her and started diversifying my pallet and just doing a bunch of stuff with cooking.
Do you have a favorite cooking show?
MP: "Chopped." I'm addicted to "Chopped."
Have you ever done a "Chopped" scenario for yourself?
MP: I have. Last year, I actually filmed a "Chopped" like episode. I was trying to get it to Rachel Ray, but that didn't work out.
What's your favorite thing to cook for yourself?
MP: Probably salmon burgers.
Are you binging any TV shows currently?
MP: Just the playbook. I've got a lot to learn, so I'm binging that playbook.
What's your favorite TV show?
MP: It would have to be "Rick and Morty." That don't come out until November, so I've got time.
What is your favorite book?
MP: It would have to be "The 48 Laws of Power."
Where is your favorite vacation spot?
MP: It would have to be Bermuda.
Song or artist that you're listening to right now?
MP: Drakeo the Ruler.
Who would play you in a movie about your life?
MP: I'd have to play myself. I'd have to. I'm too unique. I have to play myself.
Have you done any acting before?
MP: I'd like to think so. Maybe wasn't official.
If you weren't playing football, what would you be doing?
MP: Probably something in the community helping kids, along the lines of a counselor or maybe even, in some aspect. Helping high school kids get to college, whether it's tutoring or mentorship. Maybe teaching and coaching.
What advice would you give yourself at 10-years-old?
MP: You have no idea what you're going to do. Stop getting in trouble.