Growing up in Rock Hill, South Carolina, Stephon Gilmore would often spend Sundays watching New England Patriots cornerback Ty Law play football.
As a young, fellow corner in the early 2000s with dreams of one day making it to the National Football League – it was an admiration that seemed only fitting.
"My dad used to talk about him a lot," Gilmore said. "I respected his game a lot."
But just last weekend, Gilmore, now an eight-year NFL veteran, found himself in Canton, Ohio, as a guest of Law himself, watching his childhood hero enter the Pro Football Hall of Fame.
Gilmore's dream became a reality in 2012 when he was drafted 10th overall by the Buffalo Bills. In 2017, he signed with the Patriots, the team with which Law built his Hall of Fame career and won three Super Bowls.
In the time since Gilmore arrived in New England, he and Law have built a relationship that's transformed from a mentorship, into a friendship.
"As soon as I signed here I said, 'This is going to be a great opportunity for me to get to know someone I looked up to," Gilmore said.
"When I got here, I reached out. He was cool, just talking about technique, just talking about Boston. I had never been to Boston. He said he loved it here, and he said it's a mentally tough team and a mentally tough coach; [that it was going to] be good for me."
So far, after two seasons in New England, Law was right. Gilmore has emerged as a leader in the Patriots secondary and one of the top-ranked corners across the league. In 2018 he earned first-team All Pro honors and has been selected to two Pro Bowls in the past three seasons. Despite Gilmore's continued success on the field, his eagerness to keep learning from those who came before him has not slowed down.
"Ty was a unique player here," he said. "We play similar games – different body types – but I wanted to reach out and learn from him. People like Mike Haynes, I reached out to him, too. I just try to take as much information as I can from the greats."
"Ty is a physical guy – I'm a physical guy too, so that's one thing that I admire about him. They changed the rules because of him, because he's so physical at the line of scrimmage, nobody could get open, but that's one thing I admired about him a lot – he made big plays in big moments. The game was never too big for him."
As his career has progressed, the game hasn't seemed too big for Gilmore, either. He, too, has developed into a player that makes big plays in big moments. His diving pass breakup that sealed the Patriots' 2017 AFC Championship win against the Jaguars, and his fourth-quarter interception in Super Bowl LIII that clinched the team's sixth Lombardi Trophy are just a few examples.
Those big-game moments are perhaps one of the things that's bonded Law and Gilmore as football players, but it was as recently as this summer, when Patriots Chairman and CEO Robert Kraft took a group of current and former players and their families on a trip to Israel, that their relationship truly blossomed into a personal friendship.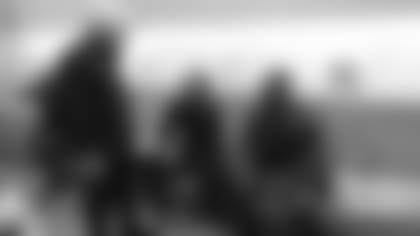 "Me and my wife and he and his son were there, so it was a great opportunity for me to get to know him, talk about life, talk about his kids, my kids," Gilmore said. "Just talk about stuff that us players go through that pretty much, we don't know about. It's good to have somebody who's been through what you've been through to get some input on."
Gilmore said he wouldn't be where he is right now without players like Law, who paved the way for today's NFL. This weekend, he saw first-hand the impact the players before him have made on the game of football when he had the opportunity to join a group of Patriots past and present in Ohio as Law entered the Hall of Fame.
"Coach [Bill Belichick] asked me if I wanted to go and I couldn't turn it down," he said. "Seeing [Law], seeing Ed [Reed] and Champ Bailey, all those guys that I saw in their prime making plays. The history of the game is very important to me. I wouldn't be in the position I am now if it wasn't for those guys and Ty. It's just great seeing those guys getting rewarded for all the hard work they put in."
Gilmore joined Belichick, team president Jonathan Kraft, fellow New England defensive back Devin McCourty and a number of past Patriots greats including Troy Brown, Willie McGinest, Deion Branch and Rodney Harrison, at the induction ceremony in Canton.
"Oh man, they're different from what we are," a smiling Gilmore said of the former Patriots. "They're a little bit more…outspoken. Willie was cool, Troy was there, all those guys played a big part in this organization and I just try to take as much information as I can from those guys because they did it before."
In addition to witnessing history at Saturday's enshrinement, Gilmore and his present-day teammates had yet another opportunity to learn from the game's greats when the remainder of the team arrived in Canton the following day. The present-day Patriots took a tour of the Hall of Fame's various exhibits – a short yet inspiring pit stop on the way to Detroit to spend a week with the Lions for joint practices.
"It was great," Gilmore said. "I had been to the Hall of Fame before but you can go a million times and learn different stuff. Seeing all the Hall of Famers, the guys that played way, way back in the day. I tried on some throwback shoulder pads – those guys went through a lot to help us out to this day. It's great to know the history, and like I said, if it wasn't for the history there wouldn't be us."
But potentially the most inspiring moment of the weekend for Gilmore came after Saturday night's ceremony, when Law, his childhood role model, declared that if Gilmore keeps up his continued level of success on the field, they'd one day be back in Canton standing next to his Hall of Fame bust.
Gilmore's eyes grew wide when he recalled that moment.
"That's big, that's big," he said, visibly at a loss for words. "I just try to keep it one day at a time. Those guys put in a lot of hard work consistently every day and every year. I'm just trying to get better each and every day. It's earned, you've got to earn it. It's not going to be easy – you've got to prepare each and every day and get better."